August 02, 2019
Senators seek update from DOJ on ADA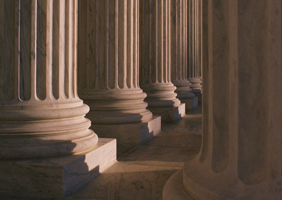 Following up on a letter sent last year, a group of senators led by Senate Judiciary Committee Chairman Chuck Grassley, R-Iowa, is asking the Department of Justice (DOJ) for an update on its efforts to provide clarity on website accessibility standards under the Americans with Disabilities Act (ADA).
The senators in September 2018 flagged for the department that "filings of cases raising certain ADA claims increased 521 percent from 2005 to 2017" and how plaintiffs' lawyers were exploiting the unclear portion of ADA for personal gain.
In the letter sent this week, the senators noted that the DOJ's response to the initial letter acknowledged flexibility in compliance, but did not outline specific details for how it plans to address the need for more guidance.
"We therefore urge the Department to provide further clarity, especially given that the issue of whether the ADA applies to private websites at all – or the scope of such application – continues to be subject to conflicting judicial opinions," the senators wrote. "Absent further guidance, compliance will remain a matter of increasing litigation and inconsistent outcomes. Regulation through litigation should not be the standard."
Along with Grassley, the letter was signed by Senate Banking Committee Chairman Mike Crapo, R-Idaho, and Sens. Thom Tillis, R-N.C., John Cornyn, R-Texas, Joni Ernst, R-Iowa, Mike Rounds, R-S.D., and Marsha Blackburn, R-Tenn.
Since fall 2017, NAFCU has defended credit unions targeted by meritless lawsuits under the ADA due to unclear website accessibility requirements. The association filed 16 amicus briefs in seven different states to support credit unions targeted by ADA website accessibility litigation. So far, nine of the complaints in which NAFCU has supported the credit union have been dismissed.
NAFCU's defense of credit unions facing these lawsuits has led to a slowdown in lawsuits against the industry; no new federal cases have been filed against credit unions since April 2018.
In addition to supporting credit unions facing lawsuits, NAFCU has engaged with the DOJ and Congress to obtain clarity for credit unions – and will continue to do so. Earlier this year, NAFCU secured a listening session with the Department of Justice that allowed more than a dozen member credit unions to provide direct feedback and urge the department to provide guidance on the issue.
Related Resources
---
Get daily updates.
Subscribe to NAFCU today.