June 12, 2019
Thaler: Collaboration needed on data security, privacy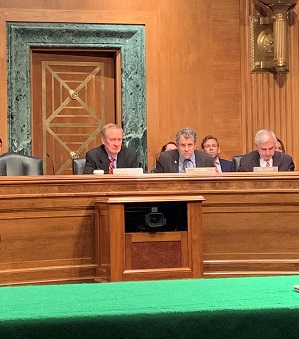 Ahead of yesterday's Senate Banking Committee data privacy hearing, NAFCU Vice President of Legislative Affairs Brad Thaler reiterated the need for national data security and privacy standards and urged members to work collaboratively with other Senate committees to "find a package that can advance and receive bipartisan support."
During the hearing, the committee discussed approaches to data privacy, the impact on the financial services industry and how companies collect and use information in marketing and decision-making.
"Financial regulators are not the only ones engaged in big data collection; private companies are also collecting, processing, analyzing and sharing considerable data on individuals," noted Committee Chairman Mike Crapo, R-Idaho, in his opening remarks. "The data ecosystem is far more expansive, granular and informative than ever before."  
Throughout the hearing, a number of lawmakers and witnesses discussed data privacy and ownership concerns as they relate to the Fair Credit Reporting Act (FCRA). Amendments to the FCRA could potentially affect financial institutions' operations.
NAFCU – a leader in calling for a national data security standard – has advocated for safeguards to ensure negligent entities are held accountable for data exposures, consumers have control over their data and are notified of breaches in a timely manner. The association believes that all entities – not just financial institutions – that handle consumer information must comply with comprehensive federal data protection standards.
"While depository institutions have had a national standard on data security since the passage of the Gramm-Leach-Bliley Act (GLBA) over two decades ago, other entities who handle consumer financial data do not have such a national standard," wrote Thaler. "Along those same lines, we also believe that there is a need for a uniform national consumer data privacy standard as opposed to a patchwork of standards stemming from different state data privacy laws."
The committee also examined the European Union's General Data Protection Regulation (GDPR) in comparison to the previous 1995 Data Protection Directive as an example of broader scope regulation. The substantive requirements of the GDPR, how they differ from existing U.S. mandates and credit unions' approach to it was outlined in an edition of the NAFCU Compliance Monitor published last summer.
NAFCU's Regulatory Committee has previously discussed the GDPR and other issues on privacy, including the proposed rule on the California Customer Privacy Act (CCPA) that intends to establish procedures to facilitate consumers' rights and provide guidance to businesses on how to comply with the law. At least 10 states have introduced draft bills to impose obligations on businesses to provide consumers with more control of their personal data.
The association has long been active with lawmakers on the issue of data security and was the first group after the massive 2013 Target data breach to call for a legislative solution to reform the nation's data security system.