October 29, 2020
Today's Compliance Seminar features data security, privacy trends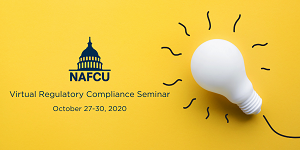 Today's Virtual Regulatory Compliance Seminar opens with general sessions focused on data security and privacy trends, as well as best practices to build a culture of compliance throughout the entire credit union.
The conference, which runs through tomorrow, is designed to provide compliance professionals with an opportunity to stay on top of evolving regulatory trends and hot topics to fully understand the new and developing landscape.
New this year, attendees have the opportunity to choose between two tracks – Compliance or Bank Secrecy Act (BSA) – to dive deeper into specific issues related to their roles. Unique to the virtual event format, attendees may view both tracks through a mix of live and on-demand sessions.
Here's a look at today's agenda:
Data Security and Privacy Trends: As the California Consumer Privacy Act (CCPA) is in its early implementation stages and other states consider enacting their own legislation, what are the risks and trends around protecting consumer's data and privacy interests?
How to Save Your Credit Union (and Yourself) From a Toxic Compliance Culture: The second general session will detail how credit unions can build a culture of compliance through positive relationships across departments. Attendees will get tips on how to be a resource for their credit union and be included in projects from the beginning. The session will also cover getting buy-in from boards of directors and executive management to actively encourage, and participate in, this culture. 
Those participating in the Compliance Track will also discuss mortgage servicing issues that may come up during an economic recession and mitigating Fair Credit Reporting Act (FCRA) and other regulatory risks amid the coronavirus pandemic.
The BSA Track will feature case studies on how to monitor accounts, update beneficial owner requirements and file reports, an overview of how to digitally verify members' identity to comply with customer identification program (CIP) rules, and trends in financial crimes.
Of note, NAFCU Certified Compliance Officers (NCCO) and NAFCU Certified Bank Secrecy Officers (NCBSO) can earn their recertifications simply by attending the seminar – no exams necessary.
View the full agenda here. Unable to attend? Registration includes access to on-demand recordings of conference sessions. For up-to-the-minute updates, follow #ComplianceSeminar on Twitter.
Related Resources
---
Get daily updates.
Subscribe to NAFCU today.