February 11, 2019
This week: Congress works to avoid gov't shutdown, NCUA nominees under consideration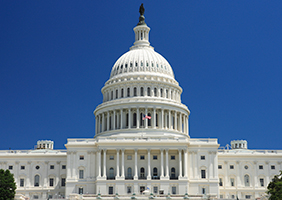 The three-week, short-term funding bill that ended the 35-day partial government shutdown is set to expire at midnight Friday. The House and Senate are expected to consider a longer-term funding solution for the nine affected departments this week to avoid another shutdown.
The bipartisan group of representatives and senators selected to hash out funding details specifically for the Department of Homeland Security (DHS), as part of the deal to end the shutdown, have been working to finalize a compromise on border security and immigration issues. However, there are reports that the two parties are still in disagreement over some aspects, which could prevent a compromise from being reached.
As Congress considers funding for all the affected departments, NAFCU will work to ensure credit union funding priorities, such as full funding for the NCUA's Community Development Revolving Loan Fund (CDRLF), Treasury's Community Development Financial Institutions (CDFI) Fund and the Small Business Administration's (SBA) 7(a) and 504 loan programs, are included. The association will also keep credit unions updated as another partial government shutdown approaches.
In addition, the Senate Banking Committee on Thursday will hold a hearing to consider the nominations of Rodney Hood and Todd Harper to serve on the NCUA Board, and Dr. Mark Calabria to be director of the Federal Housing Finance Agency (FHFA). Both Hood and Harper have previous experience at the NCUA.
The House Financial Services Committee and subcommittees will hold a number of hearings this week that NAFCU will monitor:
A House Appropriations subcommittee tomorrow will also hold a hearing to examine how the Department of Housing and Urban Development handled housing contracts during the partial government shutdown.
The Senate could also vote to confirm William Barr to be U.S. Attorney General this week.
Also happening this week:
tonight, NAFCU President and CEO Dan Berger will discuss federal issues affecting credit unions at the Metropolitan Area Credit Union Management Association's (MACUMA) monthly meeting;
tomorrow, NAFCU's Regulatory Committee will meet;
tomorrow, NAFCU is offering a free webinar breaking down the NAFCU Certified Compliance Officer (NCCO) exam;
Thursday, the NCUA Board will meet (see what's on the agenda here); and
Thursday, NAFCU is offering a webinar on TRID errors and risks (read more here).
Related Resources
---
Get daily updates.
Subscribe to NAFCU today.