July 06, 2020
This week: CUs encouraged to join NAFCU advocacy, webinars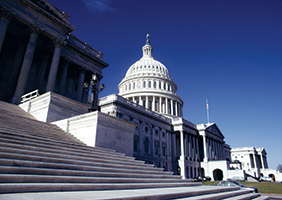 The House and Senate are working from their home districts and states this week, but work continues on the fiscal year 2021 National Defense Authorization Act (NDAA) and the House Financial Services Committee is set to hold virtual hearings on economic issues related to the coronavirus pandemic.
Last week, the House Armed Services Committee advanced its version of the NDAA, which – as a result of NAFCU's ardent advocacy – did not include a provision that could disadvantage credit unions as it would treat all banks, including large ones like Wells Fargo, the same as local, not-for-profit credit unions when it comes to nominal leases on military bases.
The Senate began consideration of the Senate Armed Services Committee's NDAA, which currently includes the NAFCU-opposed provision, as well as potential amendments to the bill. Of note, NAFCU is supportive of efforts to include Bank Secrecy Act/anti-money laundering reforms as part of the NDAA. The chamber is expected to soon vote on the bill, though a conference committee with members from both chambers will likely be convened to work out discrepancies between the two bills.
To ensure the military lease provision is not included in the final version of the bill, credit unions are encouraged to bolster NAFCU's advocacy through its Grassroots Action Center and send messages directly to lawmakers on the NDAA provision.
In addition, NAFCU continues to monitor congressional efforts related to the Small Business Administration's (SBA) paycheck protection program (PPP). The program, whose authorization expired June 30, was extended to Aug. 8. President Donald Trump signed the extension passed by the Senate and House over the weekend as roughly $130 billion of funds remained. A bipartisan group of senators also introduced NAFCU-sought legislation to provide automatic forgiveness for PPP loans of less than $150,000; the association continues to urge the SBA to support this forgiveness efforts and make other improvements to the process.
The House Financial Services Committee is set to hold two virtual hearings of interest to credit unions this week:
As NAFCU keeps its focus of providing extreme member service a priority amid the coronavirus pandemic and social distancing practices, the association's complimentary virtual roadshow continues this week. So far, hundreds of credit unions have participated in the events, during which senior members of NAFCU's staff detail recent legislative efforts to address the coronavirus pandemic and what regulators are doing to provide credit unions with some regulatory relief and ensure members have access to the financial products and services they need.
Here are the Roadshow Webinars happening this week:
See the lineup of remaining events to register for your specific state. Through the series, which runs until the end of July, NAFCU will be hitting all 50 states and U.S. territories where credit unions operate. Missed your state's event? Webinars are available on-demand after airing.
In addition, NAFCU and NAFCU Services Wednesday are offering a complimentary virtual event – the NAFCU Services 2020 Partner Innovation Spotlight – to help connect credit unions with next-generation technology, cutting-edge products, and innovative campaigns to help them thrive. Learn more and register for the event here.
Stay tuned to NAFCU Today for the latest out of Washington.
Related Resources
---
Get daily updates.
Subscribe to NAFCU today.