December 03, 2018
This week: Looming gov't shutdown delayed, NAFCU before HFSC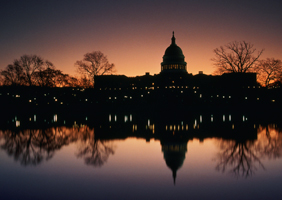 Following the passing of former President George H.W. Bush, Congress' schedule this week is in flux as lawmakers prepare tributes and attend memorials for the former president during the first part of the week. When they are in session, lawmakers are expected to pass a short-term funding bill to prevent a partial government shutdown; a portion of spending and the National Flood Insurance Program (NFIP) are currently set to expire Friday. The Senate could also vote on the nomination of Kathy Kraninger to lead the Bureau of Consumer Financial Protection before the end of the week.
On Thursday, NAFCU has been invited to testify before the House Financial Services Committee (read more here). A planned hearing with Federal Housing Administration Commissioner Brian Montgomery has been postponed.
With as few as two expected legislative weeks left in this Congress, Congress must still finish work on some government spending, including the financial services and general government (FSGG) appropriations measure. The short-term bill would only extend funding for an additional week or two. NAFCU has heavily advocated for full funding for the NCUA's Community Development Revolving Loan Fund (CDRLF) and Treasury's Community Development Financial Institutions (CDFI) Fund, which is included in the Senate-passed version of the bill. Both Senate- and House-passed bills include full funding for the Small Business Administration's (SBA) 7(a) and 504 loan programs, which are used by credit unions.
NAFCU has also urged congressional leaders to not let the NFIP lapse, and Congress last week passed a one-week extension to align it with the government funding deadline.
This week, the Senate is also expected to vote on the nomination of Kathy Kraninger to lead the Bureau of Consumer Financial Protection (previously the CFPB). Senate Banking Committee Chairman Mike Crapo, R-Idaho, noted NAFCU's comments on the need for a full-time director in floor remarks given Friday.
The House could also act on a tax extenders and fixes package (H.R. 88). This package addresses some concerns raised by NAFCU regarding the 21 percent excise tax included in the Tax Cuts and Jobs Act (TCJA). NAFCU has been working with Congress to seek relief for credit unions from this new tax imposed on certain not-for-profits. The bill includes a manager's amendment from House Ways and Means Committee Chairman Kevin Brady, R-Texas, which repeals the tax on fridge benefits, but not on executive compensation. NAFCU will keep credit unions updated.
Also this week:
Credit union CFOs are arriving in Ft. Lauderdale, Fla., for NAFCU's inaugural

Credit Union CFO Summit

. The event, which begins Wednesday, will have a strong focus on using data to make well-informed decision.

See the full agenda here

and follow

#CFOSummit

on Twitter for additional coverage.
NAFCU today is attending a Small Business Administration (SBA) Advocacy Roundtable on the Americans with Disabilities Act. Representatives from the Justice Department are scheduled to speak. (

Read more here

)
NAFCU on Tuesday will meet with the NCUA to discuss elder financial abuse.
Also on Tuesday, NAFCU will attend a meeting with the Financial Services Sector Coordinating Council (FSSCC), of which NAFCU is a founding member, held jointly with the Financial and Banking Information Infrastructure Committee (FBIIC).