July 22, 2019
This week: Marijuana banking, big banks, alternative data on Congress' agenda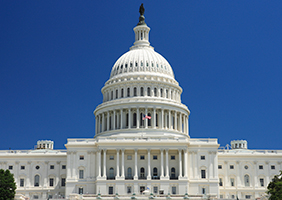 The House and Senate this week will discuss a number of issues that could have major impacts on the credit union industry, including providing banking services to marijuana-related businesses (MRBs), the potential creation of a megabank and using alternative data in credit score models. NAFCU's award-winning advocacy team will be on Capitol Hill to provide insights to lawmakers on these issues.
The House is also expected to vote on the Stopping Bad Robocalls Act this week. NAFCU will continue to advocate that efforts to target illegal robocalls protect calls from legitimate businesses such as credit unions.
Also this week, NAFCU is launching an online campaign to educate the public on the good work credit unions do in their communities and for their 117 million members. Follow along and join in on Twitter using #CUsCare as NAFCU celebrates the credit union industry with fun facts, stories and statistics.
Tomorrow, the Senate Banking Committee will consider the challenges financial institutions face when trying to serve MRBs. The committee will hear from senators whose states have legalized marijuana, as well as representatives from the financial services industry and others. NAFCU has available a new issue brief on marijuana banking, which outlines the current status of three bills that have been introduced in Congress and more.
Wednesday, the House Financial Services Committee will hold a hearing to discuss the proposed merger of SunTrust and BB&T banks, which some are concerned would create a megabank. NAFCU consistently works to set the record straight on the differences between credit unions and banks as the banking industry continues to lobby to have their requirements relaxed while trying to put the requirements on credit unions.
Thursday, the House Financial Services Committee's Task Force on Financial Technology will examine ways to improve access to credit through the use of alternative data in underwriting and credit scoring. NAFCU and its member credit unions have long advocated for the use of alternative models that more accurately capture creditworthy borrowers and permit them access to affordable credit.
Also happening this week:
Related Resources
---
Get daily updates.
Subscribe to NAFCU today.