May 13, 2019
This week: NAFCU monitoring financial regulators, payday hearings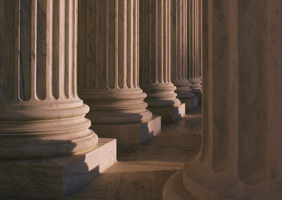 Ahead of a hearing Thursday where lawmakers are set to discuss the CFPB's proposed repeal of the payday lending rule, NAFCU and member credit unions will meet today with the bureau and NCUA to discuss the payday lending rule and credit unions' payday alternative loans (PALs) programs.
The House Oversight and Reform subcommittee hearing Thursday will examine the CFPB's role in empowering predatory lenders and the proposed repeal of its payday lending rule. While NAFCU believes regulators must crack down on bad actors, the association has expressed support for the payday rule delay and continues to urge the CFPB to expand its safe harbor for all future iterations of PALs. The association's advocacy led the bureau to take into account credit unions' concerns in the final rule and create a safe harbor for NCUA's PALs.
Also happening this week, the Senate Banking Committee on Wednesday will hear from Comptroller of the Currency Joseph M. Otting, NCUA Chairman Rodney Hood, FDIC Chairman Jelena McWilliams, and Vice Chair for Supervision, Board of Governors of the Federal Reserve System Randal Quarles to discuss oversight of financial regulators. The same panel goes before the House Financial Services Committee Thursday.
NAFCU will also monitor a Senate Committee on Small Business and Entrepreneurship hearing on the reauthorization of the Small Business Administration's (SBA) innovation programs set to begin at 2:30 p.m. Eastern Wednesday. The association works closely with the SBA to increase credit unions' participation in SBA lending programs in order to better serve their communities; the association met with the agency in March to discuss these efforts.
Last week, House Financial Services Chairwoman Maxine Waters, D-Calif., and Ranking Member Patrick McHenry, R-N.C., announced legislation that would extend the National Flood Insurance Program through September 30. Discussions are expected to continue in the House as the program is currently set to expire at the end of the month. A number of NAFCU-sought reforms for the program were discussed during a House Financial Services Committee hearing on its reauthorization in March.
Also happening this week:
NAFCU is offering a webinar tomorrow focused on website and social media compliance violations. Register here.
Tomorrow, NAFCU's Regulatory Committee will meet to discuss issues affecting credit unions.
Tomorrow, the Senate Finance Committee will hold a hearing on challenges in the retirement system.
Wednesday, a Senate Appropriations subcommittee will examine the Treasury Department's proposed budget estimates for fiscal year 2020.
Thursday, NAFCU will meet at the Treasury Department to discuss the Telephone Consumer Protection Act (TCPA) and efforts to further clarify the definition of "autodialer" to ensure legitimate businesses such as credit unions can contact consumers without fear of breaking the law.
Related Resources
Add to Calendar 2023-02-03 09:00:00 2023-02-03 09:00:00 Winning the Battle for Deposits Listen On: Key Takeaways: [01:28] An overview of the current macro environment. [02:55] Traditional tactics used by credit unions in the battle for deposits and why these are no longer enough. [07:39] Rife competition in the credit union space and how to stand out from the crowd.  [10:23] The benefits credit unions can experience by reducing the cognitive load of their members [18:17] Advantages and disadvantages of PFM tools in the battle for deposits.  [20:14] What credit unions should demand of their vendors. Web NAFCU digital@nafcu.org America/New_York public
preferred partner
Personetics
Podcast
Add to Calendar 2023-02-02 14:00:00 2023-02-02 14:00:00 How to Leverage Loan Participations in a Low Liquidity Environment About The Webinar As credit unions continue to face challenges with liquidity starting off 2023, strategic pricing and long-term alternative funding strategies can play a key role in allowing credit unions to serve more members and successfully manage the balance sheet. Loan participations can play a key role helping credit unions sustainably grow their originations, provide the marketplace access to quality, short duration investments, and successfully grow market share. Please join Amy Henderson, Chief Consumer Services Officer at Greenstate CU, Devin Hughes, VP of Business Development at LendKey, and Michael Adams, VP of Lender Development at Open Lending for a panel discussion to learn how credit unions can strategically serve more members, effectively price for loans, and successfully manage their balance sheet. Attendees will: Hear from Credit Union and FinTech experts Learn about loan pricing strategies and participation strategies Glean best practices from industry leaders who have been executing on these innovative strategies that better position the balance sheet for long term growth Find out how credit unions can start the process to identify trusted partners to help them execute on this strategy and serve more members Register for the Webinar Web NAFCU digital@nafcu.org America/New_York public
preferred partner
Open Lending
Webinar
Management, Relationships, Consumer Lending
preferred partner
Wolters Kluwer
Blog Post
---
Get daily updates.
Subscribe to NAFCU today.