March 22, 2021
This week: NAFCU monitoring updates on COVID response, PPP extension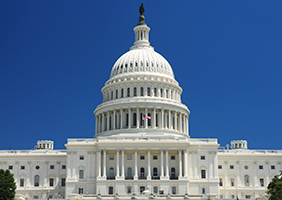 Discussions on Capitol Hill this week will center around policymakers' response to the coronavirus pandemic, looking closely at the economic impact, small business programs and housing issues. NAFCU's award-winning advocacy team will remain engaged with lawmakers to ensure they're aware of credit unions' efforts to support their members and communities amid the crisis.
As the paycheck protection program (PPP) is currently set to expire next week, the Senate could vote as early as today on legislation to delay its loan application deadline to May 31 and allow the Small Business Administration (SBA) to continue processing applications for 30 days after that date. NAFCU – after raising concerns about the amount of loans backlogged due to hold codes and calling on the SBA to clear the codes before the program ends – shared how this bill could help address concerns.
In addition to considering this legislation, lawmakers are set to hold hearings related to small business lending programs:
Treasury Secretary Janet Yellen and Federal Reserve Chair Jerome Powell will also provide their quarterly update on the CARES Act's implementation and impact to the House Financial Services Committee tomorrow and the Senate Banking Committee Wednesday. The Senate Banking Committee will also hold a hearing Thursday to discuss the impact of the most recent coronavirus relief package, the American Rescue Plan Act.
Housing issues will be covered during a House Financial Services subcommittee hearing Wednesday to examine public housing amid the pandemic and a House Appropriations subcommittee hearing Thursday on how transportation and housing can support equitable communities.
Also happening this week:
NAFCU's Virtual Regulatory Compliance School continues tomorrow through Friday (see the agenda here);
the NCUA's webinar to help credit unions monitor and identify areas of credit risk resulting from the coronavirus pandemic is tomorrow; and
NAFCU is offering a complimentary webinar today on how credit unions can utilize secondary capital to drive growth and community impact. Learn more about upcoming webinars.
Related Resources
---
Get daily updates.
Subscribe to NAFCU today.