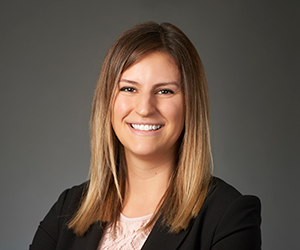 Ann Petros was named Vice President of Regulatory Affairs in October 2021. In her role, Petros oversees NAFCU's advocacy on various regulatory developments from federal agencies, including the National Credit Union Administration, the Consumer Financial Protection Bureau, and the Federal Housing Finance Agency. Petros joined NAFCU in June 2016 as a regulatory affairs counsel and was promoted to senior regulatory affairs counsel in June 2018. Since starting at NAFCU, Petros has led the association's advocacy on housing finance issues as well as Federal Communications Commission regulations implementing the Telephone Consumer Protection Act.
Prior to joining NAFCU, Petros worked at a law firm focusing on complex commercial litigation. Petros is a graduate of the George Mason University Antonin Scalia Law School and holds a bachelor's degree in economics and political science from Binghamton University.
Petros is a member of the Virginia State Bar, the Virginia Bar Association, and the American Bar Association. Petros is also a registered parliamentarian.