After a strong 2017 marked by successes for NAFCU and its members — including nine Congressional testimonies by our members, 315% increase in grassroots action, numerous meetings with key members of the administration, and much more — we are continuing our focus on providing the best federal advocacy, top-rated education and award-winning compliance assistance in 2018.
The following are NAFCU's legislative and regulatory priorities for 2018.
1. Growth
NAFCU supports a regulatory environment that allows credit unions to grow. There must be a regulatory environment that supports innovation and encourages credit unions to provide consumers and small businesses with access to credit. 
Working for you to:
Preserve the credit union tax exemption
Achieve GSE/housing finance reform and ensure credit unions' continued access to the secondary mortgage market and fair pricing based on loan quality, not quantity
Reform member business lending
Further field-of-membership reforms and relief
Attain capital/risk-based capital reform better suited to the credit union industry
2. Regulatory Relief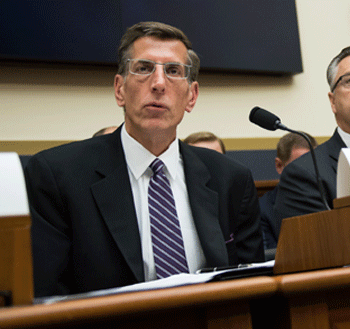 NAFCU supports appropriate, tailored regulation for credit unions and relief from growing regulatory burdens. Credit unions are swamped by an ever-increasing regulatory burden from the CFPB and other regulators, often by rules aimed at bad actors and not community institutions. Regulatory relief must be achieved via legislative and regulatory tracks.
Working for you to: 
Achieve proper cost-benefit analysis for any new regulation
Implement better use of CFPB's exemption authority for the credit union industry
Attain guidance on Unfair, Deceptive, or Abusive Acts and Practices (UDAAP)
3. Fair Playing Field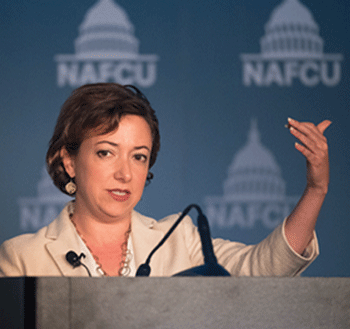 NAFCU supports a fair playing field. Credit unions should have as many opportunities as banks and non-regulated entities to provide sensible credit to our nation's consumers. Unregulated entities, such as predatory payday lenders, must not escape oversight.
Working for you to:
Enact data/cybersecurity reforms that create a safer environment and hold merchants accountable, all while not creating burdensome new requirements on credit unions  
Achieve appropriate regulation of fintech companies
Help foster partnerships with new technologies
Repeal the debit interchange amendment under the Dodd-Frank Act
4. Transparency
NAFCU supports government transparency and accountability. Regulators need to be transparent and accountable in their actions, with the opportunity for public input, and should respect different viewpoints.
Working for you to:
Attain a leadership structure in the CFPB consisting of a bipartisan commission as compared to a single director
Realize future refunds from the Temporary Corporate Credit Union Stabilization Fund/National Credit Union Share Insurance Fund (NCUSIF) merger
Return the NCUSIF's normal operating level to 1.3 percent
5. Strong NCUA
NAFCU supports a strong, independent NCUA as the primary regulator for credit unions. The NCUA is best situated with the knowledge and expertise to regulate credit unions, which are unique.
Working for you to:
Continue to advocate for NCUA to be the primary regulator and examiner of credit unions
Maintain the NCUA's independent structure and fight any efforts to bring the agency under congressional appropriations and/or expand the NCUA Board to five members