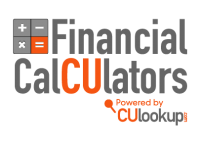 Financial CalCUlators — powered by CULookup.com — offer 30 different personal finance calculators developed specifically for credit unions and their members. Boost member engagement, savings rates, and loan applications with on-demand financial decision tools for your website.
Developed and underwritten by NAFCU for the credit union community, Financial CalCUlators are included with a NAFCU membership and offered for $2,500/year to all to nonmember credit unions.
Optional call-to-action banner ads provide your credit union with the tools to own the branding, usage data, and leads without paying any click-through, volume, or ad charges.
A Financial CalCUlators subscription includes an enhanced listing on CULookup.com, so that more potential members can find your credit union and learn about your membership, branches, and services.
Pricing & Features
Call-to-Action Banners embed directly within the Financial CalCUlators and invite members to explore a new page on your credit union's website. The banners allow your credit union to digitally engage with members without sending them away from your site, bombarding them with ads, or selling their data.

Your credit union owns the branding, usage data, and leads without paying any click-through, volume, or ad charges.

How can I use the banners?

With the call-to-action banners, credit unions can now direct members toward possible next steps, like rate comparisons, information pages, and loan application builders. Or, refer members to research pages or guide them to contact you via an online form. Each of the five calculator groups (Home, Auto, Credit, Savings, and Retirement) display your own customized banner image that routes to a designated page on your website.

This allows you to highlight different products that coincide with the members' financial goals and target their specific interests. Once you capture their interest, run an analytics report on the banner behavior to track usage and effectiveness.