The Appraisals Rule – NCUA's Proposal and Rumored Exam Issues; NAFCU Hosting BCFP HMDA Webcast
Written by Brandy Bruyere, Vice President of Regulatory Compliance, NAFCU
Yesterday, the NCUA Board approved a proposal to amend the agency's appraisals rule. The proposal, in part, increases the threshold for when an appraisal will not be required for non-residential real estate transactions from $250,000 to $1 million, and has some technical changes "to improve clarity."  The proposal would also implement a provision from the Economic Growth, Regulatory Relief, and Consumer Protection Act (S.2155) regarding appraisals in rural areas. The agency created this chart to help demonstrate the differences between the current rule and the proposal: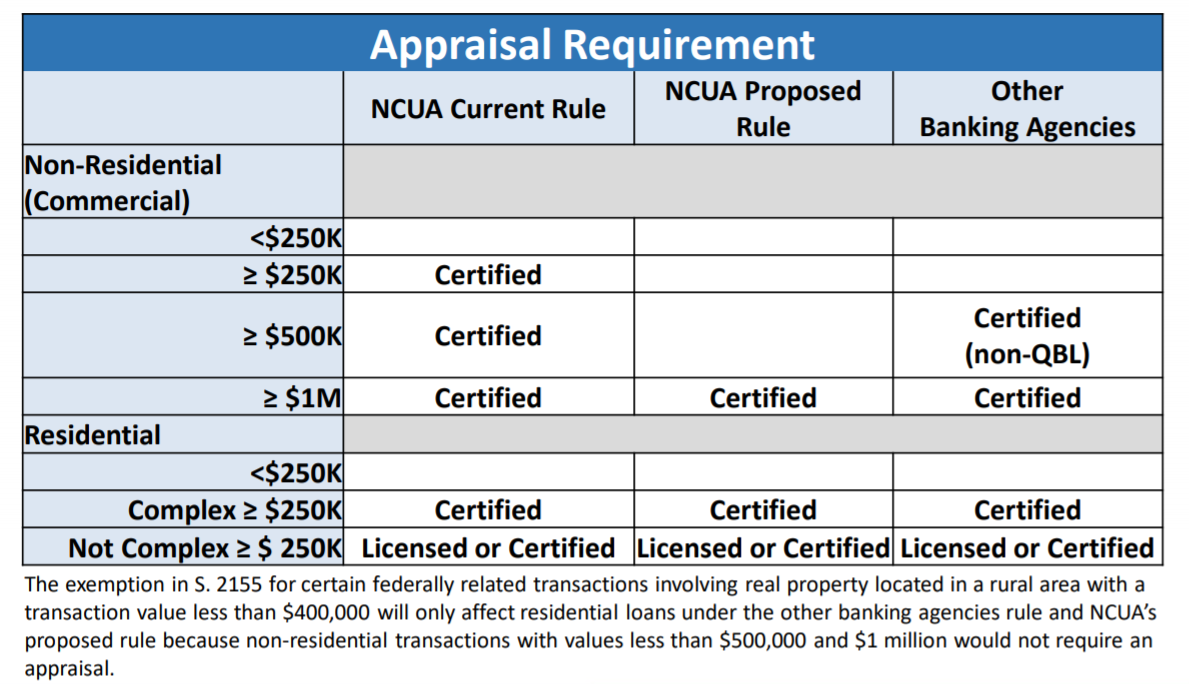 The proposal would define "complex" to mean "a transaction in which the property to be appraised, the form of ownership, or market conditions are atypical," but that a credit union "may presume that appraisals of 1- to 4- family residential properties are not complex" absent information indicating otherwise. NAFCU's regulatory affairs team will create a Regulatory Alert for members with more details on this proposal and seek feedback from our members to formulate comments.
Rumor Has It…Examiners Reviewing Appraisals Practices Turning to existing requirements, NAFCU has been hearing from credit unions that during exams, NCUA is sometimes taking a close look at the credit union's appraisals process. Specifically, this can include reviewing how the credit union ensures that appraisals are independent and checking to what extent compliance is reviewing appraisals. In addition to the appraisals rule, there are multiple guidance documents that set forth regulatory expectations in this area. For example, Letter to Credit Unions 10-23 included interagency guidelines which discuss independence of the appraisal and evaluation program on pages 3 – 5. An older Letter to Credit Unions from 2003 still appears to be active, and references older guidance issued by federal banking regulators.
As far as compliance reviews, this is discussed on p. 20 – 21 of the same 2010 guidance document which indicate expectations for the "compliance process" which include:
"Maintain a system of adequate controls, verification, and testing to ensure that appraisals and evaluations provide credible market values.

Insulate the persons responsible for ascertaining the compliance of the institution's appraisal and evaluation function from any influence by loan production staff.

Ensure the institution's practices result in the selection of appraisers and persons who perform evaluations with the appropriate qualifications and demonstrated competency for the assignment.

Establish procedures to test the quality of the appraisal and evaluation review process.

Use, as appropriate, the results of the institution's review process and other relevant information as a basis for considering a person for a future appraisal or evaluation assignment.

Report appraisal and evaluation deficiencies to appropriate internal parties and, if applicable, to external authorities in a timely manner."
There are also interagency Q&As from 2005 which say the following:
19. Should all appraisals undergo a compliance review?
Answer: Yes, prior to a final credit decision, regulated institutions should perform a compliance review on all appraisals to confirm that they comply with the minimum appraisal standards as outlined in the agencies' appraisal regulations, the interagency guidelines, and the independence statement. Loan administration files should document this compliance review, which may be in checklist or narrative format. In addition, certain appraisals should be reviewed more comprehensively to assess the technical quality of the appraiser's analysis prior to making a final credit decision. The regulated institution should establish guidelines for a more detailed, technical review based on transaction risk, transaction size, or other criteria. (See "Program Compliance" in the interagency guidelines.)
Another tool to check is the real estate lending controls of NCUA's AIRES Questionnaires which has a separate section specific to appraisals. This includes over a dozen questions regarding expectations for appraisals:
NAFCU Hosting a BCFP Webinar on HMDA.  A week from today, on September 28, 2018, join us  from 2PM to 3:30 PM EST for a HMDA Update from the BCFP which will focus on the recent rulemaking that implements a partial exemption for some credit unions from certain HMDA data reporting requirements. Check this link this afternoon to register.
About the Author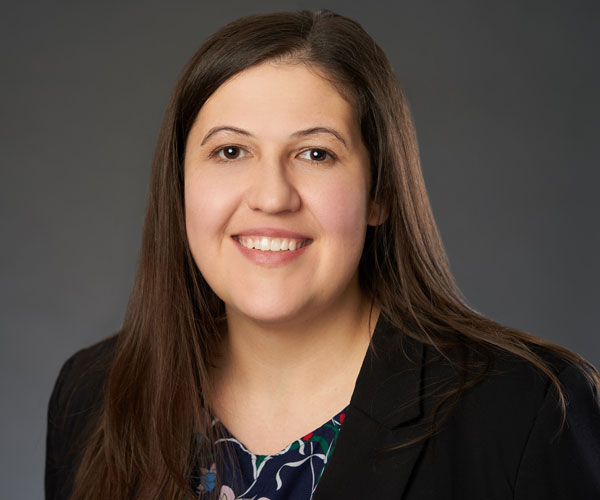 Brandy Bruyere, NCCO was named vice president of regulatory compliance in February 2017. In her role, Bruyere oversees NAFCU's regulatory compliance team who help credit unions with a variety of compliance issues.
Read full bio