CFPB Continues to Focus on Fees
If you've been following credit union compliance issues during the past 2 years, then you've no doubt heard about the effort by the Consumer Financial Protection Bureau (CFPB or bureau) to combat what they've dubbed to be "junk fees." NAFCU disagrees with the "junk fee" label, especially when applied to fees charged by member-owned not-for-profit credit unions. Nevertheless, from a compliance perspective, credit unions should pay attention to the bureau's activity regarding junk fees, as there can be implications for a credit union's operations. Junk fees are considered by the bureau to be unfair, deceptive or abusive acts or practices (UDAAP), and therefore a violation of federal law. Let's review the CFPB's recent Fall 2023 Supervisory Highlights and how that fits into the broader picture of this war on fees:
Re-Presented NSF Fees
First, the publication discusses re-presented nonsufficient funds (NSF) fees. These fees arise when an NSF fee is charged because a transaction fails due to insufficient funds, and later the transaction is tried again (i.e. re-presented) and another NSF fee is charged because the funds are still insufficient. As discussed in this previous post in the Compliance Blog, the CFPB focused on these fees earlier this year in their Spring 2023 Supervisory Highlights, as well as in an enforcement action against Bank of America. In its most recent publication, the bureau notes that disclosing these fees in the account opening disclosures is not enough to prevent these fees from being labelled junk fees:
"These injuries were not reasonably avoidable by consumers, regardless of disclosures in account-opening documents, because consumers did not have a reasonable opportunity to prevent another fee after the first failed presentment attempt."
(emphasis added).
Additionally, NAFCU has heard from some credit unions that there are technological barriers to eliminating these fees – for example, a core system might not be able to flag if a transaction has been presented before. The CFPB attempted to address this by noting that the core provider may also be engaged in UDAAP violations:
"Examiners concluded that, in the offering and providing of core service platforms, core processors engaged in an unfair act or practice by contributing to the assessment of unfair NSF fees on re-presented items."
(emphasis added).
The bureau also noted that they're considering how transactions are coded by Originating Depository Financial Institutions (ODFIs), indicating that the bureau may at some point issue guidance that transactions need to be coded a certain way to identify that they're re-presented.
Overdraft Fees
Overdraft fees are another type of fee that the bureau has focused on in recent years. As discussed in this previous blog post, the CFPB published a circular in October 2022 which declared "authorize positive, settle negative" (APSN) overdraft practices to be a UDAAP violation. The bureau had also brought an enforcement action against Regions Bank for APSN overdraft practices about one month before publishing the circular.
In the recent Fall 2023 Supervisory Highlights, the bureau noted that institutions continue to engage in APSN overdraft practices. Notably, the agency stated that these violations occurred "whether supervised institutions used the consumer's available or ledger balance for fee decisioning." Like the re-presented NSF fees (see above), the CFPB stated that charging these fees was a violation, "irrespective of account opening disclosures," indicating that disclosing APSN practices is not enough to mitigate the potential UDAAP risk involved.
Statement Fees
The most recent Supervisory Highlights also discusses another type of fee that the bureau has not addressed in detail before now: statement fees. The CFPB stated that some financial institutions engaged in UDAAP violations by charging fees to print and mail paper periodic statements but then not actually attempting to print or mail those statements. Notably, it's the failure to provide the service that is being charged for – in this case the printing and mailing – that seems to draw the CFPB's ire. While the bureau does not state it explicitly, this seems to suggest that the bureau does not object to fees for printing or mailing statements so long as the institution charging those fees actually follows-through on printing and mailing the statements.
Other Compliance Issues
The Fall 2023 Supervisory Highlights discusses returned item fees, which were first addressed by the bureau in October 2022 (see the blog post linked above in the "Overdraft Fees" section). The bureau asserts that it is a UDAAP violation for a credit union or other institution to charge a "returned item fee" when a member deposits a check that is later returned unpaid, if such fees will be charged "irrespective of the circumstances or patterns of behavior on the account." The bureau stated that it has not sought to obtain monetary relief for any of these fees charged prior to November 1, 2023, indicating that it may seek monetary relief if institutions continue charging these fees after that date.
The document also notes that the CFPB found violations relating to garnishment or set-off of funds received through economic impact payments (EIPs), also known as stimulus funds received during the COVID-19 pandemic. The publication notes that some institutions opted to refund the garnished or set-off funds once they faced scrutiny from the CFPB and updated their policies and procedures accordingly.
The Supervisory Highlights also looked at auto servicing, noting that numerous institutions committed UDAAP violations by failing to refund the cost of add-on products – such as GAP coverage – after the loan was paid off early or the vehicle was repossessed. The thinking here is that a borrower no longer needs these add-on services or receives a benefit from them when the vehicle is paid off or repossessed.
Finally, the publication discusses violations relating to remittance transfers, which are subject to regulations in subpart B of Regulation E. The bureau describes that some remittance transfer providers violated Regulation E by failing to disclose the fees charged by their agents. Additionally, some providers failed to make funds available to recipients by the "date of availability," triggering a requirement to refund any fees that were charged to the sender – the CFPB noted that some institutions violated Regulation E by failing to provide those refunds.
The Takeaways
First, the CFPB seems to be saying that certain practices relating to fees – such as APSN overdraft practices and charging NSF fees on re-presented transactions – are UDAAP violations regardless of whether the institution disclosed them.
Second, the bureau once again discusses the action institutions took to remediate these fee-related violations, and notes that many of them agreed to stop charging the fees altogether. This is interesting, because the guidance indicates that certain fee practices could be permissible – such as charging overdraft fees without using APSN practices or charging NSF fees the first time a transaction is presented – yet the bureau's publication seems to favor an outcome in which the fees are not charged at all.
Finally, credit unions may want to review their compliance policies and procedures to avoid the conduct and practices described in the Supervisory Highlights, as such conduct and practices have been labelled violations of federal laws or regulations and may draw scrutiny from examiners.
*************
⏰ Last Call! Don't Miss Out on BSA School On Demand! 
Step into NAFCU's BSA School On-Demand for extensive BSA training accessible from any location. Act quickly – sessions are available now, and registration closes on 10/31/23.  
🎯 Online Compliance Training Subscriptions: For just one price, your entire credit union receives access to over 40 hot-topic compliance webinars per year, so your team can master challenges like BSA, data security, risk management, loss prevention, and more. Learn more. 
About the Author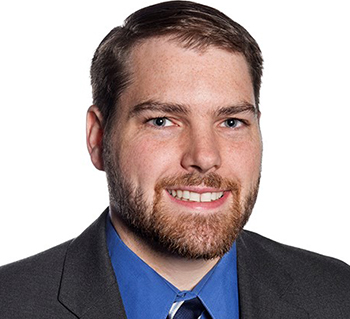 Nick St. John, was named Director of Regulatory Compliance in August 2022. In this role, Nick helps credit unions with a variety of compliance issues.
Read full bio