NAFCU's HMDA Rule Key Dates Timeline
Written by Eliott C. Ponte, Regulatory Compliance Counsel
With TRID in our rearview mirror, it is time to set our gaze on the next big rule.... HMDA!  While the final rule cites an effective date of January 1, 2018, credit unions that are subject to the final regulation will need to have plans and processes in place well before effective date. Depending on the credit union, compliance with the HMDA rule could involve preparing or changing policies, procedures, and processes.
The CFPB has done a good job with providing helpful resources affected institutions.  Shortly after announcing the final rule, the CFPB issued a HMDA Rule Implementation webpage, which includes a small entity compliance guide, executive summary, and implementation timeline. Since publishing these resources, the CFPB has issued other regulatory requirements, such as its file specifications for 2017 and 2018.  In an effort to be helpful, NAFCU has taken the CFPB's implementation timeline and added other key information applicable to credit unions.  For example, we added the file specification and HMDA notice changes to the timeline.  We also noted that, in certain circumstances, credit unions would need to collect the expanded data points for applications received in 2017.  Below is our Key Dates Timeline: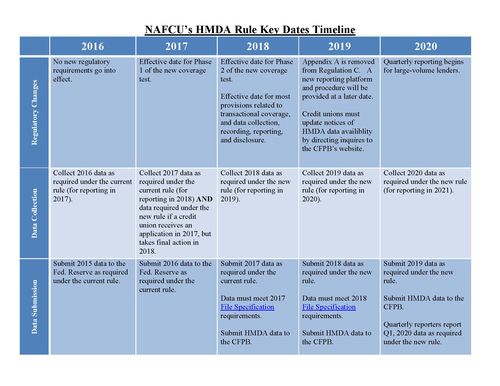 More Resources to Come!
To help with HMDA implementation, NAFCU is in the process of finalizing several HMDA resources, which include a Scope & Applicability Chart and Consolidated Regulatory Text. NAFCU will make these resources available to members before the end of the month.