Overheard at Regulatory Compliance Seminar: All I Want for Christmas is NCUA's MBL Guidance
Written by Elizabeth M. Young LaBerge, Senior Regulatory Compliance Counsel
NAFCU's Regulatory Compliance Seminar was held last month in New Orleans, Louisiana. Credit union volunteers, staff and compliance personnel from all over the country attended and it was a pleasure to meet so many of you in person.
One presentation I was especially looking forward to was by Vin Vieten, Senior Credit Specialist for NCUA who presented Principles Based Commercial Loan Risk Management. Following that presentation, NAFCU asked when NCUA expected to release the promised guidance regarding the new MBL rule and updates to the Call Report to accommodate the rule change. The guidance had been expected to be released in September. As of that moment, NCUA did not have an estimated release date for us. However, Mr. Vieten did say he expected it before January. Apparently, NCUA may be saving the guidance as a Christmas present. Mr. Vieten did also say that he didn't expect that anyone will be shocked or surprised by the guidance, as it will focus on risk management. This echoes previous indications from NCUA that existing guidance on managing loan risk may significantly inform this new guidance.
Elements of Risk Management of Commercial Lending
Mr. Vieten's presentation outlined 4 elements of commercial loan risk management: people, policies, process, and governance and control.
The people risk element includes the Board of Directors who are ultimately accountable for commercial lending by virtue of their approval of the policy and oversight of loans and staff. It also includes senior management, who must have a comprehensive understanding of commercial lending and be able to manage the risk appropriately, and lending staff who must underwrite, process and evaluate commercial loans.
The policy element refers to the commercial lending policy, which must address many aspects of the credit union's commercial lending activities including:
Types of commercial loans permitted;

Trade area;

Portfolio concentration limits;

Qualification requirements for lending staff;

Underwriting standards;

Loan approval processes; and

Other risk management processes, including periodic review, risk rating and monitoring.
The process element describes the risk management process. This includes performing and documenting an initial risk assessment on a commercial loan, monitoring and perhaps reevaluating that risk, and establishing a credit risk rating process.
The governance and control element addresses the responsibility of the board for overall supervision, and internal controls, such as the loan review area.
Below is a slide from the presentation containing a summary of the risk management process for commercial lending as a whole: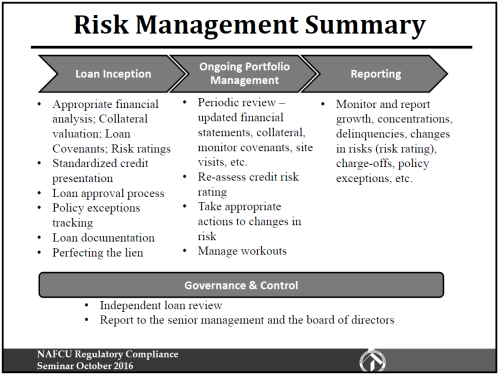 Newly Announced FFIEC Webinar on the Military Lending Act
On Wednesday, the FFIEC announced a webinar on the Military Lending Act being offered through the FFIEC's Industry Outreach Program. The webinar will be held December 1, 2016 at 3:00 pm eastern. Credit unions can register for the webinar here.