Rulemaking Agendas – Upcoming Initiatives and NCUA's Appraisals Rule
Written by Brandy Bruyere, Vice President of Regulatory Compliance, NAFCU
Twice a year, the Office of Management and Budget, Office of Information and Regulatory Affairs issues an updated agenda for various federal regulators. The most recent versions were published in May 2018, and indicate a regulator's pending rulemaking actions for the next several months, classifying rulemaking by status (pre-rule, proposed rule, final rule, etc.). The rulemaking agendas can be a bit of a glimpse into the future, for example here's what the Bureau of Consumer Financial Protection (the bureau) published:

Note that ongoing proposal initiatives include HMDA (notice of proposed rulemaking anticipated in early 2019), Regulation P (implementing a statute from late 2016), debt collection, payday lending, and Regulation CC.
NCUA also has its rulemaking agenda, which includes some items that have recently been finalized such as amendments to the advertising rule and the voluntary mergers rule: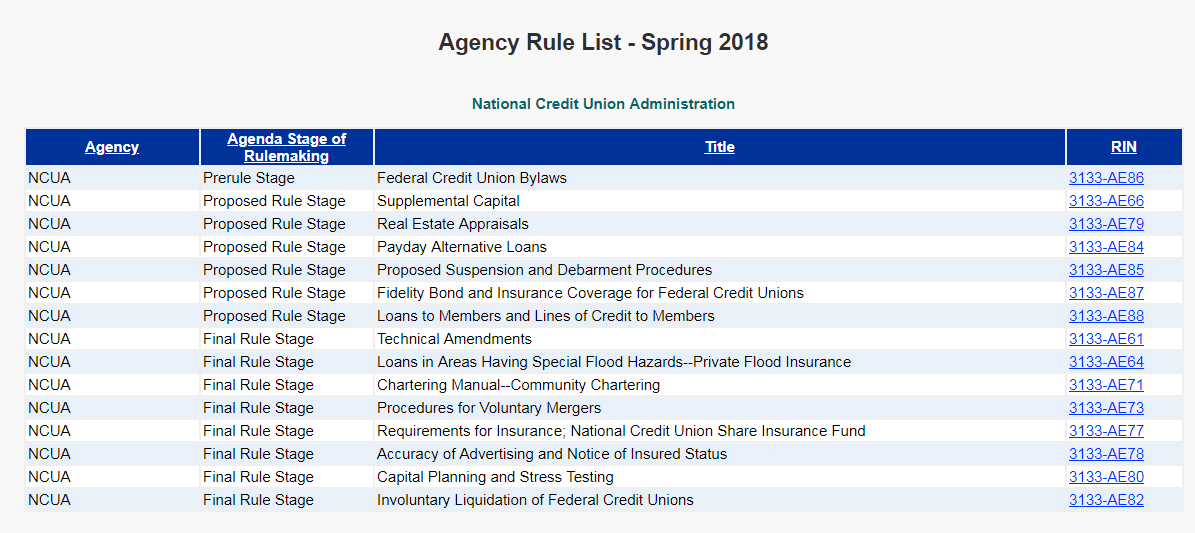 NCUA has several initiatives in the proposed stage, including the proposal issued last month on Payday Alternative Loan (PAL) programs and a pending proposal on supplemental capital.  One item on this list is a topic we keep receiving questions about from credit unions and that is rulemaking work on NCUA's appraisal rule. This seems driven at least in part by recent changes jointly adopted for banks by the Federal Deposit Insurance Corporation (FDIC), Federal Reserve Board, and the Office of Comptroller of the Currency.
As a quick refresher, Part 722 of NCUA's regulations contains requirements that federally insured credit unions must follow for obtaining appraisals for real estate-related financial transactions. An appraisal performed by a State certified or licensed appraiser is required in all "real estate related transactions" with some exceptions, including but not limited to:
a transaction for $250,000 or less;
a lien on real estate is taken for purposes other than the real estate's value;
a lien on real property is taken as collateral "through an abundance of caution" and where the terms would "have not been made more favorable than they would have been in the absence of a lien,";
transactions involving an existing extension of credit, so long as one of two conditions are met ( (1) there is no advancement of new money other than to cover reasonable closing costs, or (2) there has been no obvious or material change in market conditions or the physical aspects of the property that would threaten the adequacy of the collateral, even with the advancement of new money
Additional exceptions are outlined in section 722.3(a), there are a total of nine. There are also a handful of situations where the appraisal must be performed by a state certified appraiser (meaning, a state licensed appraiser would be insufficient):
All transactions of $1 million or more;
Any transaction of $250,000 or more that does not involve a 1-to-4 family residential property; and
All "complex" 1-to-4 family residential properties, if $250,000 or more, meaning the property has atypical market conditions or form of ownership.
The rule also includes minimum appraisal standards and a requirement relating to appraiser independence.
Unlike the provision recently adopted by the FDIC, current part 722 does not separately address commercial real estate loans. According to the abstract from its rulemaking agenda, NCUA is "preparing a proposed rule" that would "increase the threshold level at or below which appraisals would not be required for commercial real estate transactions." September 2018 is the stated estimated publication date for such a proposal, if approved by the NCUA Board. The rulemaking agendas are only estimates though, sometimes regulators take longer for a variety of reasons. Regardless, NCUA has indicated it is working on something in this area so we will have to stay tuned.
About the Author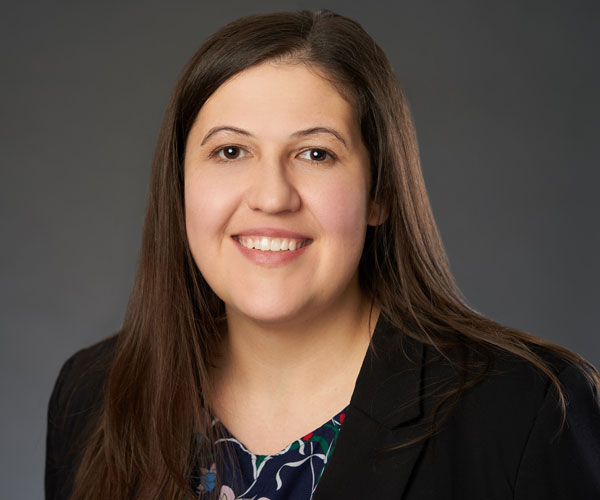 Brandy Bruyere, NCCO was named vice president of regulatory compliance in February 2017. In her role, Bruyere oversees NAFCU's regulatory compliance team who help credit unions with a variety of compliance issues. She also writes articles for NAFCU publications, such as the NAFCU Compliance Blog.
Read full bio