Second Interpretative Guidance for FinCEN's CDD Rule: New Accounts and Collecting the Certification Form
Written By Stephanie Lyon, Regulatory Compliance Counsel, NAFCU
Last Tuesday felt like Christmas morning for me when I found out FinCEN released its second set of interpretative guidance for the Customer Due Diligence (CDD) rule. I couldn't wait to dive in and figure out if some of the gray areas of the rule that impact our members were resolved. I was pleased to see many of the questions we asked FinCEN were answered so I wanted to shine a light on some of these important FAQs that may help a credit union finish the CDD implementation phase.
One of the helpful FAQs pertains to subaccounts. As you may remember, I wrote this blog on subaccounts that attempted to decipher whether subaccounts were considered to be "new accounts". Our guidance seemed to be on point regarding subaccounts in that they are considered "new accounts" if opened on or after the mandatory compliance date. See, FIN-2018-G001, Q. 10. Now that this is settled, we can move on to a helpful implementation tip. It seems that at times, a legal entity member may open a subaccount immediately after or within a couple of months of opening their primary savings or checking account. While this subaccount would meet the definition of a new account under the CDD rule, the credit union may not have to obtain a new certification form (or the equivalent if the credit union is not using the certification form) every time a subaccount is opened. Whew, talk about a time saver!
Question 10 of the interpretative guidance specifically states when a legal entity member opens multiple accounts at the same credit union and the credit union has already obtained a Certification Form (or its equivalent), the credit union may rely on the information on the prior certification form. To rely on this information, the legal entity member must first certify or confirm (verbally or in writing) that such information is up-to-date and accurate at the time each subsequent account is opened. Additionally, the credit union must not have knowledge of facts that would reasonably call into question the reliability of such information. See, FIN-2018-G001, Q. 10.
To make this easier to understand, here is a chart of when a new certification form or beneficial ownership information should be collected and the instances in which the credit union can rely on the current information: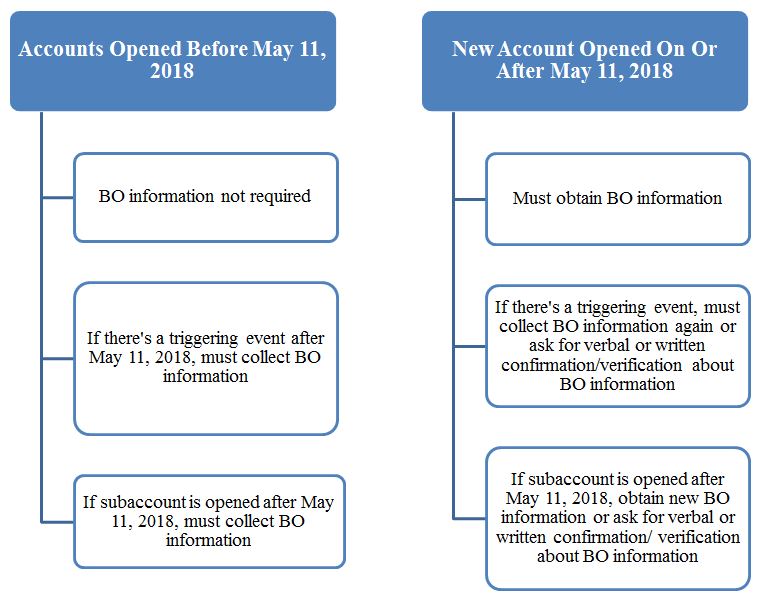 It is also important to note that FinCEN differentiates between opening a new subaccount and share certificate roll overs as well as loan renewals as the latter two pose a lower money laundering risk. See, FIN-2018-G001, Q. 12. In cases of loan renewals of share certificate rollovers, the interpretative guidance allows the credit union to add a provision to its certification form requiring the legal entity member to agree to notify the credit union of any changes in the information provided. This agreement will meet the rule's requirement that the credit union obtain updated beneficial ownership information at the time these types of accounts are rolled over or renewed.
Note that the CDD rule also has recordkeeping requirements. Under the rule, the credit union would be required to retain the original certification as well as any re-certification or confirmations made by the legal entity member for a period of 5 years until the account is closed. See, Final 31 C.F.R. § 1010.230(i)(2). While FinCEN seems to permit the confirmation to be done verbally or in writing, the credit union may want to think about how it will retain verbal confirmations as well as how it will demonstrate compliance to its examiners (e.g., making a written note on the legal entity member's account journal that the member confirmed the accuracy of the beneficial owners' information). These decisions will be part of the credit union's risk-based approach to BSA compliance.
Finally, before reading the second set of guidance, it may be helpful to take a look at FinCEN's first set of guidance for other CDD FAQs that provide a good background of the rule as well as our previous blogs and articles:
About the Author