Significant Changes Require Advance Notice: What's Significant?; Fiduciary Rule Delay Update
For one reason or another, credit unions often find themselves updating their credit agreements. Inevitably, this leads to the all-important question: Do I need to tell members before I make this change? While it is generally a good idea to inform members of changes to their credit agreements, Regulation Z has specific rules for when a credit union must provide advance notice – any significant change requires advance notice. So, the next question is: What's a significant change?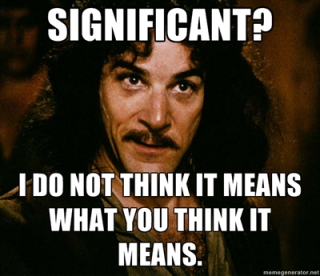 While Regulation Z covers various types of credit, this post focuses on the change in terms rules for open-end credit that is not secured by a home. Section 1026.9(c)(2)(i)(A) states that when a "significant change in account terms" is made, a credit union is required to provide written notice at least 45 days prior to the change taking effect. In the real world, we all have a general understanding of what significant means, but, under Regulation Z, this is a defined term with a very specific meaning that does not necessarily align with our real world understanding. Paragraph (c)(2)(i)(A) points you to another paragraph for the definition of significant changes and that paragraph redirects you to yet another paragraph. These incessant cross-references are enough to confuse any diligent compliance officer, so here's the basic starting point: the account opening disclosures.
For open-end credit that's not secured by a home, the account opening disclosure rules can be found in section 1026.6(b). A change to a term required to be disclosed under paragraphs (b)(1), (b)(2) or (b)(4) is defined as a "significant change in account terms."  The definition covers any change to these terms, not just increases or additions. This covers the following terms:
Periodic rate and APR;
Fixed finance charge and/or minimum interest charge;
Transactions charges;
Grace period;
Balance computation method;
Fees for the following events: cash advances, late payments, over-the-limit transactions, balance transfers and returned payments;
Fees for required insurance, debt cancellation or debt suspension coverage; and
Certain variable rate information.
In addition to the account opening disclosures, Regulation Z's change in terms rule also includes two other changes in the definition of a significant change in account terms. These are: increases in the required minimum periodic payment and the acquisition of a security interest. For all significant changes, the rule requires 45-day advance notice. The notice must be in writing and state the following:
A summary of the change;
A statement that changes are being made;
For non-credit card accounts, a statement that the consumer has the right to opt out of the change;
The date the change is effective;
A statement that additional information about the change can be found in the notice, if applicable; and
For APR increases:

the balances to which the new rate will apply,
if a penalty rate applies at the time, a statement that the new rate will not apply until the penalty rate no longer applies, and
for credit card accounts, a statement of reasons for the rate increase.
There are account opening disclosures relating to some charges that may not require a 45-day advance written notice, but could still require notice before the member "becomes obligated" to pay the charge. These charges are detailed in section 1026.6(b)(3) and include certain finance charges; taxes; charges that affect the member's access to the plan; termination charges and charges for voluntary credit insurance, debt cancellation or debt suspension coverage. For changes to these charges, the rule requires a credit union to either comply with the 45-day advance notice requirement or provide notice before the member must pay the charge. Decreases to these charges do not require notice. For more details, see section 1026.9(c)(2)(iii).
There are also a few related items to keep in mind when dealing with changes in terms. The right to reject for credit card plans applies to significant changes in account terms. The change in terms rule excludes certain changes from the 45-day notice requirement such as changes the member agreed to and rate increases due to delinquency, default or as a penalty. These changes have their own notice requirements. There is also a separate notice rule for decreasing a member's credit limit. Finally, there is a list of changes that do not require advance notice detailed in section 1026.9(c)(v) which include "reduction of any component of a finance charge," extension of the grace period, and some situations where the line is suspended or terminated.
NAFCU members can find more resources related to change in terms notices in this past Compliance Monitor article.
* * *
On Wednesday, the Department of Justice filed a notice of plans to delay implementation of three fiduciary rule exemption changes from Jan. 1, 2018, to July 1, 2019. More details on this notice can be found in yesterday's NAFCU Today. NAFCU will keep its members posted as more information is released.