Training Camp 101: Position Drills
Written by Jennifer Aguilar, Regulatory Compliance Counsel, NAFCU
This is my favorite part of the summer. After months of nothing but basketball and baseball, football is back! NFL training camps are in full swing and last night marked the start of the preseason. While I live and breathe Packers football, every summer I hit the road to visit a different team's training camp. Last weekend, I headed down to South Carolina to visit the Panthers. While I usually fail at taking pictures, I was able to get a few good ones. Here's my favorite one: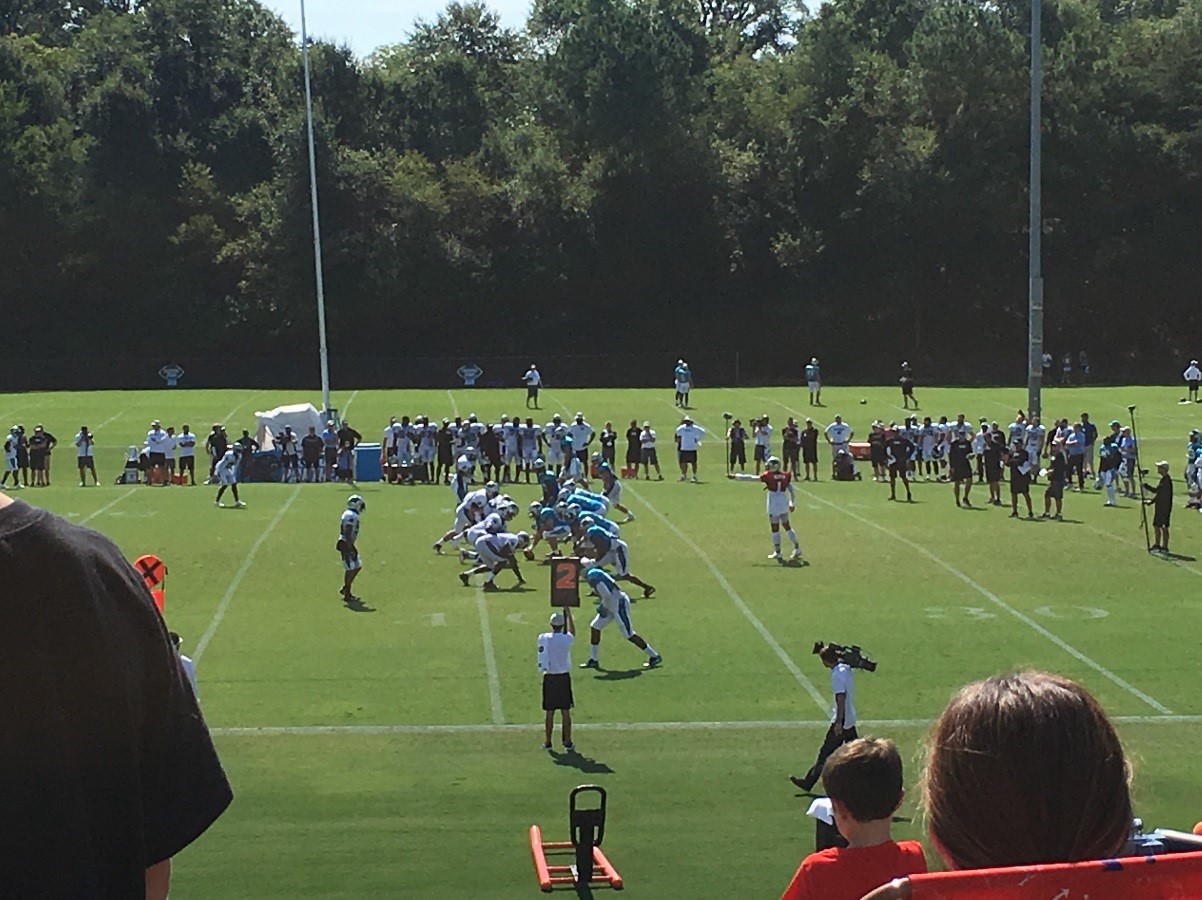 For those of you who have not had the pleasure of attending a NFL training camp, here's the gist of how it goes. Public practices are usually held at smaller venues so fans get a more intimate experience – the Panthers use the practice field at Wofford College. The team comes out to the field [insert sounds of screaming fans here] and starts off with everyone doing warm-ups together. Then, the team splits up and the bulk of practice is spent with your position group. This is essential because it doesn't make a whole lot of sense to have everyone run routes when that's the receivers' job nor have everyone throw the ball when that's the quarterback's job. The groups rotate around the field as they run various drills. As practice continues, an offensive group and the corresponding defensive group get together to practice their skills against each other. It all comes together when the team finally gets back together and lines up 11-on-11.
Training camp is all about practicing drills specifically designed based on one's job on the team as this is the key to developing the skills necessary to be successful at that job. This is true for your credit union as well. It doesn't always make sense to have the entire staff sit through a particular training exercise when it is only relevant to a handful of those in the room. The most effective training is designed with the job function in mind – tellers need different training than loan officers and IT staff need different training than the marketing staff.
While the regulations and NCUA have numerous training requirements, not all of them specify exactly who must receive the training. The regulations and guidance instead state something along the lines of: training should be provided to appropriate staff. It is generally up to the credit union to determine which employees must receive the training based on their job duties.
For example, section 748.2(c)(4) requires credit unions to "provide [BSA] training for appropriate personnel." Even if a credit union determines that multiple departments should receive BSA training, what that training consists of may vary by department. Your entire team may start out together to get the BSA basics that everyone needs to know but then they might split up for more specialized training. Your tellers may get grouped together to learn the rules for SARs and CTRs while your business accounts staff meets to hear about the CDD rule.
As another example, NCUA's Fair Lending Guide explains that only certain employees need to receive fair lending training. The guide states that any employee involved in "taking, evaluating, acting on a credit application, or furnishing/maintaining credit information" should receive fair lending training. As the training requirement is based on the employee's job, credit unions will need to review the job duties of each position to determine which staff should receive this training.
To ensure your credit union is getting the most out of your team, training should be tailored to the particular job of each employee. NAFCU's Credit Union Training Requirements chart outlines some of the various training requirements for credit union staff and volunteers. Credit unions may find it helpful to use this chart to determine the drills necessary for each of the position groups on your team.