Updates on Russian Sanctions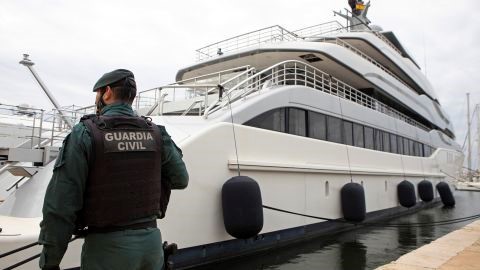 Source: CNN
Recent Executive Orders on Russian Sanctions
What's that you see…why that's Spain seizing Russian Billionaire Viktor Vekselberg's yacht, courtesy of global sanctions. Vekeslberg is an individual listed on OFAC's Specially Designated Nationals (SDN) list for having close ties to Russian President Vladimir Putin, and his fancy yacht "Tango" is separately listed on the SDN list pursuant to Executive Order 14024. This seizure was part of the Department of Justice's taskforce "KleptoCapture" and was an international effort.  
As the situation in Ukraine evolves, the U.S. has continued to enhance economic and trade sanctions imposed against Russia. We previously blogged on the Russian sanctions a few weeks back but wanted to provide a few updates. Since our previous blog, President Biden signed Executive Order 14071 on April 6, 2022, titled "Prohibiting New Investment in and Certain Services to the Russian Federation in Response to Continued Russian Federal Aggression."
Executive Order 14071 prohibits new investment in the Russian Federation by a U.S. person, the exportation, reexportation, supply, or sale from the U.S. of certain designated categories of services to the Russian Federation, and the approval, financing, facilitation, or guarantee by a U.S. person of a transaction prohibited under the order. The U.S. Department of the Treasury (Treasury) may use their authority under this Executive Order to prohibit certain categories of services.
In addition, Treasury announced stronger sanctions, utilizing the agency's authority provided by Executive Order 14024. Treasury announced a full blocking of Sberbank, Alfa-Bank, and their subsidiaries. This means that all property and interests in property that are in the U.S., or are in the possession or control of a U.S. person that belong to Sberbank or Alfa-Bank are blocked and must be reported to OFAC. Previously, Treasury Directive 2 prohibited opening or maintaining a correspondent account or payable-through account on behalf of Sberbank, and the processing of transactions after March 26, 2022, to or from Sberbank. This means that Sberbank is both blocked and transactions to/from the financial institution must be rejected.    
Treasury also designated several individuals pursuant to Executive Order 14024. These high-profile individuals include Russian President Vladmir Putin's daughters and members of the Russian National Security Council. Updates to OFAC's SDN list include these individuals, among others. Credit unions should ensure that they are checking the SDN list on a routine basis.
Additional Resources
There have been many reports that individuals may attempt to skirt these sanctions and use other means to move money, including cryptocurrency. Credit unions should review FinCEN's alerts for more information. FinCEN published FIN-2022-Alert001 "FinCEN Advises Increased Vigilance for Potential Russian Sanctions Evasion Attempts," and FIN-2022-Alert002 "FinCEN Advises Increased Vigilance for Potential Russian Sanctions Evasion Attempts." NAFCU previously blogged on FinCEN's alerts.
As a refresher, there are two major sets of sanctions against Russian entities, the first is the "Russian Harmful Foreign Activities Sanctions" (RHFAS) and the second is the "Ukraine-/Russia-Related Sanctions" (URRS). These sanctions target specific individuals/entities, but do not ban all transactions and services with Russia. Nor do the sanctions ban all transactions and services with Ukraine. However, there are certain "covered regions" within Ukraine that are banned. Remember to stay vigilant as the situation continues to change.
For the most up to date information, credit unions should review the RHFAS page and the URRS page.
About the Author