The NAFCU Lending Network is a member-only online community exclusively for those responsible for lending at NAFCU member credit unions.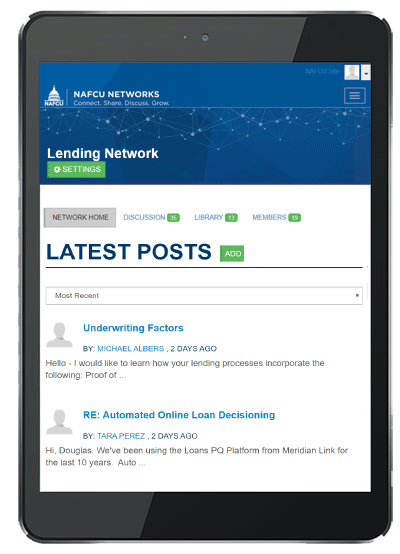 Driven by a steering committee of credit union lending staff, the network provides a platform for peer-to-peer, candid conversation around the issues and opportunities that are unique for credit union lending.
Participants will find:
Active discussion threads and knowledge exchange with peers
A resource library of templates, reports and training from best-in-class organizations and peers
Behind-the-scenes insights from NAFCU staff and industry experts
A member directory of your fellow NAFCU member credit union lending professionals to connect with
How to join:
The NAFCU Lending Network is open to professionals that are responsible for lending at NAFCU member credit unions only. Use your NAFCU website login to access the network.
NAFCU Members Get More

This page contains member-only content.

Membership is open to all federally insured credit unions in the United States, both federally and state-chartered. Members enjoy:

Hundreds of articles and resources
Personalized compliance assistance
Discounts on top-rated education opportunities
Member-only benefits and savings
If you are already logged in and believe you should have access to member-only content, please contact us for assistance at info@nafcu.org.