Penn State, Paterno, and Leadership
Written by Anthony Demangone
If you know me or read any of my blog posts during the past five years, you'll know that I'm a proud graduate of the Pennsylvania State University. Â Following the events of the past several months, quite a few of you have asked me about my thoughts and feelings. Â 
This isn't the place for me to share my emotions, which run deep, and in several directions.  It is hard to describe how integrated Penn State is to the lives of many Pennsylvanians.  Both of my brothers went to Penn State. A sister-in-law went there.  As did my Godfather. My father-in-law. My mother-in-law. And my wife.  Countless friends studied there with me or my wife, or work there now.   So, if you don't mind, I'll leave the emotions to another post, which may or may not be written. 
But in light of this blog and its direction, here are some thoughts.
Reputation.  It is impossible to underscore how important reputation is today, given the speed of information.  Decisions, which might have been final in the past, now can rise again and gain new life.  A news article or Twitter post can end careers in the blink of an eye. 
Succession planning. Â I wonder how many boards plan for a Penn State-like situation. Â A scandal rocks your organization. Â And every person who touched the situation, including the president, is gone in an instant. Â Who speaks for the organization? Â How do you build back those pieces, when everyone who would have been involved is now gone? Â Penn State stumbled quite a few times in the process. Â Would your organization have done better? Â 
Communication.  During the process, officials seemed to make many mistakes.  To me, the public wanted to hear the following: "We are horrified by the allegations of what happened at Penn State.  We will not rest until the truth is known, and we'll need the help of many people and organizations to get to that truth.  Penn State will cooperate fully with law enforcement officials, and we will share what we learn with the public."  But that message didn't get out until later, and I wonder why.  The board of trustees had a very tough job.  The coach, athletic director, another senior executive, and the president were gone, and the press gathered quickly.  How would you handle communications in such a situation? 
Stewardship.  The Penn State scandal underscored a good lesson. Whether we like it or not, leaders are stewards.  The organizations we touch mean something to other people.  When we damage our organization, the ripples of our actions spread far and wide.  Probably further than we would think possible.  When tough decisions involve colleagues or friends, it gets complicated. Or does it?  How would you handled things, had you been in their shoes? 
Coach Paterno. As for JoePa, we'll never know his role in this affair with any certainty. Â But I'm glad he was Penn State's coach. Â That doesn't mean I don't feel for the victim of Sandusky's alleged actions. Â I'm sure if Joe could turn back time, he'd do things differently. Â All of us likely would regarding some chapter of our lives. Â Joe wasn't perfect. Â I can be thankful for what he did, while still acknowledging that he could have done more regarding this scandal. Â 
What does Joe mean to me? Â This story sums it up.
When I was a senior, in the Spring of 1995, I was entering Pattee Library with a friend.  Coach Paterno was just standing there, waiting for someone.  I swallowed hard, and approached him. I thanked him for being Penn State's coach, and for making us proud.  (The 12-0 season we just finished sure didn't hurt.)  I shook his hand, and then turned to walk away. 
Not so fast, he said. Â Joe spent 15 minutes with me and my friend. Â What were our majors? Â Our grades? What was my hometown? Â (He knew my high school football coach.) I told him I was entering journalism, and he congratulated me. Â Working with our English language is a privilege, he said. And I'd be paid to do it. (That shouldn't be shocking. He graduated from Brown with a degree in English.) Â He wished me well, asking me to make him proud. Eventually, someone came up the steps and whisked Joe away.
I floated down those steps.  And I can still remember everything about that conversation.  I've thought about it quite a bit this past weekend. 
That's what Joe means to me. Â No matter what came later, or before - on that day, Joe chose to touch my life. Â No matter what came later, or before that day, that was leadership.
I'll miss you, coach.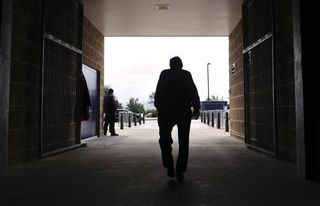 (AP Photo, Pat Little.)