3 Member Experience Trends to Watch 
By Paul Timm, Vice President – Marketing and Strategic Development, NAFCU Services 
 There was so much good material at the 2021 Innovation Spotlight event, I could write for weeks about all the smart things I heard there. In keeping with my favorite subject for a bit, I want to highlight some more of the gems on member experience. Rahm McDaniel, Vice President of Strategic Solutions at Q2 wrapped up the event with several sharp insights on the topic. If you didn't join us live, you can check out the entire event here. For now, here are some of my key takeaways: 
 1.     Without trust, the bells and whistles don't matter. The recent Salesforce survey of financial services leaders showed that building and improving customer trust jumped from fifth to second place priority between 2019-2020. You might not be surprised about the trust gap for many out there, but why such a big shift in leaders' perspectives in that one year? After all, the entire global financial framework appeared to hold up quite well to the pandemic crisis. Unlike the financial crisis of the late 2000s when weekly closures were the norm, there were only a handful of liquidations, conservatorships, or regulator rescues this time around. Rahm's keen observation here was that most FIs survived on a big-picture level, but many still failed consumers where and when it hurt them most. "Because when the big spike in traffic hit, when everybody was checking their balances from home, when the checks were hitting their accounts, and they wanted to see if their stimulus dollars came in, those systems went down at the worst possible time and as a result, they have to rebuild trust." 
2.     "Transformation" requires invention, no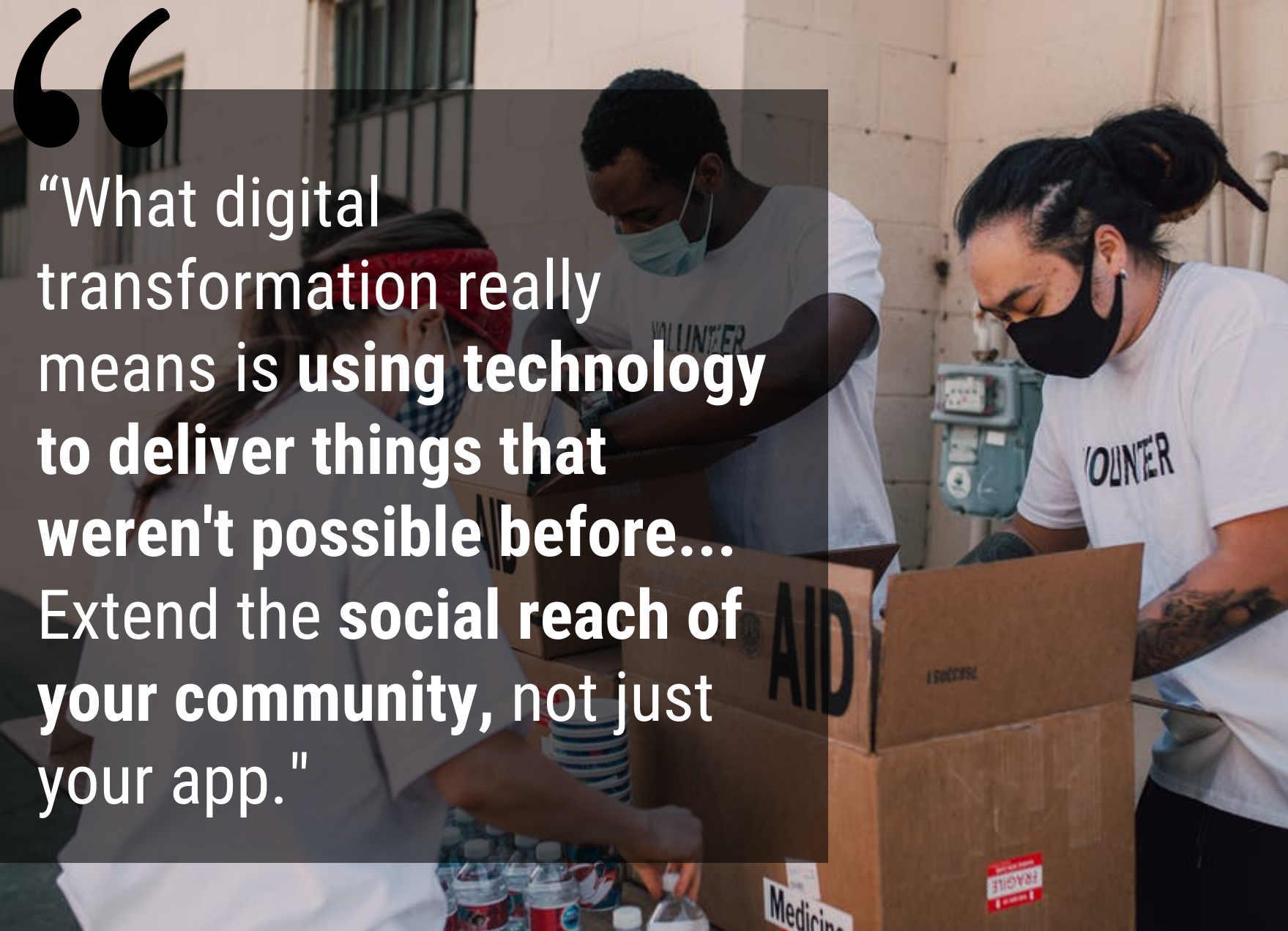 t just replication. Wherever your institution is on its digital transformation journey, Rahm insisted that if it doesn't include something truly new, it isn't complete. "What digital transformation really means is using technology to deliver things that weren't possible before," he said. "If I can deposit a check in the bank or I can deposit a check in a mobile app, that's great, but that's not digital transformation." In practical terms, this means you should demand more of the partners and professionals involved in your digital transformation; don't settle for simply moving existing capabilities to new platforms. "Extend the social reach of your community, not just your app." 
3.     The experience target has moved since the pandemic, it's still moving, and it won't stop. After all we've been through, there's plenty to celebrate from the last 18 months of quick changes and even quicker turnarounds. Some member experience projects with a multi-year timeline were accelerated to a few weeks. Others were put on the shelf indefinitely. It's important to recognize that the assumptions we made two years ago, and even two quarters ago, may need to be scrapped. All consumer experiences across all categories are changing right before our eyes. Our ability to anticipate, forecast, and respond to those changes just became much more influential to our member service efforts. "Invest in technology, yes, but also policies and procedures designed to keep up for a changing world, not to catch up to a world that's already changed," Rahm points out. "You can be responsive starting today. It's like planting a tree. The best time to do it was 20 years ago, and the second best time to do it is today." 
Optimizing existing processes can still create real value. But it's when we think about how our people and infrastructure can serve member needs whenever and however they change that we deliver something transformational. Members will take note when we make their lives better, when we make it easier and more enjoyable to save, spend, and borrow. I'll be back with another post about the ingenuity and reinvention that we're seeing this year from many credit unions – some might even seem a little crazy through a pre-pandemic filter.
---
About the Author