A 5-Step Plan to Help Ensure Your Members Have Access to Critical Coverage
Your Membership Is Increasingly Likely to Be Multiracial—And in Need of Life Insurance
By Kevin Cummer, Director, TruStage® Life Products
The American population is becoming increasingly multiracial.
According to the 2020 Census, the White population decreased by 8.6% between 2010 and 2020.[1] And the Multiracial population—those citing more than one race— jumped significantly, from 9 million in 2010 to 33.8 million in 2020, an increase of 276%.[2] Credit unions are seeing strong growth among Multiracial consumers—in fact 61% of new member growth was nonwhite and includes this demographic.[3]  
As your credit union works to deliver the products and services Multiracial members need, life insurance is a critical offering on which to focus. Recent data show American consumers value life insurance—70% say they need it—but 40% of Americans (102 million adult consumers)[4] say they have less life insurance than they know they need. And given the diversity in our country, it's logical to assume many of these are Multiracial consumers.
National research highlights Multiracial consumers' beliefs and needs around life insurance
Understanding the needs of Multiracial members is key to meeting them, and LIMRA's 2021 Insurance Barometer Study is a great place to start. This annual survey uncovered valuable insights around life insurance and Multiracial consumers.
The survey found that Black Americans were significantly more likely than the overall population to see life insurance as a way to cover burial and final expenses.[4] In addition, more than half of them wish they had purchased life insurance at a younger age compared to 39%[4] for the overall population. LIMRA also found that Black Americans have historically owned life insurance at rates higher than other racial and ethnic groups,[4] making it especially critical to ensure Black members understand their credit union is an exceptional connection for this protection.
The LIMRA study also captured a variety of reasons why Hispanic Americans are a key market to serve. They're the group with the biggest gap between those who needed life insurance (78%) and those who had it (just 51%).[4] Moreover, "45% of uninsured Hispanic Americans say they will be likely to purchase coverage in the next 12 months."[5]
But don't stop there: Learn what your Multiracial members need.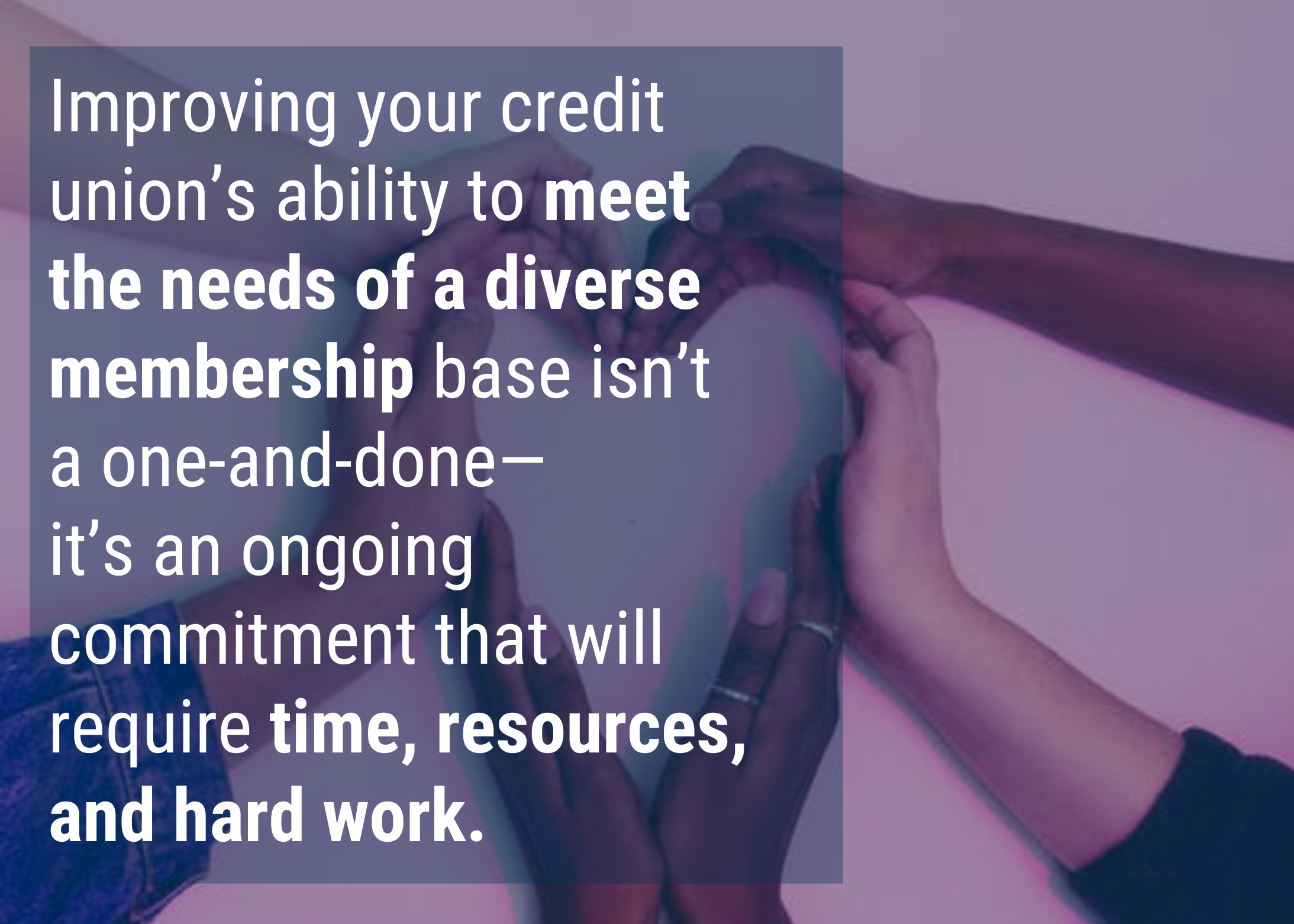 This general knowledge is a good first step. Next, uncover the needs of your credit union's Multiracial members. These five steps will help you get there.
1.   Get upper management's commitment to better meet the needs of Multiracial members.
Improving your credit union's ability to meet the needs of a diverse membership base isn't a one-and-done—it's an ongoing commitment that will require time, resources, and hard work. As with any major initiative, success will only be possible if your C-suite stands behind these efforts and provides adequate resources to support them.
2.   Embrace the idea of "Multiracial micro-segmentation."
The "big" buckets of Black, White, Asian, and Hispanic, are a good place to start; but it's important to dig deeper and uncover the nuances of microsegments—groups within the larger categories. Data will play a critical role in these efforts. 
3.   Connect with your employee resource groups.
Want to better understand the needs of your diverse membership? Tap into your employee resource groups (ERGs). ERGs are a great way to gain insights directly from employees who are part of the diverse communities we serve. This is key for helping to drive member understanding and empathy.
Questions around the following topics could help lay the foundation for best-fit products, research channels, marketing, and communication related to life insurance:
Do they have any dependents? Spouse, kids, etc.?

What life events would drive them to investigate life insurance?

What product features are they looking for?

What are some of their biggest concerns around buying/owning life insurance?

What do they want the purchasing process to look like?

What channels/sources would they rely on to research life insurance?

Which channels would they prefer to use to purchase life insurance? To get questions answered?
Depending on the makeup of your ERGs, you might also be able to gain some understanding into microsegments.
4.   Revisit your communication channels.
As we know from the LIMRA research, there are a host of misconceptions around life insurance, related to cost, reasons to buy, and more. And that means it's imperative to communicate through the channels Multiracial members are most likely to use. Should more of your media spend be in mobile? Should you get the word out about the value of life insurance by partnering with trusted local organizations—like churches and community organizations? Your ERGs could offer good insights in this area.
5.   Be open to feedback.
No credit union will get their multiracial outreach "right" the first time. Create opportunities for feedback, have honest conversations about how your efforts succeed—or struggle—and be willing to change. Your hard work, and your success in meeting the needs of your Multiracial members, will be the better for it.  
Your Multiracial members need the protection life insurance can offer—especially life insurance from you, their trusted financial partner. Your efforts to understand their needs and work to meet them will go a long way toward ensuring these members have the protection they and their loved ones need.  
---
[4] LIMRA, Life Happens, "2021 Insurance Barometer Study"
Disclaimer: The views and opinions expressed in this article are those of the author and do not necessarily reflect the views or positions of any entities they represent.
TruStage® Life Insurance is made available through TruStage Insurance Agency, LLC and issued by CMFG Life Insurance Company. The insurance offered is not a deposit, and is not federally insured, sold or guaranteed by your credit union. CUNA Mutual Group is the marketing name for CUNA Mutual Holding Company, a mutual insurance holding company, its subsidiaries and affiliates. Corporate headquarters are located at 5910 Mineral Point Road, Madison, Wis., 53705.
CORP, GEN-3896522.1-1121-1223 © CUNA Mutual Group
About the Author