Americans Love Their Credit Cards…For Now
By Mick Oppy, Vice President of Financial Institution Products, Worldpay
Whether they swipe or insert, Americans have a proven tendency to reach for their credit cards over all other payment options. And it's not just tactile appeal--credit cards exceed debit cards in usage whether it's online or in-store. Together, credit and debit cards dominate the market as preferred payment types in the US. In online purchases, eWallets are still trailing behind debit cards. Bank transfers, cash on delivery, and pre-pay show little growth over last year among Americans. So, if you haven't implemented chip technology yet in your credit union's credit cards, it would be a wise investment against fraud. Americans don't appear to be giving up their plastic for quite a while.
Worldpay found that Americans only spent $2,271 per capita using eCommerce, only 20% of which was via mobile wallet. Ecommerce's compounding annual growth rate is expected to be 9% in the US between 2018 and 2022, aided by a 79% internet penetration rate as of 2018. Point of sale spend per capita, however, was $24,248 with just 3% coming through mobile wallets. POS CAGR is expected to reach 7% between 2018 and 2022.
Americans' payment habits contrast sharply with other countries. Mobile payments in the US are projected to amount to less than half of eCommerce through 2022. In the UK, however, mobile payments will account for more than half of eCommerce by 2022. Densely populated countries like China and Indonesia are already there. In fact, China's mobile eCommerce is expected to nearly double desktop by 2022.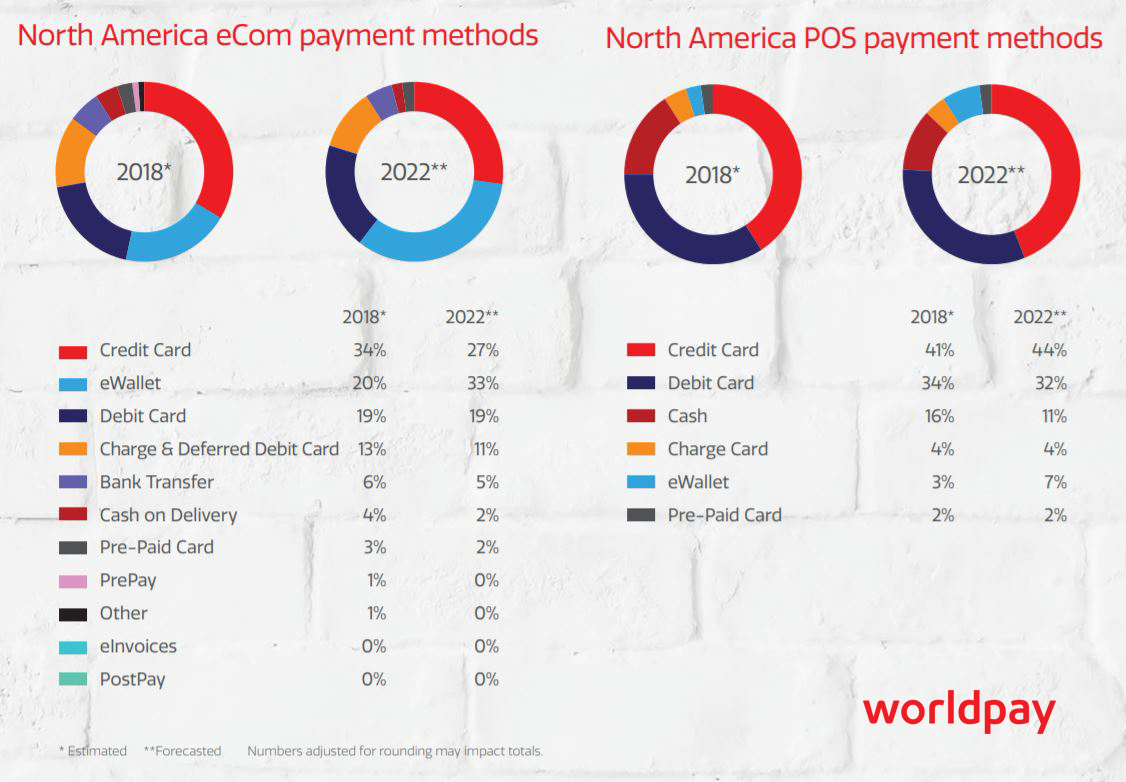 The 2017 data from UK, China, and Indonesia suggest their consumers may be warier of debt than Americans. Credit cards were the most popular among US payment methods in both card-present (40%) and card-not-present (32%) transactions. Meanwhile, it was third most popular in the UK and China at 18% and 9%, respectively, for CNP payment options, and they were down on the list for card-present transactions. The top payment method in the UK was debit card (32% online and 55% at POS), while the top eCommerce payment method in Indonesia was bank transfers for CNP, and simply cash for in-person purchases.
China is a real stand-out in the digital payments world, and particularly mobile commerce, where local eWallet leaders like Alipay and WeChat Pay are the option of choice. Fully 65% of CNP purchases were made via eWallet, while another 36% of card-present buys were made with an eWallet. Bank transfers were a distant second for online purchases at 11%, but debit cards (31%) and cash (21%) rounded out the top three POS payment methods.
The US may be far behind China and Indonesia in mobile commerce adoption for any number of cultural and economic reasons. The forecast for US adoption of mobile commerce is also slower than the other three countries mentioned; but at a projected 48% increase in mobile commerce between 2018 and 2022, it's not something traditional financial institutions, like credit unions, can afford to ignore. As digital payment systems become more commonplace and more secure, consumers will gravitate even more quickly to their convenience and ease of use.
Like a consumer buying a case to protect a smartphone, credit union executives must take steps to protect their businesses. Make the case to safeguard your financial institution with a digital transformation and payments strategy. Don't let the mobile opportunity slip through your hands.
View the Worldpay Global Payments Report to learn more.