Credit Union Leaders are Optimistic on Auto Growth, Report Finds
By Allison Huber, Content Marketing Manager, Upstart Lending
On the heels of a record-breaking year of auto growth for credit unions, credit union leaders are now evaluating how they can continue to offer the best rates to consumers amidst high inflation, rising rates, supply chain disruption and high auto prices. With Transunion projecting auto originations to increase ~5 percent year-over-year, credit unions must be prepared to tackle the inefficiencies in their current processes to best serve their members' needs during this time.
Especially as credit unions experience a drop in mortgage volume, auto loans present an opportunity to supplement that lost volume. While first-mortgage balances fell to $565.3B as of December 31 and new mortgage applications are 58 percent lower than last year due to significantly higher rates, credit unions continue to gain share in the auto loan market. As of December 31, credit unions held $493.1B in total automobile loans, up 20.2 percent year-over-year. Credit unions grew both new and used car loans, which increased 21.6 percent and 19.4 percent year-over-year, respectively.
Given continued credit union growth in auto, Upstart conducted a survey of over 50 credit union executives to capture their perspectives on the state of their auto lending business today and where it's headed in 2023. The findings have been published in a report titled:

2023 Credit Union Auto Lending Outlook

. Below are some of the main findings. 
The results
The survey found that over half (56 percent) of credit union leaders plan to increase their auto lending market share in 2023

36 percent plan to stay the same

8 percent plan to decrease auto lending.
As a result of seeing growth in auto by offering more affordable rates, many credit unions are looking to continue this growth, especially since many are seeing a decline in other asset categories like mortgages. 
What is your credit union's growth plan for auto lending in the next 6 - 12 months?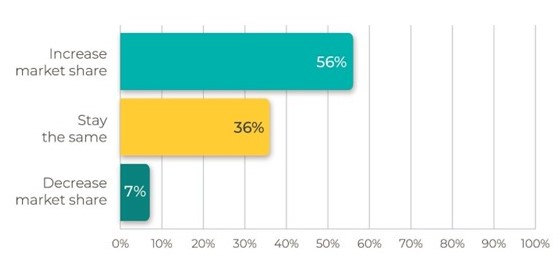 Additionally, the ability to better predict risk averaged the highest or 'most impactful' to improving the auto lending business, receiving an average 3.6 out of 5 rating, 5 being the 'most impactful.' With their mission of credit union respondents being to best serve their communities, many credit unions lend beyond the prime segment of borrowers that banks traditionally serve – 79 percent of respondents shared that they lend to members with credit scores as low as 630.
 
From a scale of 1-5, rank which process improvements would most improve your auto lending business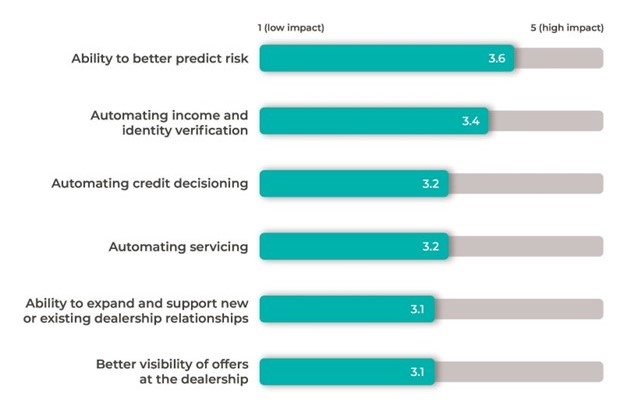 The survey also found that verification of income and identity was a top priority for credit union leaders when it comes to indirect lending. Although the dealer is the front-line of defense and responsible for verifying the borrowers' history, lenders are increasingly prioritizing having a speedy yet reliable identity verification process to approve financing safely. This includes simplifying the process of reviewing and approving stips and other verification documents. Additionally, decisioning and underwriting can be timely and costly for lenders to do both efficiently and accurately, so it is no surprise this is a top area of focus for credit unions. 




From a scale of 1-5, rank the difficulty and resources required for the following processes in indirect auto lending.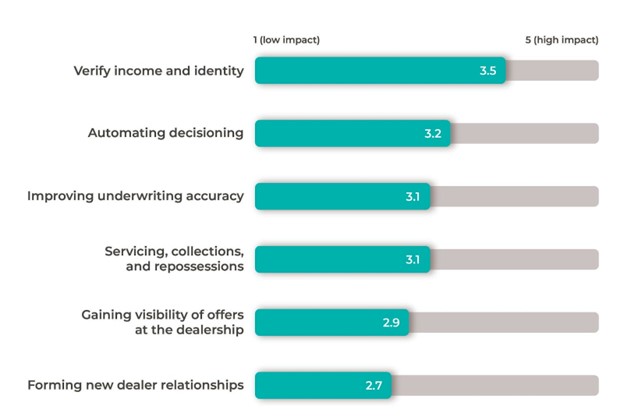 As credit unions look to continue their growth trajectory in auto in 2023, improving risk prediction and income and identity verification will be key so they can continue to offer the most affordable rates to members with lower than average FICO scores while minimizing fraud. The right technology partner can expedite the process and free up resources, especially for those who are both resource- and budget-constrained in this challenging environment. 
To download the full 2023 Credit Union Auto Lending Outlook report, click here.