Credit Unions Must Find New Ways to Help Members in a Challenging Economy
By Will Sneed, SVP Lender Partnerships, LendKey
Who could've predicted the past few years and what they would mean to all of us financially? According to a recent Consumer Affairs study, 50% of Americans are struggling to pay their bills on time. And for many, that includes their student loans. 
Student loans fall just behind mortgages as the second-largest type of consumer debt, and 7.89% of those are private student loans. The average student graduates with around $30,000 in loan debt, and with only federal student loans eligible for loan forgiveness programs, private student loan debt is not going away.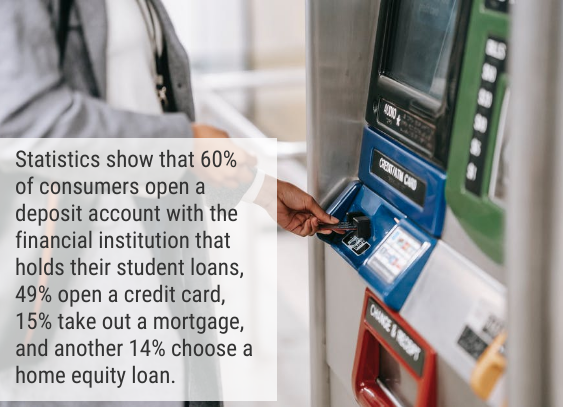 Americans experiencing rising debt post-pandemic 
During the pandemic, many people improved their finances due to wage increases, stimulus payments, paused loan payments, and less spending due to lockdowns and quarantines. However, post-pandemic has shown a different picture emerging as Americans have begun to overspend again. At the end of last year, U.S. household debt totaled $14.89 trillion according to Moody's Analytics. People are accumulating record credit card debt as inflation outpaces wages for the first time in years. It's simply just getting harder for people to keep up. 
Considering the average student graduates college with more than $30,000 in student loans (more if you add graduate school), you can see how making monthly payments on top of other bills may be tough right now.
Extending a loan's term offers immediate relief
Most people focus on what private student loan rates are doing, but credit unions may be overlooking the opportunity to communicate the benefits of extending a loan's term — which can offer much-needed help to their members' wallets.  
In a rising rate environment if someone has loans totaling $20,000 at a rate of 6% over 5 years, for example, changing the term to 15 years at the same interest rate saves more than $200 a month. That's a big difference for a young professional just starting their career. 
It also helps more than just their wallet. Alleviating some of their monthly burdens also opens them up to work toward financial goals like buying a home, opening a business, or starting a family — all of which have dramatically risen in cost this year. Single-family home prices have jumped more than 20% nationwide, the average cost of raising one child is $304,48011, and starting a business can be anywhere between a few thousand dollars to five figures. The bottom line is they'll need financial assistance, and that's an opportunity.
How Credit Unions Can Help
Statistics show that 60% of consumers open a deposit account with the financial institution that holds their student loans, 49% open a credit card, 15% take out a mortgage, and another 14% choose a home equity loan2. This means you're not only helping your members, but also your bottom line by creating or deepening those relationships.  
A recent article by Phillip Paul for CUInsight points out how doing more with less is going to be key in the days to come in this slowing economy. Look for ways to better serve your members right now without increasing your team's workload -- all while providing the best value to your bottom line.
---
1 Can You Afford The Cost Of Starting a Family of Your Own? (moneyqanda.com) 
2 The Lifetime Value of a Student Loan Relationship | LendKey
About the Author