Delivering On Homebuyer Expectations: The Journey Continues
By Paul Timm, Vice President, Marketing & Strategic Development | NAFCU Services 
In my last post on this topic, I shared some of the survey results and insights on the evolving homeownership journey that Blend delivered in their last webinar. With all the recent shifts in the mortgage and real estate sectors, getting the experience right is more critical than ever. Blend worked with Aite-Novarica to survey more than 2,000 Americans with at least one recent home-mortgage. Their goal was to shed some light on how homebuyer expectations have shifted in recent years. In particular, they wanted to know where they felt their needs were being overlooked or neglected.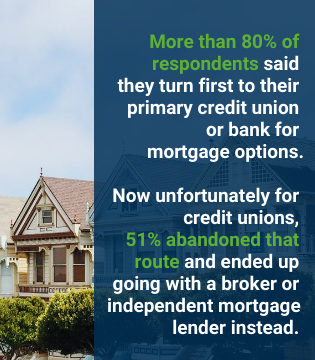 Whether respondents were borrowing from a credit union, bank, broker, or dedicated mortgage lender, across the board they indicated that lenders have a real opportunity to become a trusted advisor earlier in their homebuying journey. Sure, rates and closing costs are important (and becoming more important by the day). But that's just one factor in how consumers make their borrowing decisions. It turns out for many consumers, there are several other factors that take higher priority. Stronger communication and organizational tools could help their primary financial service providers earn their mortgage business. Even with all the proliferation of online mortgage tools, information, shopping, and easy applications, there was a pretty big surprise in the data for me. More than 80% of respondents said they turn first to their primary credit union or bank for mortgage options. Now unfortunately for credit unions, 51% abandoned that route and ended up going with a broker or independent mortgage lender instead. 
Borrowers want self-service, with experts ready to help clear obstacles. More than half of today's borrowers would like the option to complete their closing process via online notary rather than the traditional in-person signature. I'm surprised it wasn't a lot more than that, but it's still the majority and growing. So earning mortgage business in the digital age means offering borrowers a helpful, strong, and streamlined interface to conduct as much of the research and purchase process as possible through self-service whenever and wherever the prospective buyer wants to engage. And it means being ready to answer the call (or chat, or text) when those self-directed borrowers hit a snag.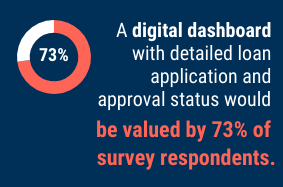 Borrowers want clear-cut information on their progress and costs. Taking uncertainty and opacity out of the lending process will address a huge number of pain points. A digital dashboard with detailed loan application and approval status would be valued by 73% of survey respondents, and two-thirds want better closing cost estimation tools. Deep down, every homebuyer wants to believe they made smart decisions and that they got the best deal. There's nothing worse than buyer's remorse over a house you have to live in. These dashboards and readouts can help reassure borrowers that they are on the right path and making a wisely considered purchase. They also create opportunities for value-added services at each step of the journey. 
Consider offering an "assisted" and "expert" mode. Buyers take different journeys based on their level of comfort and familiarity with the process, so lenders may do better in the future by finding ways to route buyers through a more "customized" experience. If nothing else, set the process up to let buyers choose the workflow that suits them. First-time homebuyers as well as homebuyers of color expressed greater challenges with key components of the lending process. For example, half of all Latino homebuyers say they find the closing process and related timelines challenging, compared to 36% of white buyers. And 74% of first-time buyers say that understanding potential cost components is difficult, compared with 46% of experienced buyers. Credit unions especially have a unique opportunity to provide a more supportive and inclusive homebuying experience. Acknowledging that each of your members will have varying degrees of experience with homebuying is the first step to building a better journey – by providing the right information at the right time, offering self-help tools, and simplifying the process, credit unions can attract and retain more business that might go to brokers who offer great rates, or to digital lenders that promise fast and convenient approvals.  
When I see data like this that suggests that loyalty is diminishing, I can't help but think the opposite. Consumers still want mutually-loyal relationships with their brands. And it starts with trust. Trust today comes from showing people that we know who they are, that we can anticipate and support their needs, that we'll treat their data and finances like our own, and that we're here to make their lives easier and more efficient. I believe that credit unions are very well-positioned to help consumers feel smarter and more empowered throughout the mortgage and home purchase processes.  
In my next post, I'll wrap up this series by sharing what Blend and Aite heard from lenders themselves about the gaps in the experience today, and how the end-to-end connection between lenders and homebuyers can still be improved. To explore the full survey findings, download the full report Reframing the Homeownership Journey: Consumer-Focused, Lender-Led here. 
---
About the Author