Facebook Tips and Tricks for Loan Officers
As an original Facebooker, (you know, when it was strictly for college students posting where the best party is that weekend and complaining about the crazy professor that doesn't give out any grades except C's), I've always been a little skeptical of mixing my personal Facebook world with business. Steve Richman of Genworth Financial has convinced me otherwise in a recent webcast about how loan officers can use Facebook (yes, their personal Facebook account) as a tool to deepen business relationships and drive more business.
1.)Â Â Â  Use your profile info to advertise (subtly)
Much like asking your doctor friend what this weird bump is, or calling your veterinarian aunt about Fluffy's latest strange behavior, posting your profession on Facebook is like offering free expertise to your friends and family. Eventually your free consulting leads your network of friends to turn to you when something big happens. Where some small, free advice just won't suffice. And voila – new business from (Facebook) friends. This is what you do:
Edit your profile, and in the "About Me" section of your basic information, write something like "As my friend on Facebook, if you are purchasing a home or refinancing, I am happy to take a look at any Good Faith Estimate and let you know if you are getting a good deal."
Edit your profile, and in the "Contact Information" section, you'll see an area for websites. Include your business website, mortgage calculators, blog, etc.
2.)Â Â Â  Add keywords to your name
I don't mean change your name. Go to Account -> Account Settings where you can edit your name and put an alternative. Add "Realtor," "Loan Officer," or "Mortgage Origination." So, Steve Smith – Loan Officer will start coming up in search results for "loan officer" on Facebook, Google and other search engines. It's free advertising! Try it out with a "Realtor" search on Facebook.
Tip: Uncheck "display in profile" – that just looks too aggressive.
3.)Â Â Â  Create lists to segment your messages and manage between personal and business
You can put your Facebook friends in lists and control the messages you send so that only certain groups get them. Your colleagues don't want to know about your boys' or girls' weekend in Vegas, and you don't want them to know about it either.
To create lists, click on the "Help" link that appears at the bottom of every Facebook page. Search "create lists" and learn step by step how to create and use lists.
You'll notice when you post on your Wall or modify your status, there's a little lock icon. You can click on the icon and choose what lists or people to "make this visible to" and "hide this from." It's a really easy way to keep business and personal life separate within your one Facebook account.

4.)Â Â Â  Get to know the Facebook Marketplace
It's where you can buy, sell, or rent almost anything you own…including HOUSING. This is a free online MLS service for realtors and they'll love you for letting them in on this secret! They can post listings for free, and let's face it, everyone loves FREE!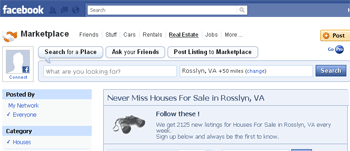 5.)Â Â Â  Know what to post and what not to post
First of all – especially when it comes to business-related posts on Facebook (or any social media channel) – make sure all postings comply with state and federal law as well as your company's social media policy. Don't have a policy? Get one…and in the mean time, use your common sense and stay professional.
ALWAYS POST: New loans: "Just helped a wonderful family get into a new home in theBedfordarea. What an awesome neighborhood. I know they are going to love it. So happy for them."
Let everyone know that there are still loans being made and that YOU can make them happen because you're the best…without being so obvious about it. No one likes a bragger.
ALWAYS POST: In addition to a hand written thank you note to your client, let everyone know about how great you are (again subtly) by getting clients to tell all their friends on Facebook. How? Like this:
Friend client on Facebook.
Write on client's wall: "Congrats on the new home. I know you are going to love it. You have a wonderful family and I wish you the best. Enjoy that big backyard!" (Of course, personalize this to your clients.)
Wait…client replies "No thank YOU. You're the greatest loan officer, and so helpful. We couldn't have done it without you!"
And now all their friends know who you are and how great you are at originating loans, and your network has instantly grown.
NEVER POST: Embarrassing photos, inappropriate language…remember what I said earlier about using common sense. As Steve says…"What happens in Vegas…ends up on Facebook." I love that – so true!! If you don't want someone to know about it, don't post it online!
Final tips:
Any Facebook questions. Press the help link at the bottom right of the page!
You cannot have separate accounts for business and personal. Trust me I tried, got found by Facebook and my "Business Kirstin" account was shut down. They're good.
Facebook changes weekly, if not more, so keep up to date on what's changing and use these tips to think about how you can use Facebook for loan officers.
Watch Steve's full webcast on Facebook for Loan Officers.
Post written by Kirstin Hemsteger, Marketing Manager, NAFCU Services Corp.
Related posts: