Is FOMO (Fear of Mail Offers) Hurting Your Marketing Results?
By Alison Fleming, TruStage Specialist, TruStage
4 ways to harness the power of direct mail
Quick! When's the last time you got excited about including direct mail in your marketing plan?
If it's been a while, we're guessing your avoidance boils down to our spin on FOMO—"fear of mail offers." In short, that you've moved away from direct mail because you're afraid it's too "old school," too expensive, annoys members, and doesn't offer the personalized touch of other marketing channels.
But here's the thing: You're missing out, because direct mail works.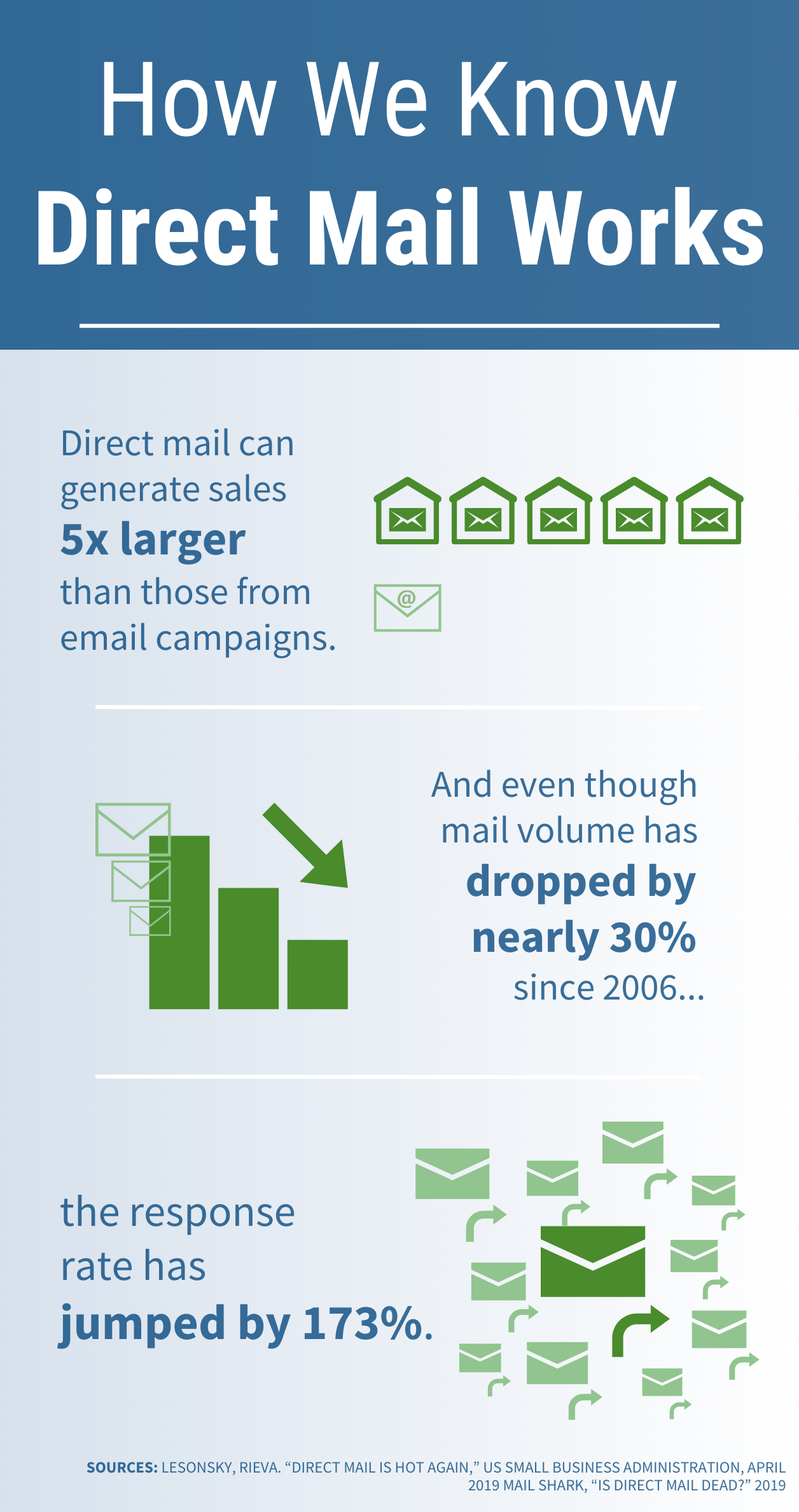 The research shows direct mail can generate sales that are five times larger than those from email campaigns.1 And even though mail volume has dropped by nearly 30% since 2006, the response rate has jumped by an impressive 173%.2
Other lenders and insurance companies know direct mail makes a difference and they're sending out more direct mail than credit unions by a three to one margin.3 Your competition is in your members' mailboxes. Can you afford not to be?
Plus, direct mail can be especially important as people navigate the challenges of the pandemic. Members are distracted, uncertain, and apprehensive. They need information and they're wading through a lot of choices—especially around lending and insurance. They're hungry for physical touchpoints and direct mail is one of the few ways you can still provide them.
Get past your FOMO! 4 ways to harness the power of direct mail
1.    Trust the data. Data will help you pinpoint the messages your members are most receptive to hearing, and when they're most likely to respond to your offer. Here's an eye-opening stat: Just 11% of the decisions companies make that impact their customers are actually backed by data.4  Don't let guesswork compromise your marketing efforts.
2.    Create smart direct mail messages. Keep things simple and jargon-free—members shouldn't have to Google the terms to understand why your offer is a fit. Keep your design inviting and easy to read. Include a solid offer—direct mail is more of a shout vs. the "whisper" of a brand campaign. And don't feel pressure to freshen up your creative with every mailing (see the next point for the reason why).
3.    Hit the mailing sweet spot. The data shows it takes multiple exposures to even get noticed. What might feel like too much on your end is just right on the member's—three to seven mailings is the magic range.5  And people appreciate reminders. Think of the last time you got multiple mailings from a company you trusted. How many did it take to tip you from interest to action?
4.    Make direct mail part of an overall sales process that's fast, safe and—especially—easy. The best direct mail campaign will fall flat if the actual purchase process is time-consuming or frustrating. Remove friction points along the way and everybody wins!
Ready to get past your FOMO? Listen in for more on why direct mail works and how to deliver your best direct mail campaign: Keys to Increasing your Marketing Results for Auto, Home, and Life Insurance.
---
1 Lesonsky, Rieva. "Direct Mail is Hot Again," US Small Business Administration, April 20192 Mail Shark, "Is Direct Mail Dead?" 2019                                                                          3 ACUC Coverage. "The 'Hidden Risks' Masked by Strong Auto Lending Numbers," July 2, 20184 Clark, Joan. "Inform Your Financial Services Strategy with Customer Data," Segmint. Feb. 28, 20205 Winton, Jennie. "When It Comes to your Message How Much is Enough," Mission Minded, June 2019
TruStage® Insurance products and programs are made available through TruStage Insurance Agency, LLC. Life insurance and AD&D insurance are issued by CMFG Life Insurance Company. Auto and Home Insurance Program are made available through TruStage Insurance Agency, LLC and issued by leading insurance companies. The insurance offered is not a deposit, and is not federally insured, sold or guaranteed by your credit union. The TruStage® Health Insurance Program is made available through TruStage Insurance Agency, LLC and GoHealth LLC. GoHealth LLC is licensed to sell nationwide and operates in all states with the exception of Massachusetts, Vermont. Note: CUNA Mutual Group is the marketing name for CUNA Mutual Holding Company, Further Reproduction, Adaptation or Distribution Prohibited. ICC16-A10a-039, A10a-039-2016, ICC17-SIT-2, 2017-SIT-2.
About the Author