Geographic Expansion Via Merger
By Deedee Myers, Founder & CEO, DDJ Myers, Ltd.
Credit unions looking to expand often look at mergers as the best, most expedient way to do so. Especially if they want to expand into a new geographic market, finding a merger partner that is already established in that market has several important advantages.
A merger partner in a new market will likely come to the table with one or more branch offices, saving the continuing credit union the considerable expense of opening up new locations. Additionally, the merging credit union will provide an existing membership base and relationships in the community that the continuing credit union can take over and nurture. And of course, by merging with an already established credit union, the continuing organization will have one less competitor to take away market share.
In our three-part white paper, More for Members: Credit Union Leaders Plan Post-Pandemic Merger & Acquisition Strategies, several credit union leaders shared their experiences of geographic expansion via merger.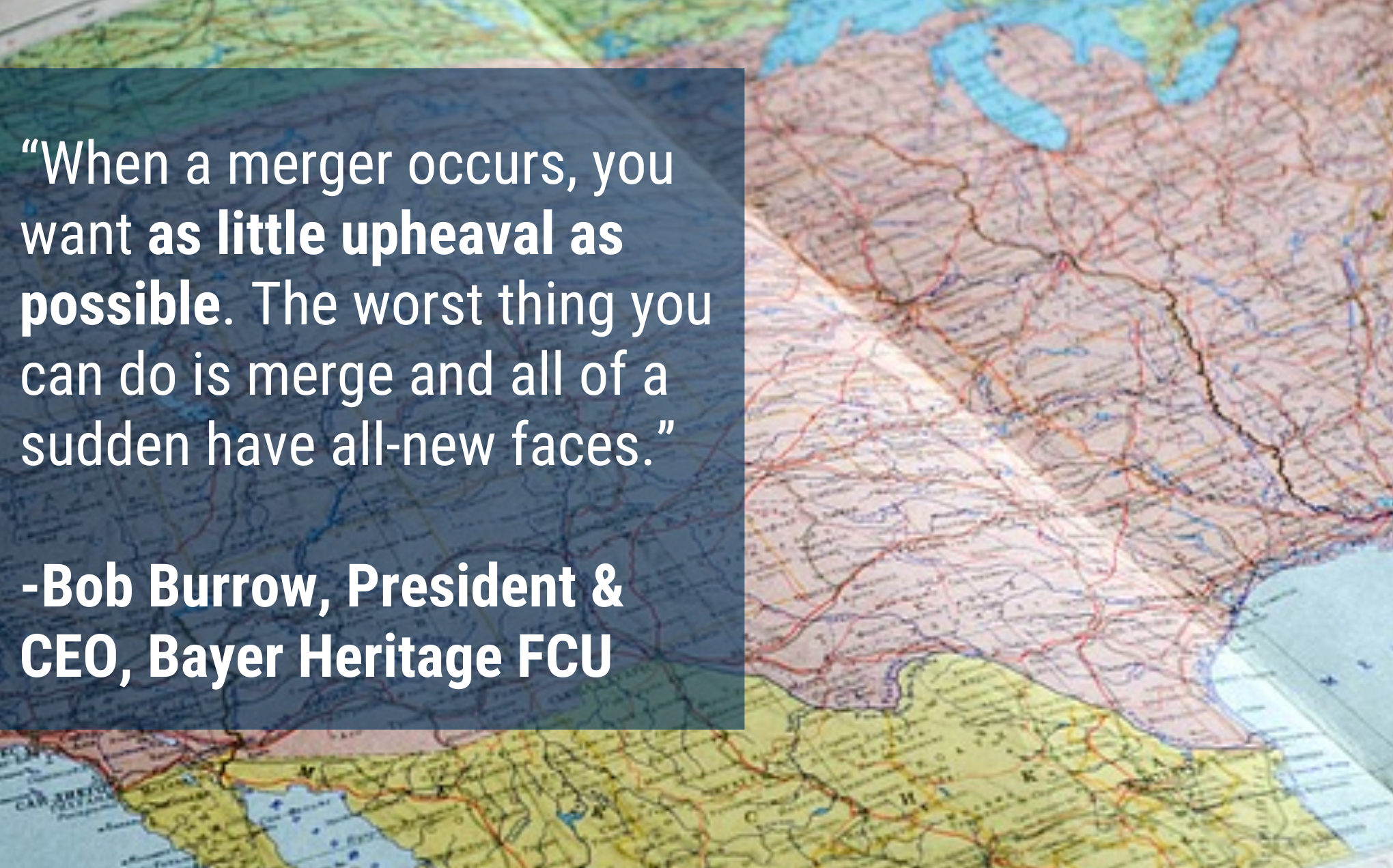 One of them, Matt McCombs, joined Vibrant Credit Union, based in Moline, Illinois, a decade ago as president/CEO. At that time, the credit union had about $400 million in assets, but the organization has since grown to nearly $1 billion in assets—aided in part by six mergers over the last three-and-a-half years. While these six mergers represented a total of $100 million in combined assets, they also contributed to the institution's expansion into new geographical markets and helped Vibrant achieve greater economies of scale.
"We went from being in a single market in the Quad Cities to having locations expanding from Des Moines, Iowa, to Covington, Indiana, about 40 minutes west of Indianapolis," McCombs says.
Bayer Heritage Federal Credit Union achieved most of its $572 million asset size through organic growth, though President/CEO Bob Burrow reports that the organization achieved geographical expansion through mergers with Zane Trace Federal Credit Union in Zanesville, Ohio, and South Berkeley Federal Credit Union in Martinsburg, West Virginia. Another merger with Reynolds Memorial Hospital Federal Credit Union in Moundsville, West Virginia strengthened Bayer Heritage's presence in Marshall County. The largest of these merger partners, Zane Trace, had $17 million in assets.
When moving into new communities, credit unions may have to decentralize some aspects of decision-making and reassign personnel. For instance, Vibrant moved an individual who had been running branches to its new Des Moines location. "We wanted to have a boots-on-the-ground person who understands us to be in that market and help make an impact," McCombs says.
However, Burrow observes that it is important to keep many of the same staff members in place. "When a merger occurs, you want as little upheaval as possible," Burrow says. "The worst thing you can do is merge and all of a sudden have all-new faces. If you've already got staff in place who can do the job and they already have the members' trust, then you'll want to do everything you can to keep them."
For more insights, access the whitepaper here: More for Members: Credit Union Leaders Plan Post-Pandemic Merger & Acquisition Strategies.
---
About the Author