Holiday Scam Prevention Tips
By Ann Davidson, Vice President of Risk Consulting, Allied Solutions
The holiday season is in full force. And while this time of year brings more business opportunities for credit unions, it also brings more risks. Member scams, transaction risks, and loan application fraud attempts all ramp up during this purchase-heavy time of year. It is important your credit union stays alert to these fraud threats and continues to put fraud education in front of employees and members. Review and share the following holiday-related scam education to keep the season merry and bright for you and your members during this holiday season and into 2020!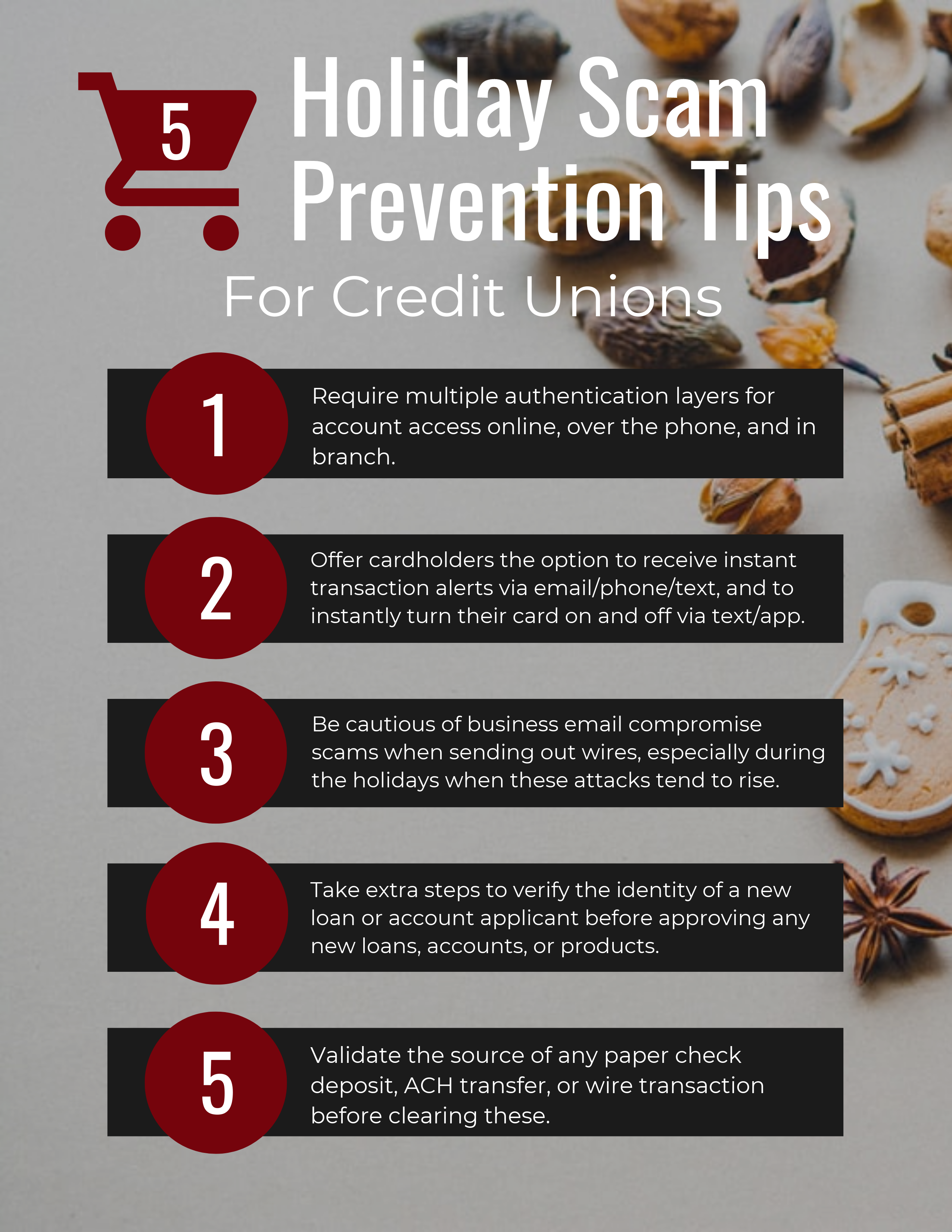 Scam Prevention Tips for Members:
Always use your chip card when shopping in store.
Check your financial accounts regularly to confirm you recognize all listed transactions.
Create unique, complex passwords for all of your secure accounts.
Sign up for additional account verification and protection methods whenever offered (i.e. a security question or unique login code via phone/text/email).
Sign up for text/email/phone notifications through your credit union or other verified sources (i.e. the Mint app) to receive immediate transaction alerts.
Immediately contact your credit union to report suspicious card activity; if given the option, turn your card off immediately.
If you receive a phone call or text claiming to be from your credit union and asking for personal or financial information, call your credit union directly to verify the request before providing any info.
Don't click or open an attachment if you don't know the email sender.
If you receive a suspicious email or attachment from an email sender you know, send a new email to the individual to verify they sent it before opening.
Do not send or respond to an email where the listed email address redirects you to a different email address when replying.
Be careful when downloading unfamiliar retailer/shopping apps, as fake apps are created to steal your information, especially during the holidays.
Be on the lookout for fake charity scams, which ramp up after catastrophes and during the holidays; verify the legitimacy of a charity before contributing to any donation requests from an unknown source.
When using P2P payment apps like Venmo or Zelle, make sure you know for sure who you are sending money to before paying anyone.
Be aware of "sweetheart scams" where a stranger reaches out with a claim of romantic interest, and then eventually asks for your money or financial information.
Purchase gift cards in store or even through your credit union, to avoid empty gift card scams.
Let's all work together to protect against fraud attempts of any kind, so we can have a safe and enjoyable holiday season and 2020! Check out these additional resources for more information:
Register for our upcoming webinar: Seeing Fraud in 2020 – Strategies to Prevent It.
Sign up for our newsletter with ongoing fraud and security risk education.
Download the Risk Checklist: Holiday Scam Prevention for Credit Unions and Members.
About the Author