How to Harness Your Data for Personalized Marketing That Drives Top-Line Results
By Andrea Heger, SVP, Franklin Madison
Credit unions are sitting on a mountain of member data. That information can be a goldmine for understanding members, their needs, and what motivates them. Utilizing that data to drive a smarter approach to marketing is the key to building a personalized strategy to engage your members with relevant products and solutions.
Personalized marketing can drive five to eight times the response of "product of the month" marketing[1]. If any of that old marketing still exists at your credit unions, kill it! Product marketing doesn't work anymore. Members need to feel connected and engaged like their institution cares about understanding them and their needs.
Useful data can come from a variety of sources:
Internally – CRM, website, mobile app, core processing system
Externally – Callahan's, credit bureaus, third-party providers, public information
It can be very challenging for credit unions to harness data from so many locations, but they can be brought together either through a data warehouse solution or more traditional data reports from your IT or Business Intelligence teams. Select two primary data categories that help you select the right members – don't choose products as part of the data, consider looking at transaction patterns and stage of life. Who is at the top of these lists?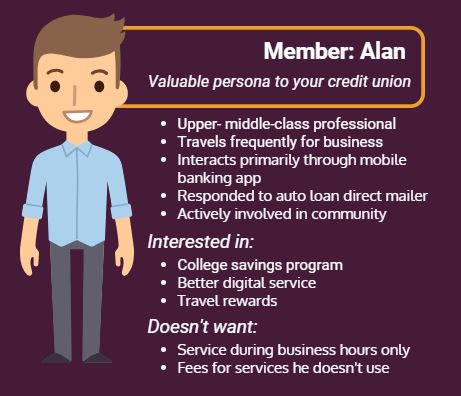 Understanding and knowing who is the most valuable to your organization and who has the potential to be valuable is critical. Often the most active members aren't your most profitable, and it's easy to get distracted in marketing by trying to serve your largest segments or most active members. 
From there, building Member Personas will help you quickly identify an "Alan." Be sure to name your Persona to bring it to life. What we've learned about "Alans" from our research, aside from being valuable to the credit union, is that he's an upper-middle-class professional in his mid-40s, travels frequently for business, and is heavily reliant on his cell phone. He interacts with the credit union primarily through the mobile banking app and recently responded to our auto loan direct mailer. He uses the credit union because it's actively involved in organizations he supports. He wants to know about college savings and wants better digital service because he's always on the road. Rewards related to his travel would be nice, too. "Alan" doesn't want to have to call the credit union during business hours, and he doesn't want fees for services he doesn't use.
What next? Send Alan a customized direct-mail piece highlighting how convenient and easy it is to use your credit union's mobile app. As a rule of thumb, know that your most engaged and profitable members seek the highest level of customized marketing. Resist sending mass email marketing campaigns. Use your 'small data' – transactional patterns, rewards spending, website use, etc. – to form your messaging. Companies that have adopted these methods are seeing swift and significant results. EasyJet, a carrier airline that operates domestic and international scheduled services on over 820 routes in more than 30 countries, experienced a 100% increase in open rates and a 25% increase in click-through rates upon implementing personalized marketing.[2]
Lay out your blueprint and get started today. Immerse yourself in all the data – big and small. Build your base member profile and expand from there. Remain focused on the mission to build customized, data-driven marketing campaigns. Then, start small, build upon your success, and watch your marketing ROI reap the results you need!
Franklin Madison is the NAFCU Services Preferred Partner for Accidental Death and Dismemberment (AD&D) Insurance. More information and educational resources can be found at www.nafcu.org/franklinmadison.
---
About the Author