How the Pandemic Has Forever Changed Payments
By Keith Ash, VP of Business Development, Mastercard
Since the coronavirus began its spread through the US in March, experts and government officials have been constantly developing and updating guidelines to deter the spread of the virus, requiring Americans to drastically change their everyday behavior. Quickly, consumers heeded the risks associated with touching cash and surfaces such as payment terminals, and a very strong trend emerged at the checkout counter: consumers want to tap to pay, now more than ever.
While this recent surge in contactless payment is unprecedented, adoption had slowly been trending upward for some time. Contactless cards have been around for most of the 21st century. 2019 was a pivotal year, as merchant acceptance exceeded 63% with a significant boost coming from contactless card acceptance in public transit systems in NYC, Chicago, and New Jersey. In the meantime,  some of the largest issuers were committing to issue contactless cards in the coming years. However, adoption of contactless had been lagging in the US at less than 5% transactions, compared to markets like the UK where 42% of debit volume was contactless as of 2019. Also, unlike other markets, contactless transactions in the US were led by mobile wallets, not the cards.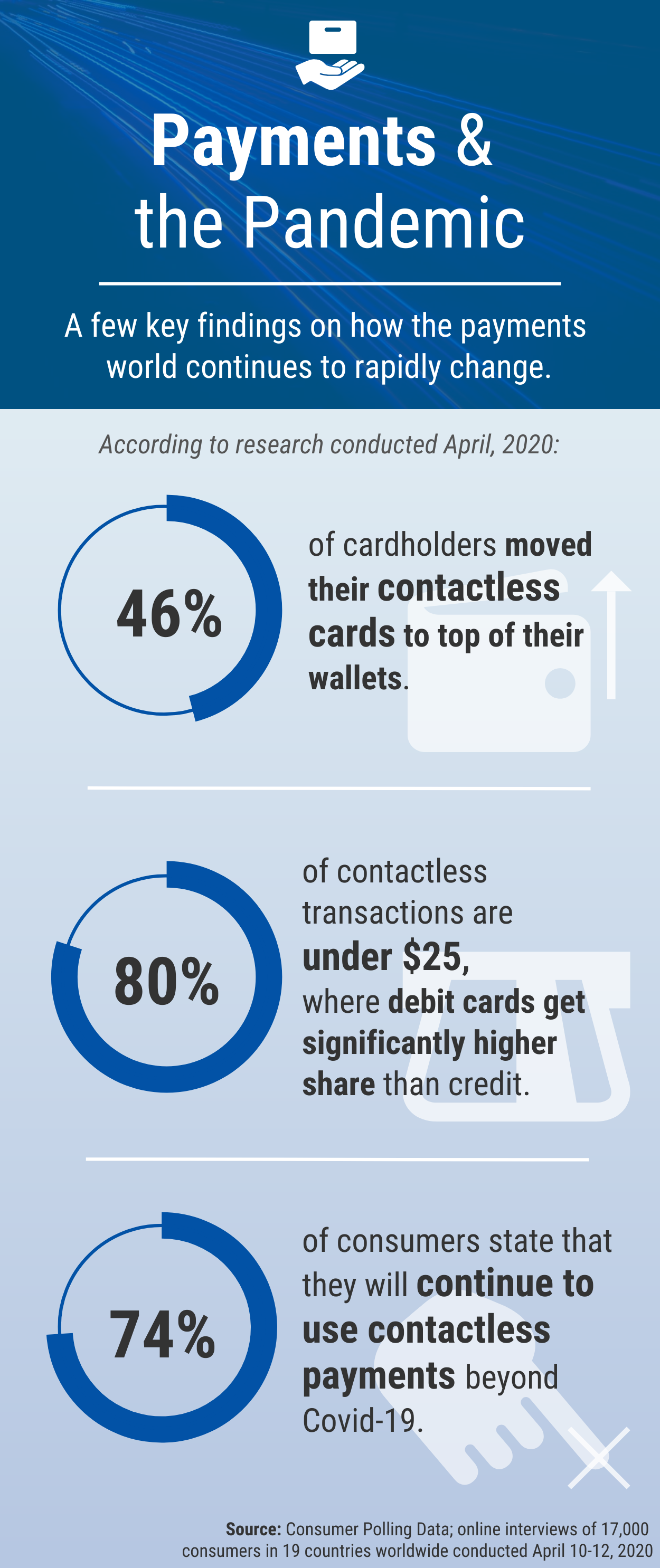 A few key findings to note as the payments world continues to rapidly change:
Contactless volume continues to increase:

As of July 2020, we observe a 259% year over year increase in contactless volume; looking at monthly figures we expect the growth trend to continue.

Cards will dominate mobile:

Share of contactless card transactions are rapidly catching up to mobile in the US and we may see cards taking over contactless transactions soon. This is great news for credit unions as cards are more closely associated with issuer brands.

Top-of-Wallet behavior is changing:

According to a recent consumer survey

46% of cardholders moved their contactless cards

to top of their wallets. This is in line with our observations contactless card portfolios demonstrate better volume growth on non-contactless volumes as well.

Contactless is at least as important for debit as for credit:

The growth in contactless transactions was two times that of non-contactless transactions at everyday categories like grocery and drug stores, categories where debit cards take higher share than credit. 80% of contactless transactions are under $25, where again debit cards get significantly higher share than credit.

Change is here to stay:

Our recent research shows that contactless is one of the habits that is here to stay, as 74% of consumers state that they will continue to use contactless payments beyond Covid-19.
What can you do?
Plan to make all cards contactless –

especially debit.

Promote the use of contactless in verticals where people are currently spending more time, such as grocery stores and pharmacies.

Remind members about the health and hygiene benefits of contactless.

Encourage cardholders to use contactless versus cash for smaller, more typically cash purchases. Mastercard issuers can access ready-to-use marketing content here.

Localize campaigns to concentrate on enabled merchants nearby. You can find contactless acceptance locations here.
---
About the Author