Looking For Ways to Connect With "Next Gen" Members?
Life insurance could be the answer
By Carl Vanko, TruStage Specialist
Every credit union is looking for ways to attract more next generation (next gen) members. After all, more than half of all Americans are of Millennial age or younger,1 and the credit union system's future growth depends on connecting with this demographic.
One way to do that? Let them know you understand what they're up against and can connect them to products that can help make a difference. After all, Millennials are dealing with a host of challenges—including student loan debt and two financial crises during the early years of their careers, the 2008 recession, and COVID-19. Life insurance might play a role in helping Millennials regain a sense of control over their financial life.
COVID has given younger consumers a new appreciation of life insurance…
According to the 2021 Insurance Barometer Study from Life Happens and LIMRA,2 45% of Millennial consumers (which they define as those ages 22-40) are more likely to buy life insurance because of the pandemic vs. 31% of adults overall.2 Their level of interest is no surprise: After all, COVID has forced many Americans to deal with end-of-life issues, and Millennials are just reaching milestones like marriage and parenthood, which often get people thinking about life insurance.
…but they also have misconceptions about the product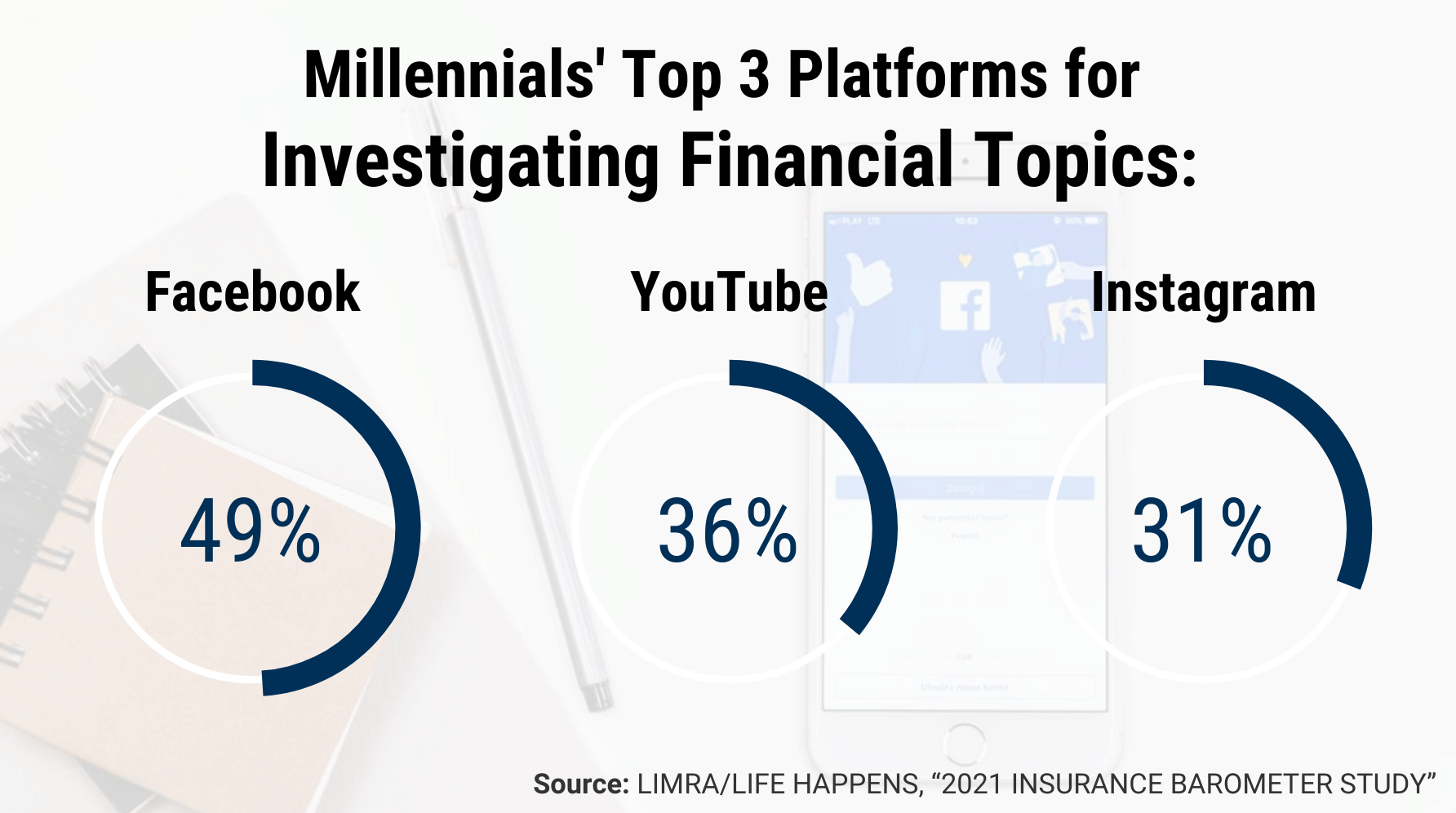 For all their interest in life insurance, it's not uncommon for Millennials to have false beliefs about it.
One of the biggest: Life insurance is expensive. For instance, Millennial consumers were the group most likely to estimate the annual cost of a term life policy at $1,000+, when the actual figure was closer to $165.2 And this is especially concerning given that cost was the top reason the uninsured and underinsured cited for not buying life insurance.2
Another misbelief focuses on the reason to buy life insurance. More than a third of Millennials—the largest percentage of all age groups—believed life insurance is only used to pay for burial and final expenses.2 In reality, life insurance can be an effective financial tool to support so much more, including replacement of lost wages and income, transfer of wealth, paying off a mortgage, and a complement to retirement income.
These misconceptions likely contribute to the fact that 43% of Millennials who say they need life insurance don't have it—which suggests 31 million American consumers are missing out on vital protection.2
The first step to connecting with younger members: Understand them
All next gen members are not the same. Myriad factors can influence their beliefs and values and you'll need data analysis, empathy, and carefully targeted marketing and sales efforts to connect. That said, here are some 30,000-foot commonalities many in this age group share:
Values that align with the credit union difference. Millennials are looking for companies that share their values. According to the 2020 Consumer Culture Report, "83% of Millennials say it's important for the companies they buy from to align with their beliefs and values."3 Educate this segment about credit unions' "people helping people" commitment, and you could drive them to take a closer look.
Financial challenges previous generations might not have faced. The double whammy of the Great Recession and COVID-19 may have put off "adult" choices—for instance, the median age for first-time mothers hit a new high (27) in 2019.4 Understand how this impacts their financial picture and the types of resources and services they need.
Racial diversity. Millennial consumers are more likely to be racially diverse than older demographics.5 Keep this in mind as you work to understand cultural values that might influence decisions around life insurance.
The likeliness to use social media to investigate financial topics. According to the LIMRA study, Millennials are more likely than other generations to rely on social media platforms for financial information. Their top three platforms for investigating this category: Facebook (49%), YouTube (36%) and Instagram (31%).2 What channels does your credit union rely on to tell your life insurance story?
Access to competitively priced life insurance could help Millennial members and their families. Take the time to understand what's driving this segment's decision to investigate life insurance, make a cost-effective product available to them, and make it easy to research and buy online. These steps will go a long way toward positioning your credit union as the financial partner Millennials can depend on for this critical protection and—hopefully!—so much more.
---
1Brookings Institution analysis of U.S. Census Bureau data, "Now, more than half of Americans are millennials or younger." July 30, 2020.
2LIMRA/Life Happens, "2021 Insurance Barometer Study"
35WPR, "2020 Consumer Culture Report"
4National Vital Statistics Reports, "Births: Final Data for 2019," March 23, 2021
5Collage Group, "Essentials of Millennial Consumers" 
Disclaimer: The views and opinions expressed in this article are those of the author and do not necessarily reflect the views or positions of any entities they represent.
TruStage® Life Insurance is made available through TruStage Insurance Agency, LLC and issued by CMFG Life Insurance Company. The insurance offered is not a deposit, and is not federally insured, sold or guaranteed by your credit union. CUNA Mutual Group is the marketing name for CUNA Mutual Holding Company, a mutual insurance holding company, its subsidiaries and affiliates. Corporate headquarters are located at 5910 Mineral Point Road, Madison, Wis., 53705.
CORP, GEN-3896522.1-1121-1223 © CUNA Mutual Group
About the Author