Move Your Card to the Top of the Digital Wallet
By Nicole Jass, Vice President of Data Products, Worldpay. 
Cardholders decide which card to use online long before purchase. How can you ensure they choose yours?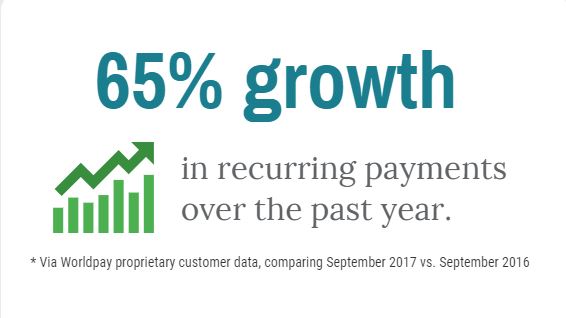 Recurring transactions are the future of payments. According to Vantiv's proprietary data analysis of $1 trillion in annual spend across 800,000 merchants nationwide, recurring payments have grown 65 percent over the past year. For national banks, the trend is even stronger, with year over year growth of 80 percent as of September 2017. National banks now have nearly 75 percent of recurring transaction activity compared with credit unions.[1] What can your credit union do to stay ahead of the herd?
In the simplest terms, you need to encourage your cardholders to load and save your card on the sites where they shop. At online mega-retailers, once a cardholder loads a card, they will rarely remove it unless it expires. With services like Prime, cardholders can engage in one-click shopping, without giving even a passing thought to the payment method they use.
Recurring payments are taking off in merchant categories like groceries and pharmacies. These are fast-growing segments, due to the increasing popularity of home chef delivery services and prescription drug delivery services offered by the big chain drugstores.
To engage your cardholders, try offering loyalty bonuses for setting up three online recurring payments on your card within a month. Also, be sure to highlight your card's shopper-friendly features in your statement inserts and monthly newsletter, whether it's a lower interest rate, or guarantees on purchases, to encourage your cardholders to move your card to the top of their digital wallet.
[1] Vantiv proprietary customer data, comparing September 2017 vs. September 2016 monthly acquiring merchant transactional data from over 800,000 merchant locations, $1 trillion annualized sales volume, and 21 billion annualized transactions.