A Phone Call Isn't a Failure
"Digital first" doesn't mean "digital only"
By Jeff Dillon, VP Digital Consumer Experience, TruStage
There's plenty of research to suggest the pandemic accelerated the adoption of digital tools in the credit union space. Now that members have discovered the convenience of digital tools, many plan to keep on using them. Innovative credit unions continue to work toward and refine the "digital first" experiences today's consumers demand.
But a focus on "digital first" doesn't mean going "digital only." Here's why.
Digital is a great first choice for many things…
Ever hopped onto your online banking app to find out when your payment was due or whether that check had cleared? You expected—and hopefully were able—to get those questions answered without waiting in a phone queue. Or how about that time you needed to fill out a loan application and couldn't get to it until 10 p.m.? An online application was just what you needed. Those are perfect examples of "digital first." These are all situations where member goals were clear and straightforward, and human interaction wasn't necessary or was a poor use of member and staff time. In short, digital was the better option.
…but sometimes members need more.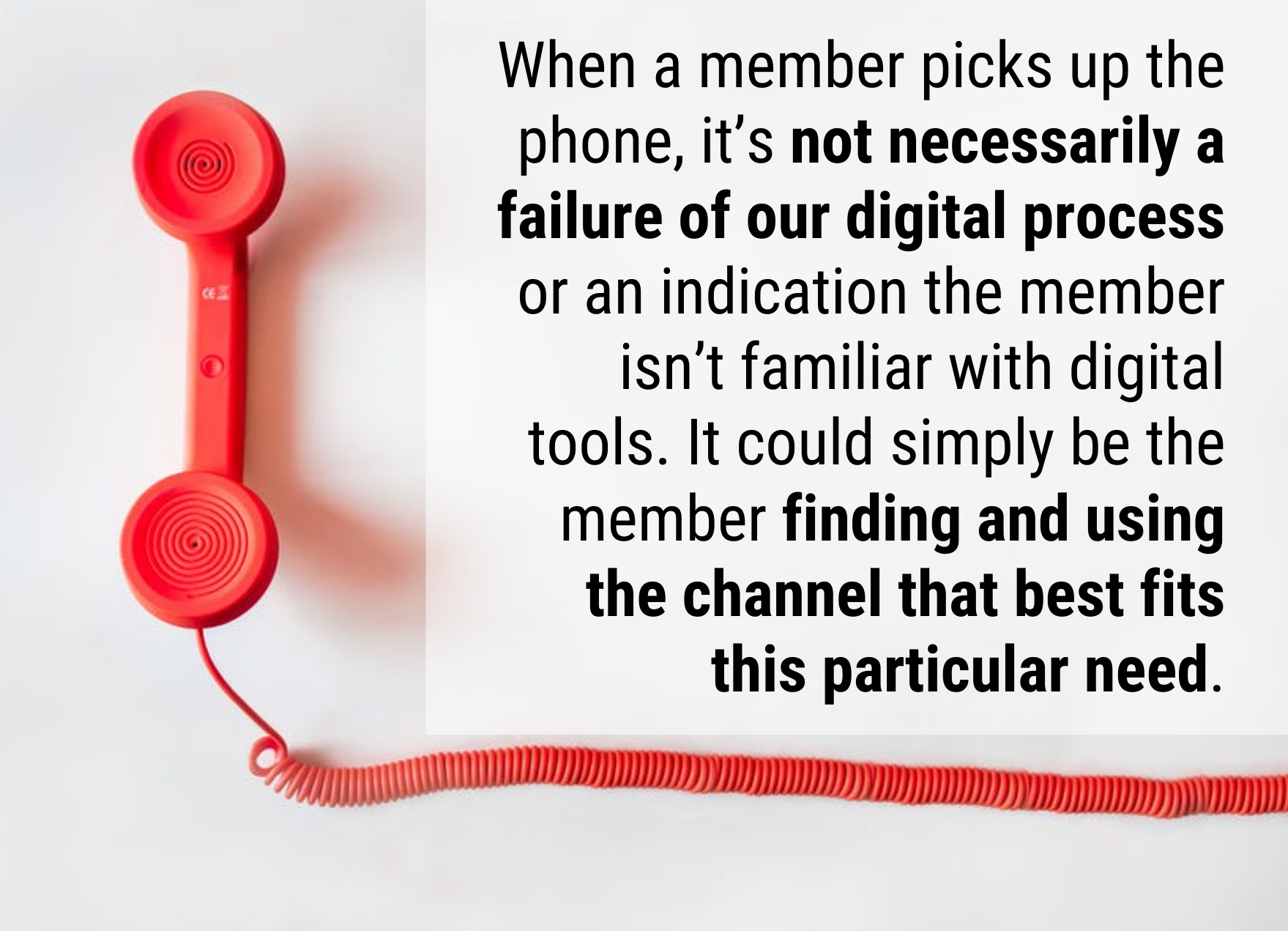 But what if you were trying to buy insurance and were confused by language on the application? Or weren't sure the loan option you'd picked was the best fit for your needs? In those instances, you likely would have appreciated a little one-on-one support along the way.
Members want channel options.
Think back to the early 2000s when airlines hid their phone numbers to force consumers to rely on their websites. Remember how frustrating it was to hit that roadblock when a few minutes of one-on-one conversation would have solved your problem? Hopefully, we've learned that when a member picks up the phone, it's not necessarily a failure of our digital process or an indication the member isn't familiar with digital tools. It could simply be the member finding and using the channel that best fits this particular need. We will continue to have an evolving range of member comfort, skill, and access to digital solutions for the foreseeable future. Digital will likely never meet everyone's needs, in every situation. And, frankly, that's okay.
How can your credit union offer the best mix of channels, while making digital first a priority? These three steps can help.
Step 1. Find where you're not meeting member expectations with your current support solutions.
Where possible, use data to understand where members struggle—both the tasks they literally can't accomplish with your current tools and the ones where they struggle with the options you've created.
For example, look at your multi-step experiences. Do you have them tagged to see which specific steps are giving your users trouble? Have you installed tools that allow you to play back user sessions so you can actually watch how people are interacting with your tools? Have you built out the detailed experience maps that allow you to isolate the specific moments in the journey that are either really working or causing pain? How are you doing in meeting member expectations at key moments like channel switching?
Don't have the data in-house—or need help making sense of yours? Lean on fellow credit unions, experts, and partners.
Step 2. Focus time and resources on the areas that need attention—but take a holistic approach to possible fixes.
Responsiveness is one of the great things about digital: When we see a problem, we are able to quickly develop a response to and get it live to our members.
However, many of the things that create challenges for our members require a mix of digital and non-digital solutions to solve. For instance, if you have places where you think a member is most likely to switch from a digital channel to the phones, you need to work with your partners in the call center to be sure that agents are trained to help those members switching channels. Similarly, when you have the opportunity to improve the web arrival experience for members who received a piece of mail, you can't just look at how to improve the site, you have to look at the mail piece too.
Step 3. Plan your way to digital first.
Resist the temptation to treat your digital approach as a "shiny object"—i.e., simply chasing after others' digital functionality without understanding if it's a fit for your needs. Once you have a better understanding of member needs, use this information to strengthen your approach to digital. Be disciplined and keep the focus on the member experience.
Make your solutions:
Easy to find.

Do you show up where members expect you?

Easy to trust.

What are you doing to make yourselves trustworthy in the digital ecosystem?

Easy to understand.

Do you use approachable language? Do you demystify whatever process the member is going through?

Easy to use.

Have you done everything you can to remove friction from the process?
A good example of this has been in emerging tech, things like new features in mobile apps and voice assistants and wearables. A few years back everyone wanted to build a smart watch application, but did it improve your members' experience? Was there a specific part of the members' experience you planned to improve with this build? Same with voice assistants. Being able to complete simple tasks like asking Alexa when a loan payment is due could make things easier for your members and help avoid late payments; building an Alexa skill to fill out a full loan application could be overkill. Emerging tech can be a wonderful tool so long as you're using it to improve the right parts of your members' experience.
A digital-first approach is critical. But keep answering that phone—your members will thank you for it. 
---
CUNA Mutual Group is the marketing name for CUNA Mutual Holding Company, a mutual insurance holding company, its subsidiaries and affiliates. Corporate Headquarters: 5910 Mineral Point Road, Madison WI 53705. © CUNA Mutual Group, 2021. CORP-3610662.1-0521-0623
---
About the Author