Product Refunds and CU Exposure Risks: 4 Takeaways
By Pete  Hilger, CEO, Allied Solutions 
The regulatory landscape surrounding cancelled ancillary products is changing. The risk of class-action lawsuits is starting to raise the stakes for credit unions, especially those active in indirect auto lending.
The root of the problem is how refunds are provided when policies are cancelled or a loan is paid off. While the regulatory and legal landscapes are shifting quickly on the issue, your member experience is equally at risk.
Here are four questions and answers related to product refunds:
1.       What products are considered refundable?
Most member-elected ancillary-type products have a refundable component if they're bought at vehicle purchase or loan origination. These products (also known as add-on products, aftermarket products, or voluntary protection products) have premiums that are added to the borrower's final loan amount. A refund may be owed if a trigger event (e.g., early loan payoff, repossession, total loss, or member request) that prevents the loan from reaching its maturity date occurs. The refund amount will depend on several factors, including the product's policy language, state regulatory requirements, the type of triggering event, and how much time was left on the loan.
These products include:
Guaranteed Asset Protection (GAP)

Mechanical Breakdown Protection (MBP)

Credit Life

Credit Disability

Accidental Death and Dismemberment (AD&D)

Extended Warranty

Vehicle Service Contracts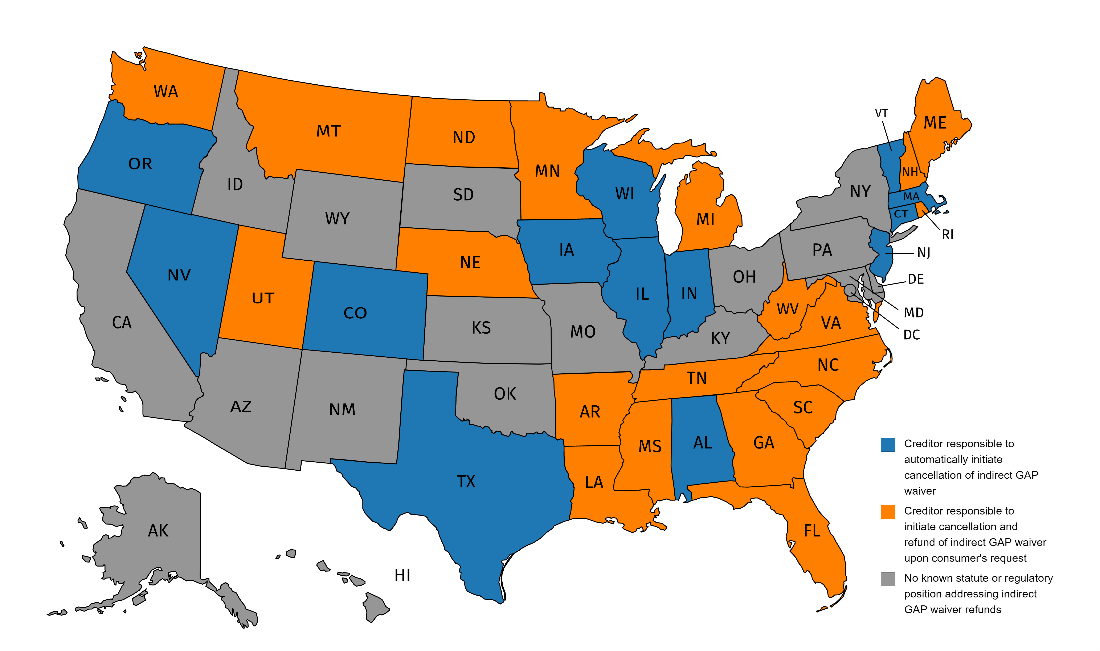 2.       What does the regulatory landscape look like?
Some state regulations put the refund burden on financial institutions for products that are using a retail installment contract (e.g., GAP). In 2020, a class-action lawsuit was filed against indirect lenders in Colorado who failed to distribute owed member refunds on ancillary products. A handful of states have regulations that place responsibility with the creditor to initiate automatic cancellation of an indirect GAP waiver. The potential damages from this type of class-action suit could include the actual refund, legal expenses, and additional monetary obligations. Today, states with creditor responsibility to automatically initiate the cancellation of an ancillary product include Alabama, Colorado, Connecticut Illinois, Indiana, Iowa, Massachusetts, Nevada, New Jersey, Oregon, Texas, Vermont, and Wisconsin. In approximately 20 other states, the creditor is responsible for initiating cancellation and refund of indirect GAP waiver upon a member's request.
3.       What key stakeholders are involved?
There are multiple stakeholders that carry a level of responsibility to ensure members are refunded in a timely and accurate manner. This includes dealers, members, financial institutions, and other carriers/providers. The process of determining who owes something back and how the refund amount is calculated can be complicated.  It gets especially complex if the dealer sold a refundable product, but the financial institution remains liable for the executing the refund from the provider.
4.       How can credit unions begin to mitigate the risk?
First, credit unions need to understand the varying rules between direct member loans and indirect channels. For indirect members, institutions need to be able to manage the retail installment contact and track refunds for both current and past transactions. No matter who carries the ultimate responsibility, it is important that institutions can account for refunds being accurately and efficiently processed with appropriate due diligence.
To mitigate the risk, credit unions can:
Create formal, legal documentation with stakeholders outlining roles and responsibilities to help address accountability and establish a process for refunds

Review technology options for reporting to help manage and track the refund process and communication with members

Understand state regulatory requirements for compliant refund management

Look back on transactions to understand their loan portfolios, identify potential risks, and follow up on previously cancelled products
For more information, watch our webinar, Class Action Alert – Product Refunds and CU Exposure Risks.
---
About the Author