Reaching Today's Insurance Buyers
By Kym Ortiz | VP, Client Partnerships & Business Development | Franklin Madison n
In an age of financial services innovation and diversification, insurance remains an important core product for credit unions. To help credit unions better understand how to reach untapped markets, Franklin Madison surveyed 551 consumers and discussed its findings on a recent NAFCU webinar. Here are some quick takeaways that can help you better understand the evergreen and emerging opportunities insurance unlocks to improve non-interest income.
About one-third of consumers, married or single, are already inclined to turn to a credit union or bank for insurance.
Knowing that potentially one in every three members is at least warm to the idea of buying insurance from your credit union is a solid start, but it's helpful to understand that education may not be enough to improve sales. This figure trails the share who would choose a trusted website (about 40 percent) and the share who said they would want to use an agent (about 47 percent). The financially secure are barely half as likely to seek insurance from a primary credit union or bank than the underbanked. Think about framing the credit union as a top trusted source for insurance information and sales, rather than simply informing members that insurance is available.
There's no one perfect prospect—but if there was, he or she would be single, live in the city, and be underbanked.
When responses were cross-tabbed, the strongest affinity for insurance was among those segments. City dwellers in particular are more likely to look to a credit union or bank for insurance than those who live in rural areas. The story is more complex when we look at how rural consumers responded, however.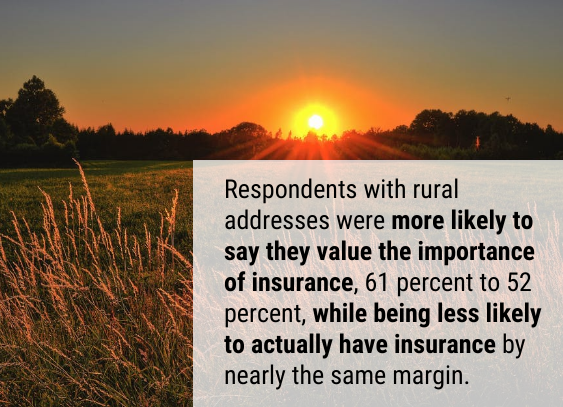 Rural consumers are more likely overall to value insurance.
Respondents with rural addresses were more likely to say they value the importance of insurance, 61 percent to 52 percent, while being less likely to actually have insurance by nearly the same margin (65 percent in the city have insurance, compared to 52 percent in rural areas). The challenge for credit unions is that just 32 percent of rural dwellers said they would look to a credit union or bank for insurance, compared to 47 percent of city dwellers. This may mean that smaller or remote credit unions may need to lay groundwork to bolster confidence with local members that they have at least as much credibility and knowledge in the insurance channel as other sales channels. It might also reflect an opportunity to expand relationships with rural members that have historically been overlooked.
Digital messaging reaches members across a wide demographic range.
It was no surprise that our oldest respondents were most likely to respond to traditional direct mail. What was more interesting is that digital messaging resonates very broadly, reaching those who grew up with screens as well as householders in their early seventies. And before dismissing or discounting the value of direct mail, keep in mind that older members represent a wide range of wealth as well as household size. Multi-generational homes remain important to many families, and insurance could be a high priority for more than two generations in the same residence.
Looking for more insights to help align your insurance strategy? View the full webinar with breakdown and analysis of our survey findings here.
About the Author