The Secret is Out: Credit Union Leaders Share Lessons Learned from 2020
By Charlie Peterson, Senior VP of Strategic Initiatives, Allied Solutions, LLC
From temporary branch closures, to a remote workforce, to a massive influx of deposit liquidity – financial institutions experienced many drastic changes as a direct result of the COVID-19 crisis. So we've been speaking with leaders from credit unions that have continued to grow members and revenue throughout the pandemic. Here are some shared recommendations we captured that your institution can consider when building or reworking your own strategic growth initiatives.
Build Flexible, Fluid Strategies
Joseph Walsh, President & CEO of Direct Federal Credit Union, offers a simple but effective mantra: "Plan, do, check, and adjust." He explains that strategies require planning and action, but they also require constant attention.
He also recommends that your strategic plans should be flexible and fluid, allowing for unplanned changes or adjustments. One way to do this is to determine, centralize, and communicate fixed, strategic goals. This will help you to stay focused on these established objectives if (or when) you have to build on or change your plans.
Meeting with stakeholders frequently to discuss strategic plans will help keep goals on track while also fostering discussions that will lead to quicker, more effective strategic adjustments as they arise.
Jill Rothenberger, VP of Consumer & Mortgage Lending at Dupaco Credit Union, says that holding weekly meetings with credit union leadership allowed them to quickly make beneficial loan adjustments to offset their unprecedented surge in deposit activity. And Gayle Rust Gustafson, Chief Lending Officer at iQ Credit Union, agreed that their weekly meetings led to quick action on getting PPP loans out to their community, which led to an increase of new business growth opportunities.
Consider All Stakeholders
It's important to consider all stakeholders when establishing or revamping your strategic plans. These stakeholders include employees, consumers, and community members, as well as the business itself.
Strategic goals and plans should enhance relationships with each one of these stakeholders, so that your institution continues to thrive, drive new business, and strengthen consumer trust and retention.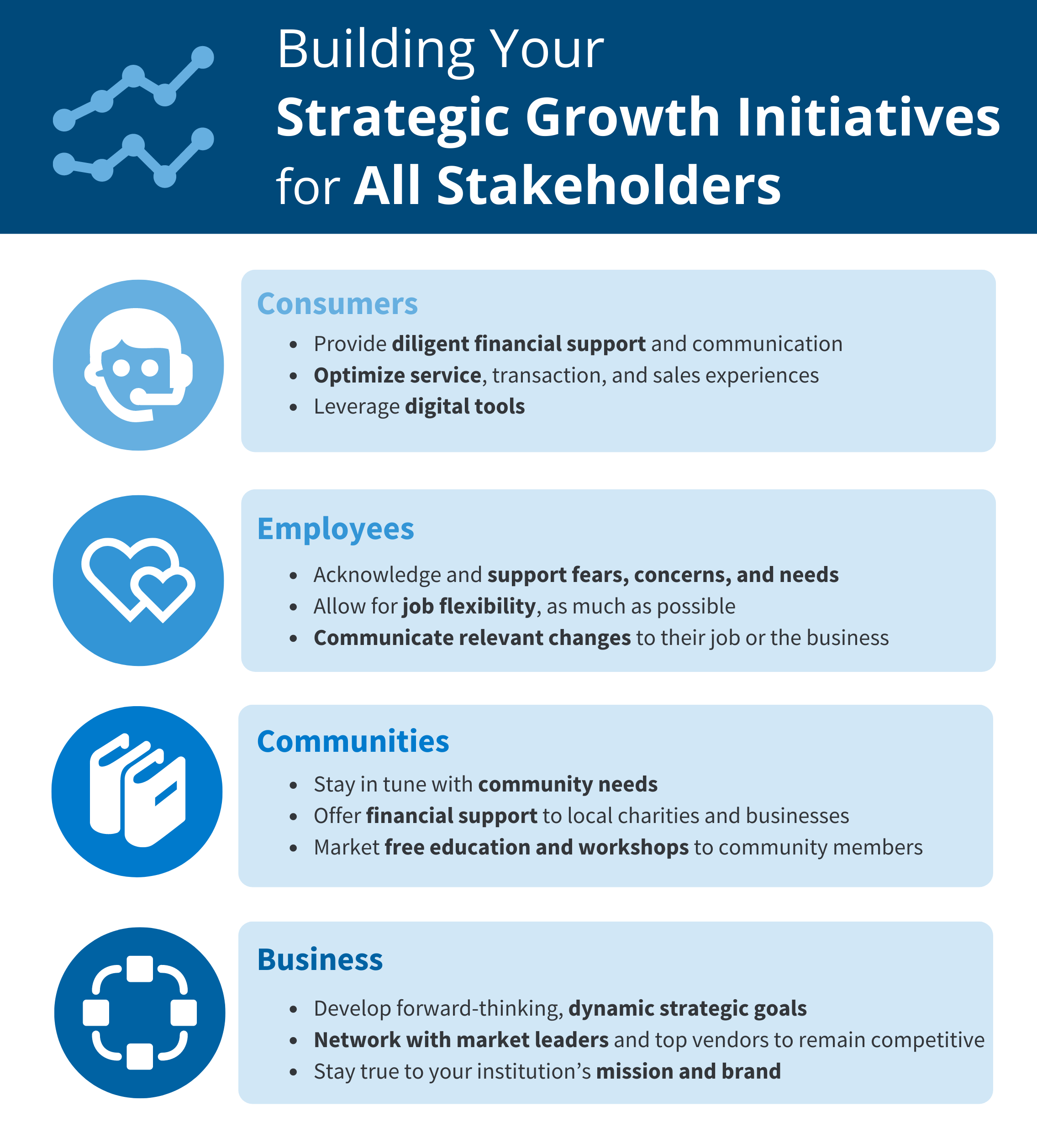 While the pandemic created many unforeseen challenges, it also created new opportunities for growth in our industry. There is new space for engaging educational materials, on-demand content, networking communities, market-driven solutions, and more.
As the experts shared, we all have the tools, resources, and knowledge to grab hold of our markets and grow unlike ever before.
---
About the Author