There's a Person Behind That Policy
By Raina Richardson, TruStage Specialist, CUNA Mutual Group
In the last year or so, we've shared several articles that included some version of this stat: Nearly half of all adult Americans don't carry life insurance.1 The belief that life insurance is prohibitively expensive is a barrier for many—research shows more than half the population thinks term life insurance is over three times as expensive as it actually is.1 But cost isn't the only reason members don't have coverage.
Cultural factors can impact life insurance purchases
There are some interesting differences between ethnic groups.
Some members of the Hispanic community—especially immigrants and older Hispanics—believe buying life insurance is tempting fate. But here's something interesting: Internal CUNA Mutual Group research found that once Hispanic consumers have life insurance, they're less likely to let it lapse than other consumers—even in the face of job loss or wage reduction.2 This indicates that once this demographic understands the benefits of life insurance, they prioritize the coverage.
Research from LIMRA's 2021 Insurance Barometer Study, showed Black consumers were more concerned than other races and ethnicities about a wide range of financial issues.1 Life insurance-related concerns included dying and leaving dependents in financial difficulty, the desire to leave an inheritance and a fear of burdening loved ones with funeral bills.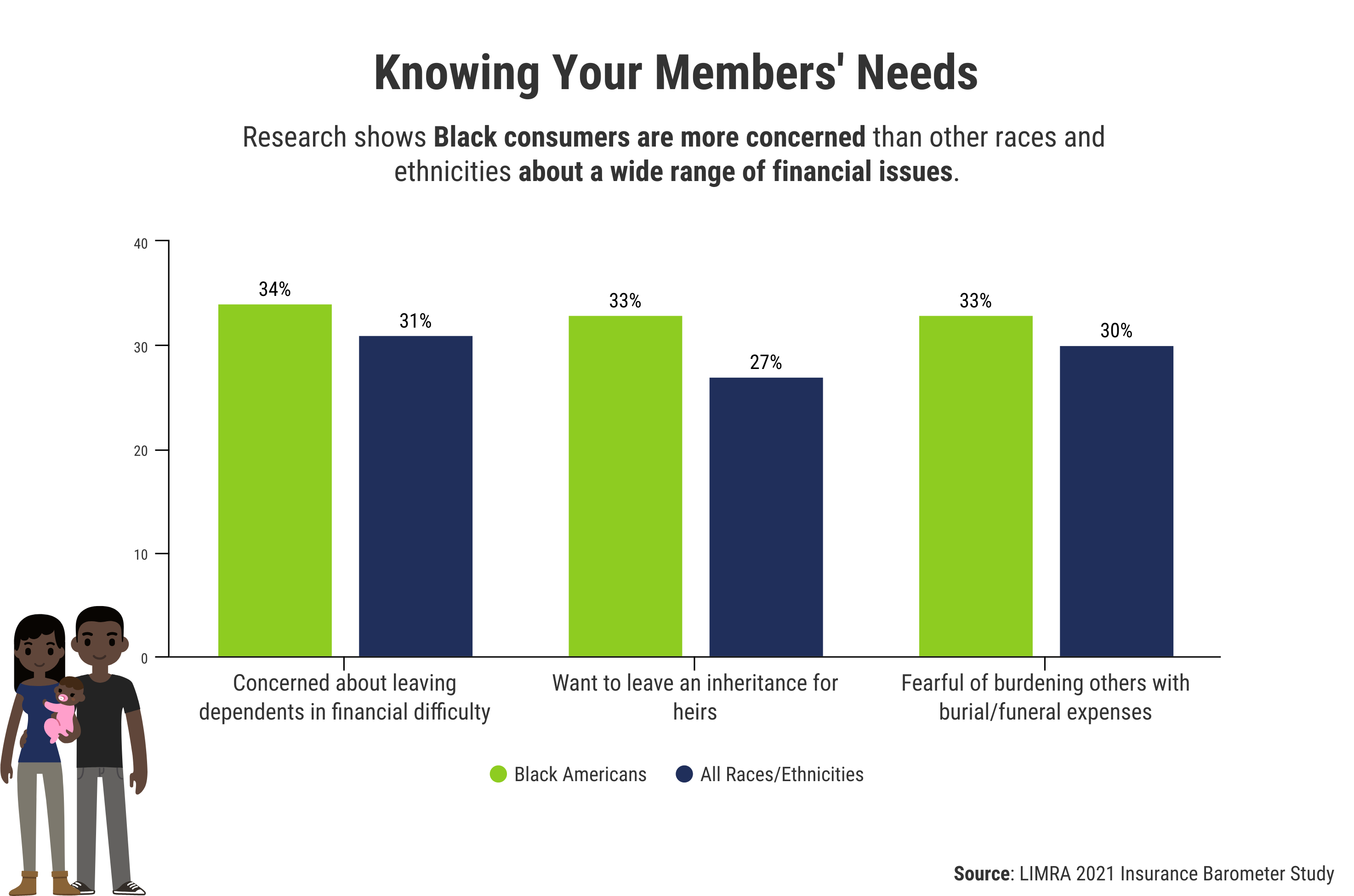 Life events and age matter
These two factors are likely no surprise. Life events such as marriage, children, job changes and the death of family/friends have all been shown to drive life insurance purchases. While job changes and the death of a loved one can happen at any age, marriages (at least first marriages) tend to happen in a narrower age window, which could impact the timing of life insurance purchases.3
According to the United States Census Bureau, in 2020 the median age for a first marriage was just over 30 for men and 28 for women.3 The LIMRA research shows 43% of Millennials—31 million—don't have life insurance and 39% (nine million) of Gen Xers need more.1 Credit unions should consider these stats in their communication and outreach.
A special note about COVID-19
Since March 2020, Americans have been living a shared life event: the pandemic. It's not surprising to learn the pandemic has had an impact on life insurance purchases. According to the 2021 LIMRA insurance study, 31% of consumers reported they were more likely to buy life insurance because of COVID-19. In addition, the LIMRA study showed 45% of Millennials were more likely to buy life insurance due to COVID-19, vs. 31% of the population overall.1
Life experiences can drive insurance purchases
We all know someone who lost a parent at a young age, and many were impacted by life insurance. Some remember the important role life insurance played ("Thank goodness my mom had a policy") while others lament its absence ("We lost the house after my dad died because there was no money to pay the mortgage"). Either could drive a member's perspective on a life insurance purchase. On the flip side, anecdotal evidence suggests those with no exposure to life insurance could be largely ambivalent about the importance of coverage.
What's the answer? Education, community outreach and affordable, easy-to-navigate life insurance options.
What can credit unions do now to help more members get the coverage they need?
Educate members. Develop tools that are sensitive to the needs of various demographic groups and accessible through a variety of channels.
Consider partnering with resources your target membership trusts. Churches and community organizations can play a critical role.
Choose the right life insurance provider. Look for an option that offers a variety of channels, a fast and simple application process, no medical exam and a flexible quote tool so members can find coverage that meets their budget.
Life insurance from your credit union can help members protect the things that matter most. Take the time to understand the person behind the policy and you'll be more likely to be the resource that meets this need.
---
1LIMRA "Insurance Barometer Study," 2021
2CU Insights Article "Life the Latino Way," 2020
3United States Census Bureau 
CUNA Mutual Group is the marketing name for CUNA Mutual Holding Company, a mutual insurance holding company, its subsidiaries and affiliates. TruStage® Life Insurance is made available through TruStage Insurance Agency, LLC and issued by CMFG Life Insurance Company. The insurance offered is not a deposit, and is not federally insured, sold or guaranteed by your credit union. 5910 Mineral Point Road, Madison, WI 53705. © CUNA Mutual Group, 2021. All rights reserved. GEN-3614466.1-0621-0723
About the Author