Tools to Boost Auto Lending
By Betty Seifu, Lending Program Manager, Allied Solutions.
A recent report released by the National Automobile Dealers Association predicted an increase in auto sales and leasing for a third straight year in 2017.[i]
With these car activities building momentum among consumers, there is an increased opportunity, and honestly, a need, for a strong game plan for scoring these potential auto loans.
Not only are you already competing with other financial institutions for loan opportunities, but now you're also up against new players who have entered the field. Less traditional businesses like retail, mobile and peer-to-peer lenders are getting into the game to expand their services and attract new members.
This poses a threat to what credit unions have been seeing in terms of winning over auto lending consumers; many individuals are now looking for the best deal on the market no matter who is offering it to them.
Get ahead of your auto loan competition by building a strong lending program with unique and attractive consumer benefits.
Rewards Programs
Offering retail or cash rewards to borrowers who finance their vehicle through your institution is one way to draw in new auto loan business. One vendor surveyed participants of their auto rewards program and found that 95% of the respondents rated the program 5 out of 5 stars. In fact, this program vendor reports that their auto rewards program has increased their lending approval-to-book ratios as much as 90% on direct auto loans![ii]
Consumers are clearly very interested in auto loan rewards. And why wouldn't they be? It is basically free money! These programs are likely to entice your consumers and generate a lot of new auto loan traffic for your institution, so why not sweeten the pot with multiple benefits for your borrowers?
Load up the bases so you can get that grand slam!
Cash Rebates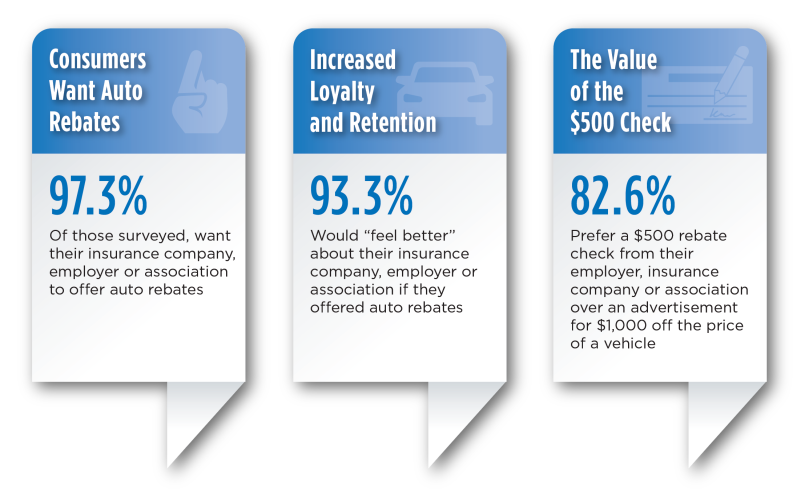 An independent study performed in 2016 by Aha! Online Consumer Research reinforced how much of a win-win complementary benefits really can be for lending institutions and businesses alike. More specifically, the study found that just about any individual presented with the opportunity to earn cash back would be interested in participating. In fact, 97.3% of consumers surveyed said they want their insurance company, employer or association to offer a cash back rewards program.
Much like a retail incentive in an auto rewards program, do not underestimate the value of a rebate check! According to this study, 82.6% of consumers surveyed prefer receiving a $500 check from their employer, insurance company or association over an offer of $1,000 off the price of a vehicle.
Take a look at the scoreboard: consumers want cash back, so offer them cash back!
One such cash-back rewards program offers a $500 rebate check to consumers leasing or purchasing a new vehicle from participating vehicle brands. This auto rebate program, called BonusDrive, is new, simple and quite attractive to consumers in the market for a car. In fact, BonusDrive is so new you may not even have been aware of its existence.
This puts you in pretty good field position considering that your competitors have likely not even heard of auto rebate programs, let alone thought about offering a program of their own.
By marketing this program to your consumers you place yourself at the top of the roster for financing when it comes time for your consumers to apply for an auto loan on their new car. Move to the top of the league today by adding unique auto loan benefits programs to your starting lineup. With the added bonus of being able to market and cross-promote these various programs, you will ensure that your credit union stays top of mind for consumers looking to choose an institution for their car buying and financing needs. Game over. The final scores are in and everyone wins!

Be sure to catch up on Allied Solutions' recent auto loan podcast series to learn ways your credit union can take action today to better attract modern consumers, especially millennials. These podcasts address how to use market data to attract auto purchasers and utilize digital communication channels to invest in a stronger auto loan program.
Listen now:Â 
Allied Solutions is the NAFCU Services Preferred Partner for Insurance- Bond, Creditor Placed (CPI), Guaranteed Asset Protection (GAP), and Mechanical Breakdown Protection (MBP). More educational resources and partner contact information are available at www.nafcu.org/allied.
 
[i] National Automobile Dealer's Association https://www.nada.org/steven-szakaly-auto-sales-forecast-2017/
[ii] AutoLine Marketing Group http://myautoline.com/
 
About the Author