Wave of Ingenuity: Winners of the 2021 Innovation Awards
Paul Timm, Vice President of Marketing and Strategic Development, NAFCU Services
If the bare necessity of 2020 gave rise to faster and bolder innovation in our industry, this year is riding that wave with even more new ideas coming to market. So the timing couldn't have been better for the annual Innovation Awards. With dozens of entries across multiple key categories of financial services, the judges of our 2021 Innovation Awards had their work cut out for them this year to select the winners. I can't do justice in this space to all the capabilities each brings to the industry. But I would be remiss if I didn't share with you some key details of these breakthrough solutions. The new products and services here run the gamut from inspirational to functional, but all were developed specifically to help credit unions compete, grow, and challenge the status quo.
In no particular order, this year's winners are: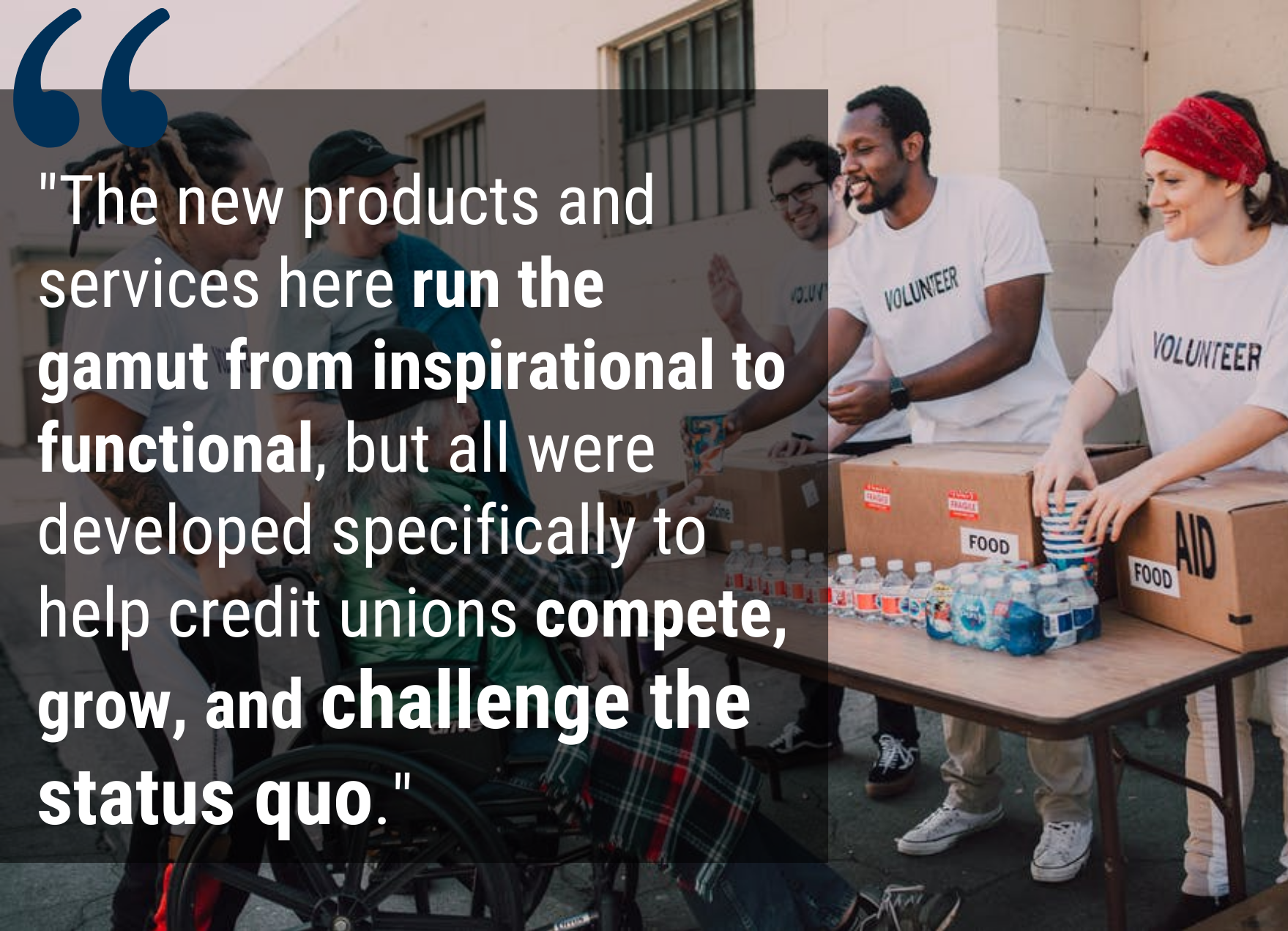 Digital Lending Platform from Blend: Our judges were clearly struck by the clean, modern, and customizable design of the flexible lending platform demonstrated by Blend. From a focused start in mortgage lending, Blend has expanded to initiate a wide range of loan and banking products including auto loans, specialty loans, and credit cards. We can see why the ease-of-use helped some credit unions double the uptake of self-service lending, and why over $1 trillion in loans flowed through Blend last year.
CyberFraud from DefenseStorm: Cybersecurity and fraud are complex problems that are frequently faceless and nebulous. DefenseStorm's CyberFraud product demonstrates that doesn't have to be the case. It creates a tangible, easy-to-follow dashboard that helps both information security and BSA/AML professionals identify threat hotspots and track suspicious activity. The solution also streamlines the processes of filing reports with law enforcement and FinCEN. With no disrespect to organizations that run security and fraud prevention from traditional text logs, it's easy to see why the judges took notice of DefenseStorm.
Premium Payback from FIS: Good loyalty programs deliver stickiness and transaction volume, but then the piper must be paid on redemptions. FIS presented judges with a win/win proposition: make redemption an option at the point of purchase, while saving institutions with cost-per-point redemption rates compared to categories like travel. The program, which has expanded to major brands in gas and retail as well as PayPal, has strong uptake from cardholders. The on-terminal point-of-sale offer to redeem points and reduce the purchase price has strong acceptance, and half of all participants redeem at least twice in a 12-month period.
Refund Plus from Allied Solutions: The devil's in the details and those details can be devilish. To someone not immersed in the day-to-day details of auto lending, it looks easy enough: pick reasonable credit risks, be careful not to lend more than the car's value, and the rest should take care of itself. But many auto loans have ancillary products attached, like service contracts, guaranteed asset protection (GAP), and credit protections against death or disability. Borrowers are owed prorated refunds on those ancillary products in cases like total loss and early payoff (including refinance) and today, most auto loans are paid off early. Refund Plus manages these details, delivers the refunds borrowers are entitled to (Allied says a typical borrower with a GAP is entitled to a $500 refund after an early loan payoff!), and helps credit union lenders avoid these hidden legal and compliance pitfalls.
Stronger Together from CUNA Mutual Group: In a confusing time that cried out for leadership and hope, Stronger Together delivered. The support hub provided insights, encouragement, and tangible tools to the credit union industry and continues to operate today. And at a time when members were reaching out like never before with questions and needs that lacked obvious answers, Stronger Together helped many credit unions navigate everything from cash-on-hand requirements to PPP loan access.
Virtual Emerging Leaders Program from DDJ Myers: The search and professional development folks at DDJ Myers operated their original Emerging Leaders Program since 2013 around an important premise: today's mid-level talent will be and must be tomorrow's top leaders. Those top leaders need coaching and development to be their best. But with in-person instruction heavily disrupted, no one wanted to see tomorrow's leaders left behind in their ability to plan strategically, develop next-generation business plans, and interface with board members. The team at DDJ Myers quickly developed and deployed a new interface and virtual-ready interactive content to ensure credit unions could continue building out their talent and leadership programs.
Account Revenue Solution from Velocity Solutions: The most valuable member could be the one sitting idle on your books. That was the most tantalizing element of the ARS pitch: generating significant revenue by re-engaging inactive members with modest balances and no tangible transaction activity. Since acquisition is frequently more expensive than effectively reaching those already in the fold, it's clear that credit unions could really benefit from these techniques.
TSoftPlus from Wolters Kluwer: No list of innovations in 2021 could truly be complete without a PPP management solution. Wolters Kluwer was able to expand and enhance its original TSoft solution for SBA loan processing to meet the demands of the moment, and it was no small lift. The original TSoft handled a couple dozen originations on a busy day. TSoftPlus handled 17,000 PPP loans per day at its peak. The integrated forgiveness module made it easier for both lenders and borrowers to complete the entire PPP process and achieve the program's overarching goals of protecting jobs and businesses.
Big congratulations to each of these winners. To see demonstrations of these and all the Innovation Awards finalists this year, along with executive conversations and keynotes, check out the 2021 Innovation Spotlight here.
---