Wolters Kluwer Survey: Credit unions rank regulatory change as top challenge for 2022
By Timothy R. Burniston, Senior Advisor for Regulatory Strategy and Elaine Duffus, Senior Specialized Consultant, Compliance Program Management, with Wolters Kluwer Compliance Solutions.
The challenges facing credit unions continue to evolve. Disruption from the pandemic, combined with increasing compliance and reputational risks, are among the top issues keeping lenders up at night, according to the latest research from Wolters Kluwer Compliance Solutions.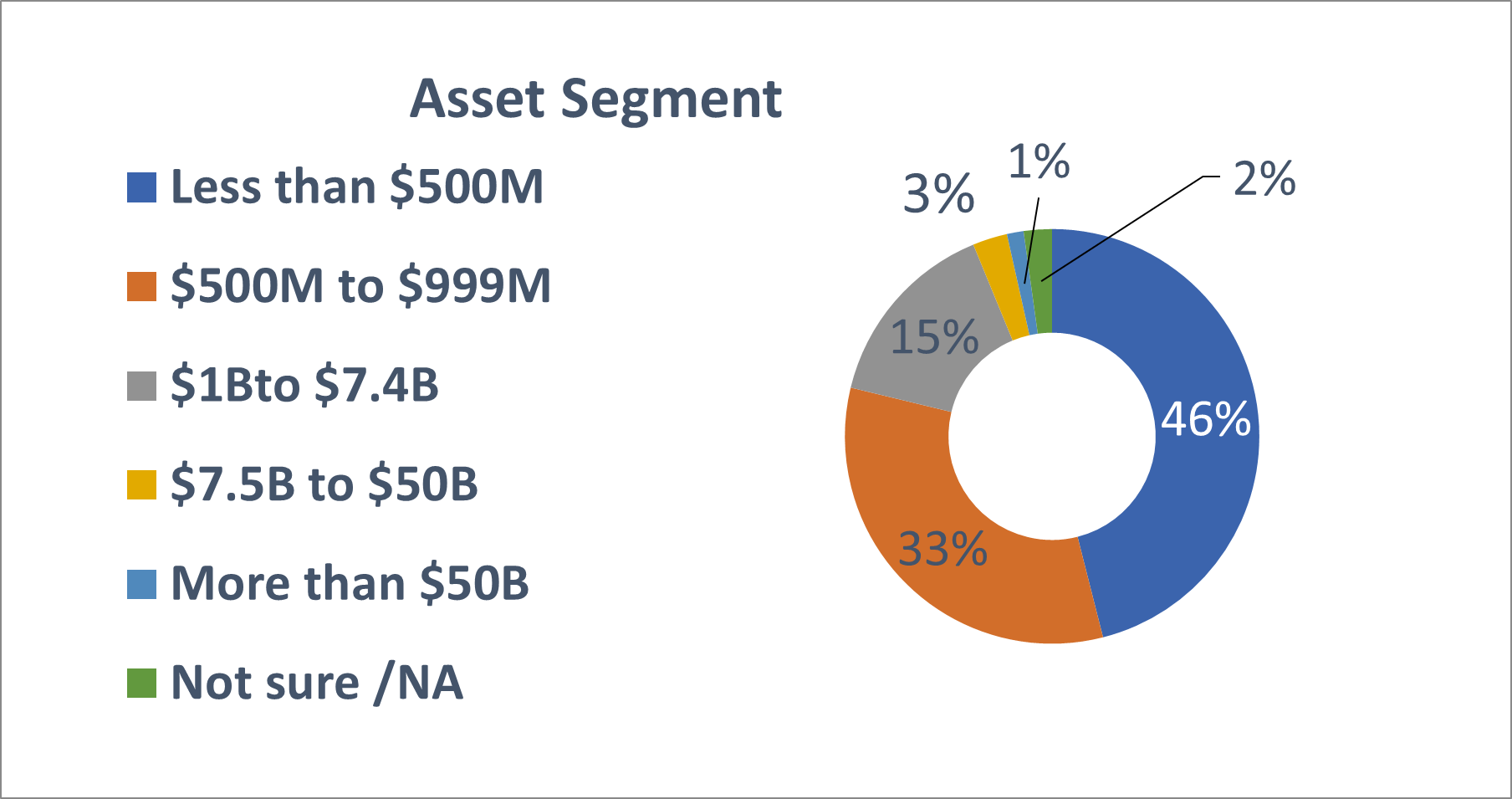 Wolters Kluwer recently released its 2021 Regulatory & Risk Management Indicator survey, an annual initiative identifying regulatory and risk trends in the U.S. banking industry. In its ninth year, the survey gauges credit unions, banks and other lenders' top risk management and regulatory compliance issues. Credit unions represent one in five of the respondents participating in this year's survey. Seventy-two percent of respondents are from lending institutions with assets of less than $1B, and 38 percent of respondents hail from institutions with less than $500M in assets.
This year's survey generated a Main Indicator Score of 128, a 25-point increase over the 2020 score. It's also the third consecutive year that the Main Indicator Score has increased, up 43 points in total since the 2018 Indicator survey. The Main Indicator Score is calculated based on several factors, as shown below: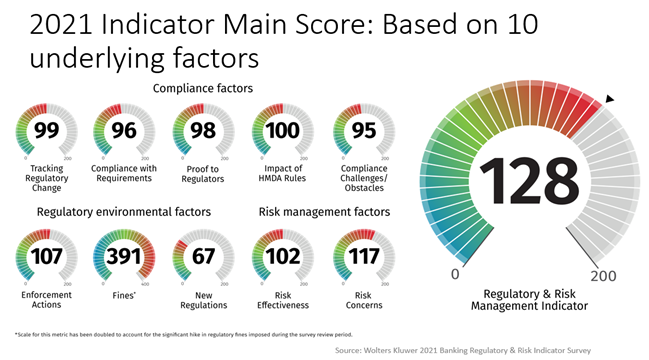 Top challenges in 2021
Keeping one's credit union and its members safe from harm remains a top priority. In addition to pre-pandemic known cybersecurity risks, COVID-19 added another level of challenges. The threat of ransomware attacks led the list of risk factors in credit unions' enterprise risk planning.
Sixty-three percent of respondents gave it "significant consideration," and another 22 percent marked it for "some consideration" in their planning. This year's survey included a new question about investing in digital transformation efforts. Sixty-three percent anticipated "significant" or "some" acceleration of their digital lending processes. Forty-seven percent of the respondents indicated they had made some progress with digitizing their lending capabilities, while 24 percent indicated they have made significant progress or are fully digitized.
However, despite these advancements toward automation, there's still a heavy reliance on manual processes. Eighty-seven percent of respondents are still using manual processes or spreadsheets at least some of the time for their compliance management efforts.
Looking ahead
Over the next 12 months, nearly every banking segment lists "keeping up with regulatory change" as its most pressing compliance challenge. Current Expected Credit Loss (CECL) standards are also a prominent concern for credit unions as they gear up for mandatory compliance for fiscal years beginning after December 15, 2022.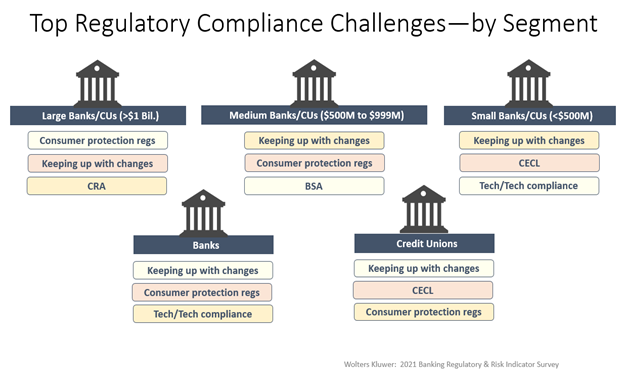 When asked about the likelihood of reduced regulatory burden over the next two years, respondents revealed greater pessimism, with 72 percent citing the likelihood of regulatory relief as either "somewhat unlikely" or "very unlikely" compared to 56 percent in 2020.
As it becomes more challenging to keep pace with regulatory change, it's never been more critical to have a regulatory change management program in place. Managing the expected and unexpected events with manual processes will no longer be possible as risks grow more complex. Developing a disciplined, automated approach to one's compliance efforts now will provide the consistency, transparency, and security that regulators require and that members expect.
About the Author