November 07, 2019
CFPB symposium addresses small biz lending concerns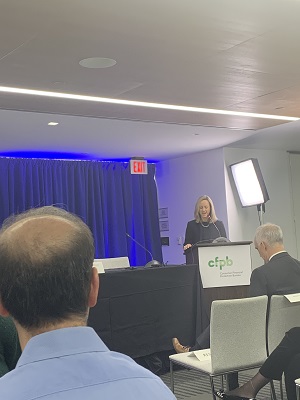 Concerns about regulatory burdens added to both small businesses and the financial institutions that lend to them were discussed Wednesday at the CFPB symposium focused on Section 1071 of the Dodd-Frank Act, which requires the bureau to collect data related to small business lending. Bureau Director Kathy Kraninger acknowledged these concerns while emphasizing the need to better understand small business lending.
NAFCU has previously urged the bureau to exempt credit unions from rulemakings related to data collection and reporting on small business lending as the industry is subject to strict limits on member business lending and field of membership rules. Due to these restrictions, reported data may not achieve the statutory purpose.
In addition to comments from Kraninger, the symposium featured two panels:
Current and Future Outlook for the Small Business Lending Marketplace: Experts on this panel discussed various trends in small business lending as well as the role of technology and government. Related to technology, panelists noted the success of online lenders and their ability to meet the needs of women- and minority-owned businesses; however, they cautioned their lack of oversight. The benefits of alternative data and modeling to improve access to capital were also explored. While many noted the regulatory burden smaller institutions would face under the rule, others said more data needs to be collected to better understand the marketplace.
Section 1071 Implementation Issues: The second panel explored various issues when implementing the rule, including key definitions, data points to collect, the bureau's authority, and the privacy of data collected. Panelists recommended that data be easy to upload and meet the rule's statutory objectives, ensure harmony with other rules, and definitions should be clear and easy to understand.
NAFCU Regulatory Affairs Counsel Mahlet Makonnen attended the symposium. NAFCU will continue to monitor the CFPB's rulemaking efforts on this issue and advocate that the bureau use its authority to exempt credit unions from the rule.
Related Resources
Business Lending
Blog Post
Business Lending
Blog Post
---
Get daily updates.
Subscribe to NAFCU today.