October 04, 2019
Important compliance deadlines CUs should know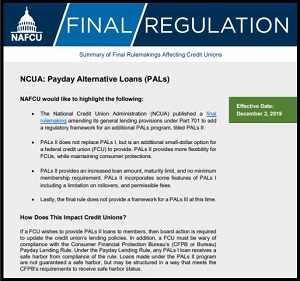 NAFCU this week sent Final Regulation alerts to member credit unions to notify them of important effective dates for rules that will impact the industry. The rules covered include the CFPB's innovation policies, NCUA's payday alternative loans (PALs), and the Department of Labor's (DOL) overtime rule.
CFPB Innovation Policies
The bureau issued three new policies intended to promote innovation and facilitate compliance at financial institutions that became effective Sept. 10. The policies include: No-Action Letter (NAL) Policy, Trial Disclosure Program (TDP) Policy, and Compliance Assistance Sandbox (CAS) Policy.
In the Final Regulation, NAFCU highlights key elements of the rule and notes that interested credit unions can use these policies to obtain relief to test modified disclosures, develop new products or services in a safe harbor environment, or explore regulatory certainty in the face of rapid technological change.
NCUA PALs II
The NCUA's additional PALs program goes into effect Dec. 2 and is intended to provide federal credit unions with more flexibility to provide short-term, small-dollar loans while still maintaining consumer protections.
NAFCU notes in the Final Regulation that credit unions interested in offering PALs II loans must obtain board approval to update their lending policies. In addition, credit unions should be aware of possible compliance challenges with the CFPB's payday lending rule as PALs II loans aren't guaranteed a safe harbor but can be structured to qualify for it.
DOL Overtime Rule
Effective Jan. 1 is the DOL's amended overtime rule, which increases the standard salary level for the "white collar" overtime exemption to $35,568 and makes other changes. Almost all credit unions are subject to the rule as covered employers.
NAFCU explains the changes in the Final Regulation. The association encourages credit unions to consult with HR departments and review employees' salaries to ensure a smooth transition in 2020.
All of NAFCU's Final Regulations can be found online. The association's Compliance Team also works diligently to ensure credit unions are aware of and prepared for regulatory changes: The team publishes detailed blogs three times a week, responds to questions within one business day, and develops myriad resources on specific issues.
Related Resources
---
Get daily updates.
Subscribe to NAFCU today.