The September-October 2020 issue is here!
The September-October issue of NAFCU's award-winning magazine, The NAFCU Journal, is online now.
Featured in this issue: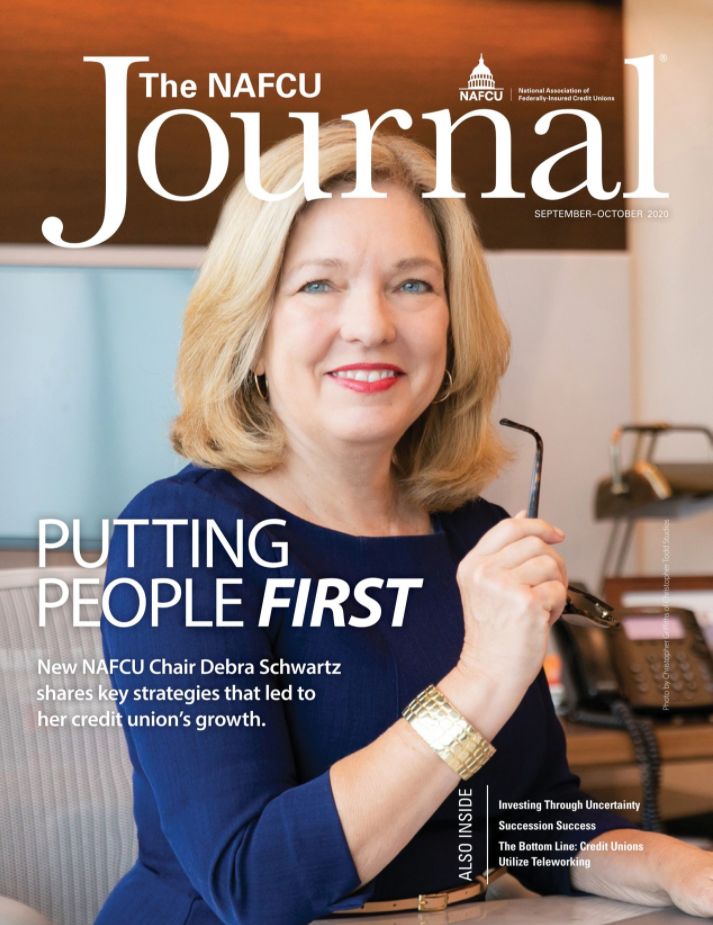 Putting People First


New NAFCU Chair Debra Schwartz shares key strategies that led to her credit union's growth.

Investing Through Uncertainty
Credit unions are adapting educational offerings and services to 
the realities of the COVID-19 pandemic.

Succession Success




Comprehensive employee development is the key to effective succession planning.
Also find:
Subscribe to The NAFCU Journal magazine
The NAFCU Journal is a bimonthly magazine that covers credit union operations, technology, marketing and other issues of interest to credit union management and staff.
Subscribers get both the print edition as well as unlimited access to the digital edition and archives. Anyone can subscribe to the digital edition email (update your email subscriptions in your website account).
Print Edition Subscription Pricing:
NAFCU Members
Receive up to 25 free annual subscriptions
(To update your recipient list, please contact NAFCU Member Services at info@nafcu.org or 800-344-5580)
Additional annual subscriptions: $35/person per year
Nonmembers/Vendors
Annual subscription: $99/person per year
To Subscribe/Contact Info:
For questions or to subscribe to The NAFCU Journal, please contact NAFCU Member Services at info@nafcu.org or 800-344-5580. Your subscription will begin once we receive payment unless this is part of your free copies with NAFCU membership.
Contact The NAFCU Journal magazine staff
Learn about advertising opportunities with The NAFCU Journal.