Newport, Rhode Island
The charming New England enclave of Newport is ripe with history, culture and art. You'll find Gilded Age mansions once owned by America's wealthiest families and a Colonial-era port. Plus distinctive shops, historic lighthouses, and unspoiled beaches. You are sure to leave with fond memories of The City By-The-Sea.
NOTE: Due to the popularity of the Volvo Open Race sailing competition, please book your hotel as soon as possible
Jump to: Where to Stay | How to Get There | Top Restaurants

Where to Stay in Newport
Conference Hotel: Newport Marriott
The conference hotel has limited availability and may sell out soon. If you are unable to reserve a room, please try to reserve a room with the alternate hotel below.
25 America's Cup Avenue, Newport, RI 29403 | 800-228-9290
The Newport Marriott lines charming, boat-filled Newport Harbor. You'll also enjoy easy access to beautiful downtown historic Newport, the historic mansions lining Bellevue Avenue, and the colonial old city. If you feel like staying in, just head upstairs, where you can enjoy the hotel bar's outdoor terrace.
The Newport leg of the Volvo Open Race grand prix sailing event is the race's only North American stopover. Because the race begins May 8, the day after this conference, we highly recommend booking hotel ASAP. The race is expected to draw over 120,000 tourists.
RESERVATIONS: Rooms are $249 plus 13% tax at the discounted NAFCU rate. To reserve your room(s), call (800) 228-9290 and reference NAFCU's Board Conference or book your group rate online.
Deadline for Discounted Rate: April 17, 2018
NOTE: Room reservations and fees are the responsibility of the registered attendee. Room rates and availability are not guaranteed. Rooms may be sold out prior to the reservation deadline, so please make your reservations early.
Alternate Hotel: The Newport Harbor Hotel and Marina
49 America's Cup Ave, Newport, RI 02840
0.2 mile away from the conference hotel (3-minute walk)
RESERVATIONS: Please check with the conference hotel for availability before reserving rooms at this hotel. Rooms are $229 per night plus 13% tax and $35 amenity fee per night at the discounted NAFCU rate. Note: this room block is only from Sunday, May 6th to Friday, May 11th and you must check-out on May 11th. Reserve your room online.
Deadline for Discounted Rate: April 6th , 2018
NOTE: Room reservations and fees are the responsibility of the registered attendee. Room rates and availability are not guaranteed. Rooms may be sold out prior to the reservation deadline, so please make your reservations early.
Important note: This hotel is a smoke free hotel, including all public areas (not designated as a smoking area). The alternate hotel will post a $250 cleaning fee to the individual guest bill of any guest who smokes in a hotel room, or $500 cleaning fee for smoking in a hotel suite.
Tax exemption
Your credit union may be eligible for a tax exemption at the hotel. Download the NCUA tax exemption form
Getting to Newport
TF Green Airport Airport (PVD) is 27 miles from the Newport Marriott. The airport provides ground transportation information.
Car Rental Discounts
Special discounted rates are available through AVIS and Budget. For AVIS, please visit the Avis website or call 800-331-1600 and give the NAFCU Avis Worldwide Discount (AWD) code B469299. For Budget, please visit the Budget website or call 800-842-5628 and give the Budget Customer Discount (BCD) code Y305099. 
Airline Discounts
Delta
Reservations and ticketing are available via www.delta.com/meetings or by calling our Delta Meeting Network Reservations at 800-328-1111. When booking online, select "Book Your Flight" and enter meeting code NMRA5 in the box provided.
United
Book online at www.united.com and enter your Offer Code ZEEV459316 in the offer code box when searching for your flights. If booking through a travel professional or United Meetings at 800-426-1122, please give them the following information: Agreement Code: 459316; Z Code: ZEEV.
Nautical Newport Restaurants
Newport's restaurant scene thrives through local farms and fishermen, which supply the freshest ingredients. You'll enjoy innovative dishes and classic New England fare when exploring this coastal community. Here's our list of Newport's top restaurants: 
22 Bowen's Wine Bar & Grille: This Newport gem severs New England's finest seafood and prime steak – located on Bowen's Wharf, with exceptional waterfront views.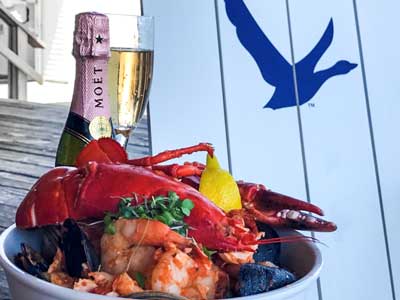 Brick Alley Pub and Restaurant: Enjoy pub style comfort food and modern multicultural cuisine at this Newport landmark – voted "best restaurant" and "best bar" in Rhode Island.
The Lobster Bar: Relax and enjoy stunning views, specialty drinks, excellent lobster rolls, oysters, and so much more!
White Horse Tavern: This upscale, farm-to-table tavern serves American cuisine and rum drinks. All in a historic setting dating back to 1673.
The Black Pearl: Known for its nautical decor, cool atmosphere, and famed clam chowder, The Black Pearl offers a summer patio and awesome outdoor views.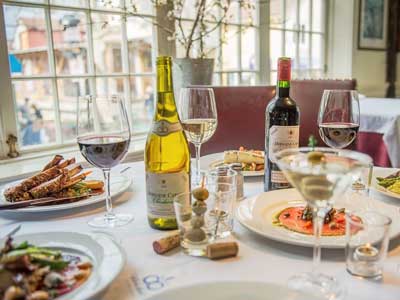 Clarke Cooke House: A picturesque setting, enthusiastic staff, and delicious formal fare makes Clarke's the definition of a classic Newport dining experience.
Midtown Oyster Bar: This surf 'n' turf eatery offers a large raw bar and cocktails, juicy burgers and much more! It's one of Newport's top oyster destinations.
Smoke House: This casual restaurant serves flavorful, slow-smoked barbeque in a rustic setting. It's conveniently located in downtown Newport.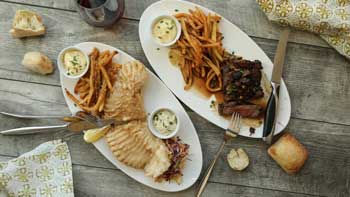 Fluke Wine, Bar and Kitchen: Experience beautiful harbor views and taste seasonal modern American dishes, local seafood, and explore an extensive wine list at this chic eatery.