Fort Lauderdale, Florida
Getting there is easy, thanks to three international airports within a short drive. But once you're in Fort Lauderdale, it's hard to leave. That's what happens when you experience 23 miles of sun-kissed beaches, vibrant shopping on Las Olas Boulevard, and even gondola rides on the city's canals.
Jump to: Where to Stay | Getting to Fort Lauderdale | Health & Safety Guidelines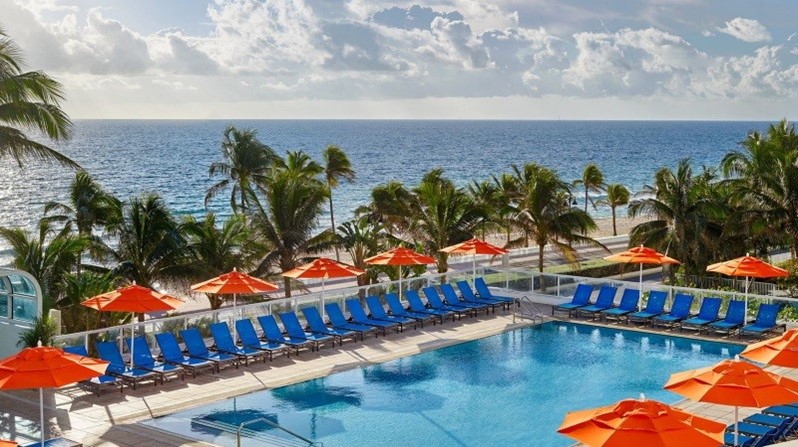 Where to stay in Fort Lauderdale
Conference Hotel:
Westin Fort Lauderdale Beach Resort
321 N. Fort Lauderdale Beach Blvd., Fort Lauderdale, FL, 33304 | 954.467.1111
Enjoy a prime oceanfront location while you're at the Westin Fort Lauderdale Beach Resort. You'll be connected via skywalk directly to the pristine sand of Fort Lauderdale Beach—or "stay in" and take in views of the Atlantic Ocean from the hotel's third-floor pool deck. You can also explore a full square mile of shopping and restaurants at Lauderdale-By-The-Sea, located right at the hotel.
RESERVATIONS: Rooms are only $209 plus 13% tax at the discounted NAFCU rate, expiring November 15, 2021. Reserve your room now or call the Westin Fort Lauderdale Beach Resort at 954.245.3016 and mention "NAFCU" to reserve your room(s) at the NAFCU rate.
Deadline for Discounted Rate: November 15, 2021
NOTE: Room reservations and fees are the responsibility of the registered attendee. Room rates and availability are not guaranteed. Rooms may be sold out prior to the reservation deadline, so please make your reservations early.
Tax exemption
IMPORTANT: The state of Florida has a new process for claiming the tax exemption. The following steps will help you navigate Florida's process as efficiently as possible; we also highly recommend you begin the process before the conference. If you already have a Florida-granted certificate of exemption, you may use a copy of your existing certificate, which is valid for 5 years.
To claim your state of Florida tax exemption:
Download the

Florida application for a certificate of exemption

, then complete and mail the form (it cannot be emailed, faxed, or sent through other electronic means) to:

Account Management-Exemptions


 

Florida Department of Revenue


 

PO Box 6480


 

Tallahassee FL 32314-6480
Once Florida receives your completed form, within three weeks they will approve your tax exemption and mail you a certificate of exemption (Florida cannot send it via electronic means).

NOTE: While Florida cannot guarantee your certificate will arrive in time for the conference, hotel management has assured us they will quickly credit your taxes post-conference.
Bring a copy of the Florida certificate of exemption to the hotel when you check in and they will

input your exemption and credit your taxes.



NOTE: Keep a copy of your certificate, which is valid for 5 years.
We've been advised that you must pay your hotel bill with your credit union credit card. Otherwise, the hotel requires 10 days to process a credit union check.
Download the Florida application for a certificate of exemption.
In addition, you can download the NCUA tax exemption form.
Getting to
Fort Lauderdale
Airline Discounts
Delta
Reservations and ticketing are available via www.delta.com/meetings or by calling our Delta Meeting Network Reservations at 800-328-1111. When booking online, select "Book Your Flight" and enter meeting code NMUFP in the box provided.
United
Book online at www.united.com and enter your Offer Code ZEEV459316 in the offer code box when searching for your flights. If booking through a travel professional or United Meetings at 800-426-1122, please give them the following information: Agreement Code: 459316; Z Code: ZJQE.
Car Rental Discounts 
Special discounted rates are available through AVIS and Budget. For AVIS, please visit the Avis website or call 800.698.5685 and give the NAFCU Avis Worldwide Discount (AWD) code B469200. For Budget, please visit the Budget website or call 800.455.2848 and give the NAFCU Budget Customer Discount (BCD) code Y305099.
Health & Safety Guidelines
Your Safety is of Utmost Importance - COVID-19 Event Protocols:
We ask that all attendees comply with applicable requirements imposed by federal, state, or local health authorities.
The CDC recently recommended that masks be worn indoors again when infection rates reach a "substantial" level or higher.  If this is the case in the local area during the conference, NAFCU will require a mask for all attendees at indoor events when not actively eating or drinking. Should you forget a mask, we will have them available at registration. We will continue to actively monitor this and provide updates if guidance changes.
Please be respectful of others and allow for social distancing. 
The session rooms have been set to ensure a comfortable and the safest distance possible between attendees. Please do not add chairs or additional attendees to any table beyond the number they are set for. 
Please do not attend the event if feeling ill or had recent COVID-19 exposure. Contact us at info@nafcu.org you need to change or cancel your registration for any reason. 
Your safety is our first priority and we continue to monitor any changes to guidelines that would impact attendance to the in-person event. Thank you for your compliance with these critical safety measures.